ISLAMABAD: The top seed Muhammad Shoaib from Pakistan annexed the Boys Singles Title of Syed Dilawar Abbas Memorial ITF Pakistan Junior Tennis Championships by eliminating Ayar Goklap of Turkey in a thrilling and well contested three sets match at S. Dilawar Abbas PTF Tennis Complex, Islamabad.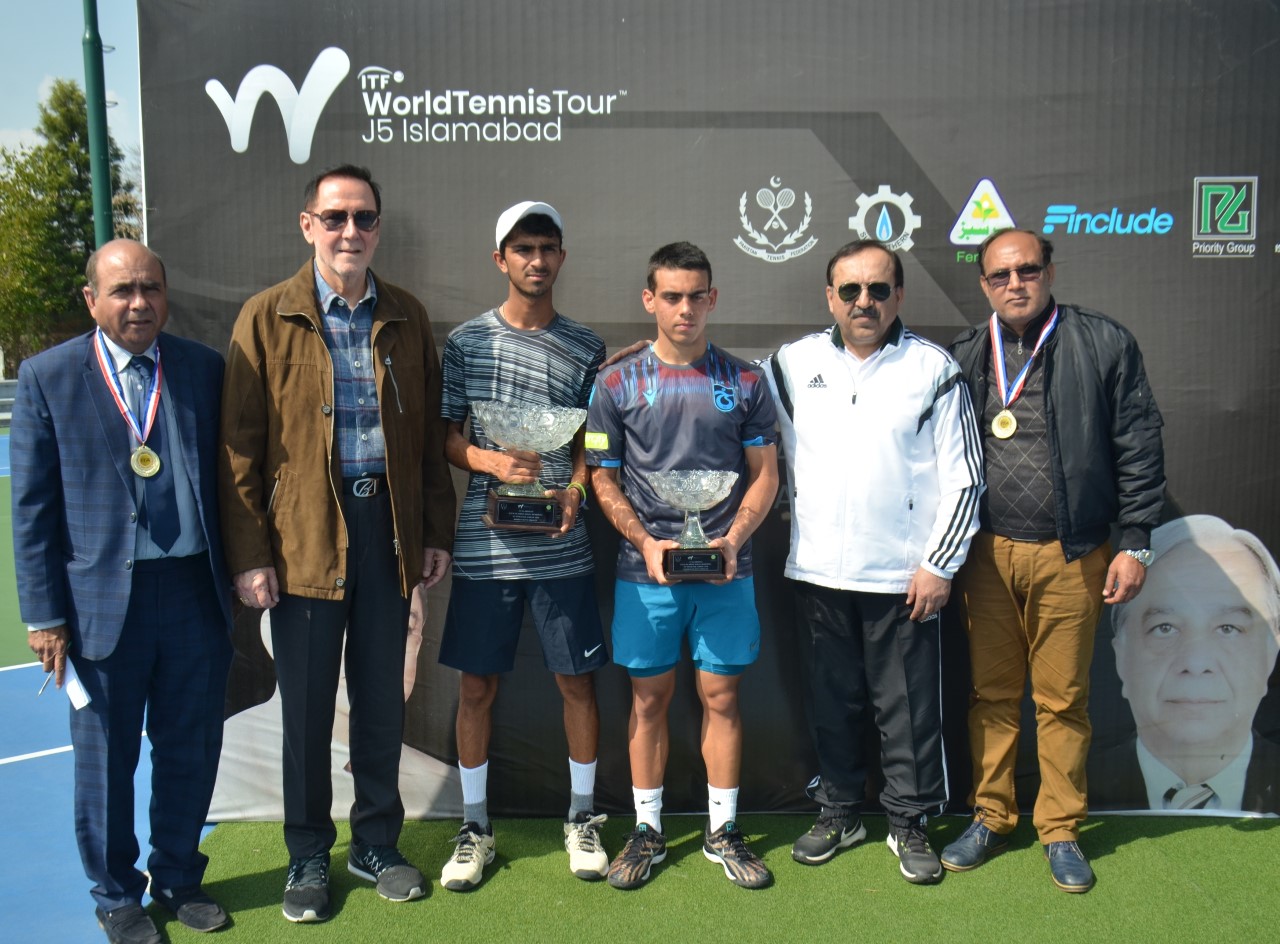 In the first set Ayar build up the lead 3-1 by breaking 4th game of Shoaib in which he hit two double fault; Shoaib leveled the score 3-3all by breaking 7th game of Ayar. The score went up to 5-5all as both the players hold their respective serves; at this stage Ayer hold his serve with the help of two aces and build up the winning lead 6-5 and then won the first set 7-5 by breaking last game of Shoaib at 0-40.
In the second set Ayar kept the same pressure and build up the winning lead 3-1 by breaking 2nd game of Shoaib. At this stage Shoaib change the game plan and started to play long rallies from the base line. With this strategy Shoaib leveled the score 3-3all by breaking 5th game of Ayar and won the second set at 6-4 breaking 7th game of Ayar and leveling the match 1 set all.
Shoaib was in excellent form in the final set and took the lead 4-0 by breaking 1st and 3rd game of Ayar. At this moment Ayar by changing the pace of game reduced the lead to 3-4 by breaking 8th game of Shaoib. Shoaib countered well and won the final set at 6-4.
The final result of the match was Muhammad Shaoib (Pak) beat Ayar Goklap (Tur) 5-7, 6-4, 6-4.
The match lasted 1 hours 53 minutes and was chaired by Husnain Mehmood.
Islamabad Tennis Association organized the two ITF J5 Pakistan World Ranking Tennis tournament back to back and the second tournament was in the memory of Late Senator Syed Dilawar Abbas, who played vital role for the promotion of game of tennis in the country.
27 boys and 15 girls from 18 countries Greece, Hong Kong, Austria, Russia, Turkey, Chinese Taipei, Great Britain, Romania, Nepal, China, Iran, Tunisia, Kazakhstan, USA, Malaysia , Korea, Sri Lanka and host Pakistan participated in the Championships.
Mr. Akber Durrani, Secretary Information and Broadcasting distributed the trophies along with Mr. Salim Saifullah Khan President Pakistan Tennis Federation and Mr. Gul Rehman, Secretary PTF.