Football – Who Will Win This Year's Ballon d'Or?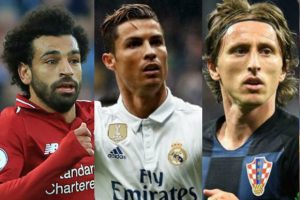 The Ballon d'Or is the most prestigious individual trophy that each footballer dreams to win in his lifetime, yet just the elite players have the opportunity to be even considered for this honour.
Messi Or Ronaldo – Has Their Rivalry Ended?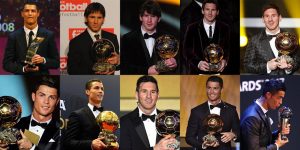 Since 2008, football's two biggest players ever – Lionel Messi and Cristiano Ronaldo have shared the trophy by winning 5 times each.
This previous decade they have created brilliant outcomes for their club and nation, however it appears their predominance in the realm of football is gradually lessening. As in this World Cup, they could not lead their particular countries to the brilliance their fans trusted them with.
And much to the shock of many football fans, this year Messi has not been able to make it to the shortlisted individuals to win the Ballon d'Or.
Football – Lionel Messi: Real Madrid 'Less Good' Without Ronaldo
Top three players that have been named are Mohamed Salah, Cristiano Ronaldo and Luka Modric.
Allsportspk football expert panel has enlisted the performances of these top 3 players and leaves you to decide as to who will win the Ballon d'Or this year.
#3 Mohamed Salah
A year ago Liverpool took a chance by marking the Egyptian forward, Mohammed Salah.
The Egyptian's first stretch at the premier league was a disappointment in 2014 when he played for the English club, Chelsea. However, this gamble proved to be successful for Liverpool as Salah scored a record 32 goals in 38 matches for the Reds.
And, also framed a fantastic trio with Sadio Mane and Roberto Firmino, scoring 11 goals in 15 appearances to convey Liverpool in the UEFA Champions League final for the 1st time since 2005. A few people accept that in the event that he was not injured in the final, Liverpool may have taken the trophy from Real Madrid.
Allsportspk Unusual: One Legged Footballers – I Can Play
One of his greatest achievements came for his country, as with little help he helped Egypt's national football team to secure their place at the World Cup 2018. In spite of the fact that at the World Cup Salah was not 100% fit, he still is a contender to win this year's Ballon d'Or.
Stats:
Liverpool (Premier League + UEFA Champions League)
Matches Played: 51
Goals Scored: 43
Egypt (World Cup qualifiers + World Cup 2018)
Matches Played: 7
Goals Scored: 7
For the #2 player to win this year's Ballon d'Or, move to the next page!