Formula 1 – Singapore GP: Force India Threaten After First-Lap Collision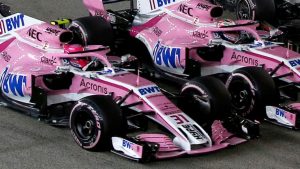 They had a number of heated exchanges on track last season that resulted in team orders being enforced. And Force India Team Principal Otmar Szafnauer has threatened to rein in drivers Sergio Perez and Esteban Ocon again, after their costly first-lap collision at a tense Singapore Grand Prix.
The Silverstone squad were expecting a strong result at Marina Bay on Sunday, with their superb qualifying exploits putting Perez and Ocon seventh and ninth on the grid. But disaster struck just moments after the start.
As they fought for position heading to Turn 3, Ocon – who was quick off the line – looked to make a move on Perez on the outside. But his team mate didn't appear to give the Frenchman enough room, and the two pink cars came together.
Formula 1 – Singapore Grand Prix: Lewis Hamilton Takes Pole Position
The result was Ocon crashing into the Singapore barriers, ending his race before it had even got going, while Perez was able to carry on.
Though it's the first time this season that such an incident has happened, last year similar episodes in Azerbaijan, Hungary and Belgium led to team orders being enforced – and an unimpressed Szafnauer says the pair may have to be told they can't race each other again.
"It's unacceptable for them to come together like that in an area where there is no run-off room," said Szafnauer. "They have got to leave each other room. The team is more important than any one individual.
"We will have to go back to the rules we instilled on them last year if that is what they're going to do, then we'll have to take control from here. Once they're in the car it's hard to control what they do. But prior to that, we can control it.
Racing – Formula 1: New Car Designs Revealed
"It's been over a year since it last happened. It wasn't Baku last year that we instilled the rules, it was after Spa if you remember. From Spa until here it hasn't happened.
"We're back to the old rules, we allowed them to race on lap one whereas in the past we didn't allow them to race on lap one. Now we can remove that. If they continue to do this even on lap 1 then there's other ways to seperate them that we hope we never have to employ."
And it seems Szafnauer has put the blame on Perez, believing the Mexican should have had the awareness to ensure enough room was given to his team mate.
Racing – Formula 1: Memorable Moments Of Kimi Raikkonen At Ferrari
"You say to him that is unacceptable. There's enough room on the left-hand side that I could see. You've got to give your team mate enough room.
"If it's somebody else, if it's not your team mate, then it's a racing incident. But if it's your team mate you've got to give them enough room."
For more updates keep visiting allsportspk