Racing – Formula 1: New Car Designs Revealed
Formula 1 has uncovered plans to enhance the nature of racing with a new car design to be presented in 2021.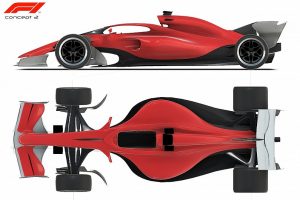 The Formula 1 sporting executive, Ross Brawn said the primary reason behind it was to manufacture cars which are more raceable.
He further said that, changes to the streamlined features would mean that cars could take after each other, significantly more closely than at present.
The trouble is you can only have a real concept of a 'spec' formula car.
F1 is a design and construct formula with a few spec parts.
Given the internal spec and design of halo, load tests and trouble with mountings, there'd have to be a massive reduction in loading for that new.

— Martin Elliott (@pdfbt40) 14 September 2018
The 63-year-old previous Mercedes and Brawn team manager stated that, F1 has been chipping away on a new car design for about a year, while working together with administering body, the FIA and the teams on lightening the issue, whereby a car behind another loses a lot of its performance.
Three distinctive concept designs were demonstrated by Brawn at the Singapore Grand Prix, after which he stated that the new cars in 2021 would have every one of the features in them.
Why does it Look like these designs are like indy cars with wheel arch on the back and the super simple front wing in all honesty I would rather have f1 go back to the 2014 spec car with a new spec engine

— Jordan van Tonder (@Jordanvt200201) 14 September 2018
I like the look of @F1 2021 Concept cars as designed by Ross Brawn and his team. Current cars 'like a force field, can't get near it.' They can lose 50% performance, new design just 20% loss. Being able to attack car in front is what we all want!! pic.twitter.com/uJivwvKX0K

— Tony Jardine (@tony_jardine) 14 September 2018
For more updates keep visiting allsportspk