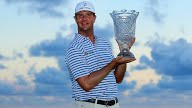 Hudson Swafford became champion of the Corales Puntacana Resort and Club (Golf) Championship 2020 with -18 score.
Tyler McCumber and Mackenzie Hughes won the second and the third positions of Championship with -17 and -16 score respectively.
The 4th and 5th slots were secured by Nate Lashley and Adam Long for -15 and -14 score.
The 54th event commenced on 24th September at Corales Golf Club, Dominican Republic with a prize money of $ 4 million.
Due to the corona pandemic no spectators were allowed.