Golf – Tour Championship '18: Tiger Woods On The Verge Of A Famous Win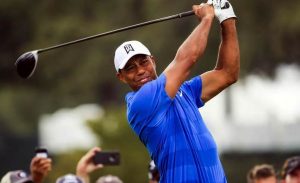 ATLANTA: Tiger Woods is looking for the perfect ending to a season that has already exceeded his expectations.
Woods, who achieved one goal just by making it to the TOUR Championship, will begin the final day of the PGA TOUR season with a three-shot lead East Lake.
It's been five years since he held a 54-hole lead on the PGA TOUR but it is a position in which he has thrived throughout his career.
Golf – Tour Championship '18: Tiger Woods & Justin Rose In The Lead
On 44 occasions, Woods has held the solo lead after 54 holes. He's won 42 of them. He's never lost a lead larger than two shots, going 23 for 23 when he leads by at least three.
Woods shot 65 on Saturday to post 12-under 198 (65-68-65) and take a three-shot lead over Rory McIlroy and Justin Rose. He has had close calls this season, but almost all of them would've required a large Sunday comeback. Just once did Woods start the final round fewer than four shots off the lead.
Now golf's greatest closer gets to play from his favorite position. He controls Sunday's outcome.
Amazing 3rd round for @TigerWoods (another 5 under round) to lead at 12 under for the tournament. I even had to listen live as I was in middle of renovations. #FreakinAwesome https://t.co/YK1tiAXdR3

— Davis McGregor (@DavisMcGregor) September 23, 2018
"Simple math says that if I play a clean card, the guys behind me have to shoot 67 to force it into extras," Woods said. "That helps. I don't have to shoot 63 or 64 and hope I get help. That's a big difference. This is a spot I'd much rather be in than certainly four or five back."
Woods, a two-time winner at East Lake, will play in Sunday's final group with McIlroy, who two years ago won the TOUR Championship to claim the FedExCup. While the galleries will be focused on Woods' title quest, McIlroy said that he must pay attention to only his game.
"I've been guilty of looking around before, and it hasn't paid off," McIlroy said. "I'll still look at where I'm at in relation to the field and to the lead, but I can't — I have to just, first and foremost, focus on what I can do."
I can't wait for Tiger Woods to win tomorrow and for all the haters to be silenced. Tomorrow will be a day for the true Tiger fam that has been there through thick and thin, in sickness and in health. Let's go get this one ?

— Elayna Bowser (@elanez) September 23, 2018
Fans whooped and yelled as Woods arrived at each tee Saturday. They cheered when he made impact, and then again when his ball landed hundreds of yards down the hole. They ran to the next hole to get in position to catch a glimpse and cheered loudly while filming with their cell phones when he walked past.
Rose, the No. 1 player in the projected FedExCup rankings, also is in second after shooting 68 while playing alongside Woods in Saturday's final group.
The start of the third round looked like a performance out of Woods' prime. He birdied six of his first seven holes to grab a five-shot lead.
What a sports day!!! Gamecocks upset Vandy, O.H. Takes care of business, VT upset by conf USA ODU Monarchs, Tiger Woods three stroke lead at Tour championships, Jack and coke or option B carnal knowledge to sleep tonight!!! Go Cocks…. every possible pun intended!!!

— Johnny S (@JohnnySatcher) September 23, 2018
"I was hitting it absolutely dead flush," Woods said. "If I could have added one more on the back nine, it would have been great."
He played his last 11 holes in 1 over par, though, to keep McIlroy and Rose within shouting distance.
They are the only players fewer than six shots back of Woods. Kyle Stanley and Jon Rahm are tied for fourth place at 6 under par.
The Valspar Championship was the only other time this season that Woods was less than four shots back at the start of the final round. He trailed by four at The Open Championship and PGA Championship, and was five back starting the final round of the Arnold Palmer Invitational presented by Mastercard, the Memorial Tournament presented by Nationwide and his most recent start, the BMW Championship.
— Michael Moyer (@mmoyer04) September 23, 2018
"I felt comfortable when I got into the mix there at (the Valspar Championship) even though it was very early in my start to this year," Woods said. "And because of that, I felt comfortable when I got to Bay Hill, when I grabbed the lead at The Open Championship. That didn't really feel abnormal, even though it's been years."
Woods has used strong driving and an impressive short game to take the lead at a demanding East Lake layout where the fairways and greens are lined by thick Bermudagrass rough.
He's made just five over-par scores this week. His four bogeys are fewest in the field. He also has one double-bogey (16th hole, second round).
He's third in driving accuracy (27 of 42), first in Strokes Gained: Putting (+5.104), first in both scrambling (14 of 18) and second in sand saves (6 of 7). Woods has made five putts from outside 20 feet this week, one shy of his career-high (in the ShotLink era).
** Tiger Woods is poised to claim his first win in five years and 80th on the PGA Tour after carding 65 : DEREK LAWRENSON: The victory golf craves and that has seemed inevitable with every passing week has now moved firmly.. : https://t.co/ZLgHQdz9WS pic.twitter.com/jbCetZvo3s

— Daily Betting Offers (@dbofbb) September 23, 2018
His usual strong suit, his iron play, has been the weakest facet of his game this week. He's 13th in the 30-man field in greens hit (36 of 54). Woods hit just 11 greens on both Friday and Saturday but made only three bogeys and a double in those two rounds. He bogeyed the long, par-3 ninth both days and played the uphill 16th hole in 3 over par.
"It's a golf course that's very easy to make bogeys and it's difficult to make birdies," Woods said. "My game plan throughout the week has been very conservative, … and occasionally I'll get hot for a couple holes and try to take advantage of it. It hasn't been real complicated."
Woods has had some difficulty when he has charged into contention this year. He made just two birdies in the Valspar's final round but still arrived at the 18th tee with a chance to tie the lead. He took iron off the tee, though, leaving himself a longer approach shot. He parred the final hole to finish one back.
Never forget, 22 years ago, Happy Gilmore won the #TourChampionship after being hit by a Volkswagen Beetle.

Tomorrow, @TigerWoods will try to win it after several back surgeries. The most recent, a spinal fusion. pic.twitter.com/Sji4h0lQ7q

— Jesse D Lifson (@jdlifson2184) September 23, 2018
Woods birdied six of his first 13 holes in the final round at Bay Hill and was one back when he came to the short par-5 16th. He hooked his tee shot out-of-bounds, though, and bogeyed the next hole. McIlroy birdied five of his last six holes to finish eight ahead of Woods.
Teeing off in the third-to-last group at Carnoustie, Woods took the lead with a front-nine 32. Missed fairways led to a double on No. 11 and bogey at the 12th hole. He shot 37 on the back nine to finish three back of playing partner Francesco Molinari.
At the BMW, he twice made birdie to pull within a shot of the lead. He bogeyed the next hole both times, missing a playoff by three shots.
The #golf world is going to be on ? on 9/23/18 @TigerWoods and @McIlroyRory is paired together for a showdown on #Sunday in the final pairing! It doesn't get much better than this! @nikegolf resurrect that old golf commercial and receive that free promo!

— Keith Henry Jr (@KeithHenryJr) September 23, 2018
Woods said those Sundays didn't feel abnormal, though. "I think I've been in those spots enough times that muscle memory, I remembered it and I felt comfortable in those spots," he said.
It may have been five years since his last win, but he also owns so many trophies that he doesn't know where they all are.
He knows where this one would go. It would be in the house, where he could enjoy it.
"I've gone through a lot this year to get myself to this point," he said. But, if history is any guide, the wait may soon be over.
For more updates keep visiting allsportspk