World Cup 2018 – Match 1: Russia beats S. Arabia 5-0
Highlights:
WC '18 – Match 1: Russia Vs Saudi Arabia
Result: 5 – 0
Goal Scorers:
Russia: Yury Gazinsky 12′, Denis Cheryshev 43′, 90'+1, Artem Dzyuba 71′, Aleksandr Golovin 90+4′
Highlights:
The play started after the national anthems of both teams were played in front of a packed stadium.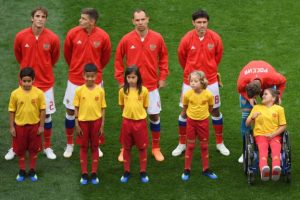 Russia's ball play from the very 1st minute was exceptional. Meanwhile, Saudi Arabia were struggling to take the ball in their opponents half.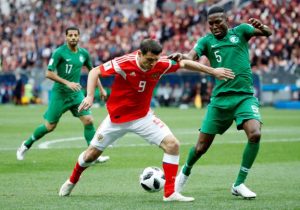 And, Russia's dominance was awarded as Yuri Gazinskiy scored the opening goal with the help of an assist by mid-fielder, Aleksandr Golovin.
Yuri Gazinskiy will go down in history for #RUS after scoring the first goal of the 2018 #WorldCup ?pic.twitter.com/h7ScBVkrVW

— COPA90 US (@COPA90US) 14 June 2018
Russia substituted Alan Dzagoev for Denis Cheryshev at the 25th minute of the match. And, with precision and accuracy, Denis struck a goal just before the close of the 1st half.
What. A. Goal. ???

?? Denis Cheryshev ⚽⚽#UEL pic.twitter.com/n5osogp1V1

— UEFA Europa League (@EuropaLeague) 14 June 2018
The 1st half came to an end, with the Russians in the lead by 2 – 0 and unsurprisingly, Saudi Arabia hadn't even a single shot at their opponent's goal.
The 2nd half went underway and Saudi Arabia's defence was quite better in the 1st part of the 2nd half.
But, Saudi's defenders couldn't hold Russia for too long as Artem Dzubya scored a goal with a 2nd touch to triple Russia's lead.
At this point, Russia Vs Saudi Arabia became pretty much one-sided.
Artem Dzyuba cannot be stopped inside as he heads it in to make it 3-0 for #RUS! #WorldCup

LIVE NOW!

? ABS-CBN S+A, Liga

?/? https://t.co/6AfpnhLvoQ pic.twitter.com/LiKC2DimGg

— ABS-CBN Sports (@abscbnsports) 14 June 2018
The play was now coming to an end and Saudi Arabia were now looking for a consolation goal.
But, Russia weren't finished yet as in the 2nd half's injury time Denis Cheryshev made a successful shot with his outside foot to net the ball and quadruple Russia's lead.
WHAT A GOAL BY DENIS CHERYSHEV OUTSIDE OF THE LEFT FOOT ? #WorldCup #FifaWorldCup2018 #RUS #KSA pic.twitter.com/TAi94vARXq

— Rambo (@WelshRamsey) 14 June 2018
Further humiliation rained down upon the Saudis as Aleksandr Golovin scored a goal off a free kick as Russia handed their opponents a daunting defeat of 5 – 0.
Breaking: WC '18 – Russia Vs Saudi Arabia: Russia Wins By 5 – 0
A SPECTACULAR free-kick gives Russia a 5-0 win in the #WorldCup opener pic.twitter.com/q0LLioAA9w

— TSN (@TSN_Sports) 14 June 2018
MOTM: Aleksandr Golovin took the majority of the vote for Man of the Match – hope Jose was watching! Think he could do a job for United? #WorldCup pic.twitter.com/zkslhKC9WT

— Stephen Howson ?? (@MrStephenHowson) 14 June 2018
FULL TIME: Russia 5-0 Saudi Arabia.

Russia wins convincingly in the opening match of the #WorldCupRussia2018⁠

Goalscorers: Gazinskiy, Cheryshev x2, Dzyuba, Golovin. pic.twitter.com/qsQdXVF2nA

— #WorldCupRussia2018 (@thelivesoccer_) 14 June 2018
DID YOU KNOW: Russia's 5-0 opening match win at the 2018 #WorldCup⁠ ⁠ is the second biggest victory by a host nation in their opening match in history. #Worldcup2018Russia pic.twitter.com/ciUQyYqrGq

— #WorldCupRussia2018 (@thelivesoccer_) 14 June 2018
Russia ?? to win the World Cup ?

— Josh Warrington (@J_Warrington) 14 June 2018
– "Whoever wins earns Syria"

*Russia scores*

— Jesús Daboin (@jedaboin) 14 June 2018
Join allsportspk tomorrow for the next matches of FIFA World Cup 2018.