IBF Flyweight Title: Mthalane Edges Past Waseem To Capture Title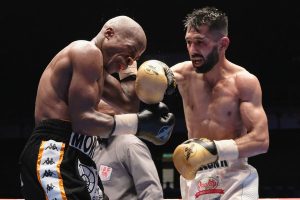 Kuala Lumpur: Moruti Mthalane won the vacant IBF flyweight title by defeating Muhammad Waseem, despite being knocked down In the eleventh round.
The bout which lasted for twelve rounds and was decided on unanimous decision, with the final scores being 114-113, 114-113 and 116-110.
The fight record of Moruti Mthalane and Muhammad Waseem are:
Moruti Mthalane – 36-2, 24 KOs. During 2017 there were three fights which were all won all by knockout.
Muhammad Waseem – 8-1, 6 KOs. Waseem had a similar performance as he also had three fights in 2017, and won all three by knockouts.
From the early rounds Mthalana controlled the fight and outboxed Waseem who seemed to give an impression of lack of experience. From the beginning, Waseem was feeling Mthalana out, which resulted in losing some of those rounds as a result.
Although, in the sixth round, Waseem changed his strategy and started throwing more effective punches and damage Mthalane as he got caught. In the seventh round, Mthalane applied the same technique and also increased his punch rate.
The result was that during the eight to the ninth round there continuity of punch war between the two boxers. The barrage of 'punch war' also continued during the tenth round.
In the eleventh round, Waseem became more aggressive and connected a fierce left hand jab, with the result that Mthalana was knocked down in the closing seconds. However, Mthalane got up just as the round ended and escaped the KO scare.
Waseem continued with his fierce style in the twelfth round, throwing and successfully connecting a lot of his punches. Mthalane. handled the storm and did counter with counter punches. This did not put Waseem on the defensive and he again started to launch an onslaught of punches on the Mthalana from a closer range.
Mthalane was rocked and shaken in the closing seconds of the twelfth round, however was able to survive till the bell rang and the fight ended with him getting a favourable unanimous decision.
WHAT A FIGHT! Official scores:

114-113 | 114-113 | 116-110
Moruti Mthalane UD12 Muhammad Waseem

Mthalane wins the vacant IBF flyweight title.

Well done both! RT Thanks

— Boxing Kingdom (@BoxingKingdom14) July 15, 2018
For more updates keep visiting allsportspk