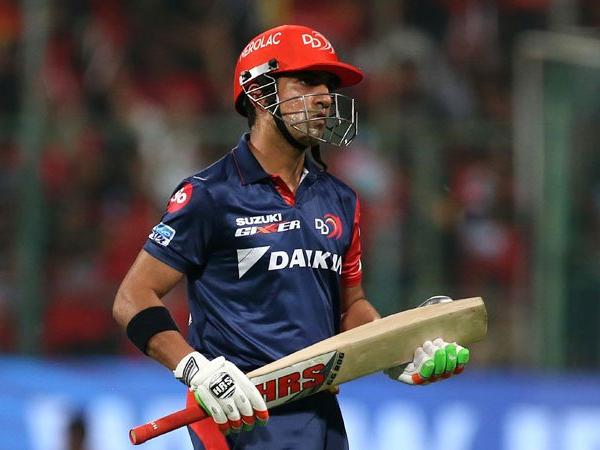 Delhi Daredevils have never been a strong IPL team and their inability to even reach the IPL finals reflects it clearly. While some may term it as bad luck others name it as incompetency of the management staff as year after year this team disappoints its fans.
IPL 2018 was no different as Delhi now have lost 5 matches out of 6 and are ranked at the bottom of the table. And, so it did not come as a surprise when Delhi's captain Gautam Gambhir decided to hang his captaincy shoes in hopes of turning the team's fortune around.
Gambhir who had been a winning captain for KKR as he had led the Knight Riders to two titles in 2012 and 2014 respectively. However, after his return to his home team after 7 years he failed to deliver as a captain which led him to make this decision.
How did it come to this?
The 36-year old has always liked to lead from the front however, he has struggled to find his rhythm in this season and it had a bad effect on his captaincy skills.
Although, he made a fifty in the first match upon his return to Delhi however, opposition teams credited on Gambhir's weakness to pace. This led the Delhi captain to make only 85 runs from 5 innings as Delhi sunk to the bottom of the table.
Who will replace Gambhir as Delhi Daredevil's captain?
Gambhir publicly announced on twitter that he is indeed stepping down from Delhi's captaincy and that he takes full responsibility.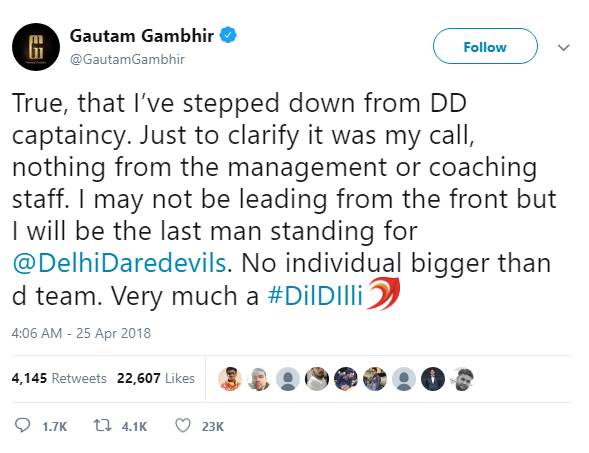 Not only that, the former Delhi captain also announced his replacement as he announced Shreyas Iyer to captain Delhi from now on.
Delhi's coach Ricky Ponting also feels that they can bounce back as a team as they still have 8 more games to go in this season.
It is now do or die for Delhi Daredevils as they have very little possibility of qualifying for the play-offs even if they lose one single match from here on.
 Delhi stand last in the points table. Have a look.
| | | | | | |
| --- | --- | --- | --- | --- | --- |
| Teams | P | W | L | Points | NRR |
| 1.  Kings XI Punjab | 6 | 5 | 1 | 10 | +0.394 |
| 2.   Chennai Super Kings | 5 | 4 | 1 | 8 | +0.742 |
| 3.  Sunrisers Hyderabad | 6 | 4 | 2 | 8 | +0.492 |
| 4.  Kolkata Knight Riders | 4 | 3 | 1 | 6 | +0.572 |
| 5. Rajasthan Royals | 6 |  3 | 3 | 6 | -0.801 |
| 6. Royal Challengers Bangalore | 5 | 2 | 3 | 4 | +0.486 |
| 7. Mumbai Indians | 6 | 1 | 5 | 2 | +0.008 |
| 8. Delhi Daredevils | 6 |  1 | 5 | 2 | -1.097 |
For updates regularly visit: Allsportspk