ITA-SNGPL ITF Pakistan Junior Tennis C'ship 2019: SF Day – Seed Players In Finals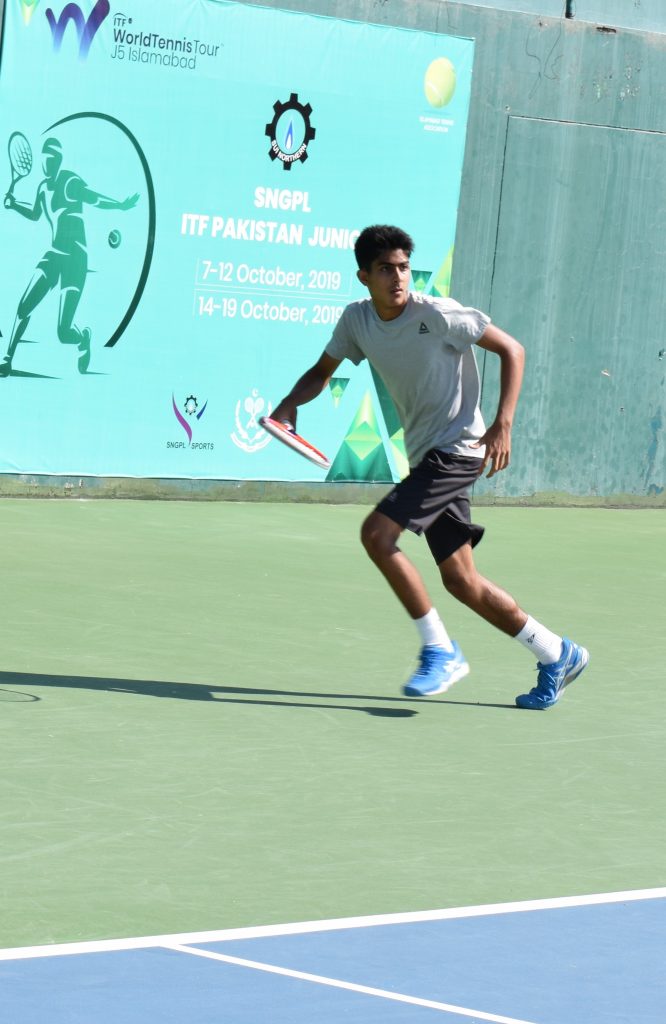 ISLAMABAD: Top seed Aysegul Mert from Turkey, and Second seed Arina Valitova of Russia will vie for the top honour in the Girls Singles Final when both players eliminated their opponents in straight sets in the semi finals.
In the Boy's Singles Semi-Final, unseeded Dong Hwan KIM (KOR) made another big upset in the tournament by eliminating 3rd Seed Min-Joon KIM (KOR) without any resistance in straight set at 6-3, 6-1 and confirmed his place in the Boys final.
In the second semi final 2nd Seed Huzaifa Abdul Rehman (PAK) showed his command and control over his opponent by eliminating in straight sets match and advance into the Boys Singles final and will face Dong Hwan KIM in the Boys Singles final. Huzaifa won the first set 6-3 by breaking 8th game of in the first set. He won the second set in same fashion by breaking 9th game of Khan. .
The Finals of Boys & Girls Doubles will be played on Friday at 2:30 PM.
In the first semi final of Girls Event; Aysehgul Mert (TUR) struggled hard to win her encounter against talented Soo Ha Jang (KOR). Both the players exhibited excellent tennis right from the beginning. A beautiful combination of cross court and down the line shots were witnessed during the match. Ayeshgul won the set set at 7-5 breaking the 11th game of Soo Ha Jang. In the second set she was in superb form and did not allow her opponent to settle down throughout her powerful forehand and backhand drives and won the second set without conceding a single game.
In the second Semi Final; Arina Valitova (RUS) stunned her opponent Ji-Woo Choi (KOR) in a straight set match by playing powerful forehand cross court and down the line drives. In the first set Arina build up the winning lead 4-0 by breaking 2nd and forth game of Choi. In the second set Arina showed her supremacy of powerful ground strokes and did not allow her opponent to settle down and won the second set at 6-1 by breaking 4th and 6th game of Choi.
Davis Cup World Group I and World Group II: Draws; Play-offs
The detailed results were:
Boy's Singles Semi Finals:
Dong Hwan Kim (KOR) beat Min-Joon KIM (KOR) 6-3, 6-1;
Huzaifa Abdul Rehman (PAK) beat Shoaib Khan (PAK) 6-3, 6-3
Girls Singles Semi Finals:
Aysegul Mert (TUR) beat Soo Ha Jang (KOR) 7-5, 6-0
Valitova Arina (RUS) beat Ji-Woo Choi (KOR) 6-4, 6-1
Boy's Doubles Semi Finals:
Soaib Khan (PAK) / Huzaifa Abdul Rehman (PAK) bt Muhammad Nauman Aftab (PAK) / Erikin Tootoonchi Mobhadam (IRI) 6-2, 6-1
Dong Hwan KIM (KOR) / Min-Joon KIM (KOR) beat Luca Emanuel Knese (GER) / Kavisha Ratnayake (SRI) 6-3, 6-2
Girls Doubles Semifinals:
Aysegul Mert (TUR) / Arina Valitova (RUS) beat Ji Woo Choi (KOR) / Soo Ha Jang (KOR) 1-6,6-4,10-7
Mahta Khanlool (IRI) / Meshkatolzahra Safi (IRI) beat Aliya Abbas (MDA) / Clemence Thouard (FRA) 6-1, 6-
For more updates keep visiting allsportspk