Mr. Ijaz Chaudhry a well versed sports journalist, writes an indepth analysis of Pakistan Sports and emphasizes on what can be done immediately; without burdening the government, and mainly through professional management and involvement of the private sector.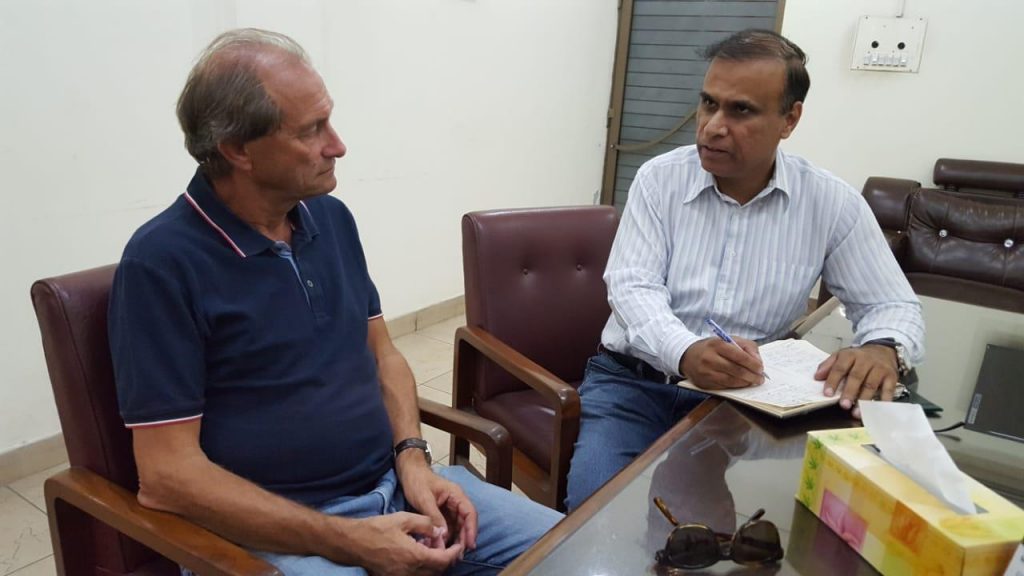 The most accepted yardstick to judge a country's standing in the world of sports is itsposition in the latest edition of the Olympics. Since independence, Pakistan has won three gold, three silver and four bronze medals at the Olympics. Barring two bronze, all the other medals have come through hockey.
All the other sports combined have yielded two bronze: wrestling (1960) and boxing(1988). Pakistan's last Olympic medal, a hockey bronze came in 1992. Since then, hockey has failed to bring any Olympic medal; closest was in 2000 where the green shirts finished 4th. Still, hockey continued to present an outside chance of a medal and remained the major reason of world's fifth most populated country's interest at the Olympics. But unthinkable happened when Pakistan's hockey team failed to qualify for the 2016 Olympics – a dubious first. The hockey team has again been unsuccessful to make it to the 2020 Olympics.
In last six Olympics, Pakistan has achieved the dubious distinction of being world`slargest country not to win a single medal.
Coming to the non-Olympic sport of squash where Pakistan ruled for such a long time. Pakistan`s last glory came way back in 1997 when Jansher Khan won the British Open. Presently, no Pakistani figures among top 45 in world squash rankings.
Overall scenario could not have been worse.
Where to go from here?
Focus should be on those sports where we have realistic chances to succeed especially at the Olympics. Plus developing sports culture via Leagues
Hockey: Presently, Pakistan, the record four time World Cup winner, is ranked 17th in the world. The state of Indian hockey wasn`t much different till few years back. India, the record eight time Olympic gold medallists had failed to even qualify for the 2008 Olympics. At the next 2012 Olympics, they managed to qualify but finished last 12th.
The biggest step taken was `Right Person for the Right Job at the Top.' Instead of opting for the then prevailing practice of going for some senior bureaucrat/army officer or former hockey great, a business tycoon Narinder Batra was made the president of Hockey India (national body).
For the all-important CEO of Hockey India, an Australian lady Elena Norman was selected. She had been working as the Chief Operating Officer with the Sports Management Company in India, and had played an important role in the successful holding of the 2010 World Cup in Delhi. Batra, using his business acumen, brought unprecedented sponsorship for Indian hockey, and turned Hockey India into a self-sufficient corporate body.
India`s performance in the international arena showed constant improvement. The men`s team is now ranked fourth and is a definite medal contender at the next
Olympics. Women`s team had not qualified for the Olympics since 1980. They made it to the 2016 Olympics, after 36 years, and have also qualified for the next Olympics. India won the last Junior World Cup. Not only the show of their national teams has been so impressive, India is also now the de facto HQ of world hockey. Having been selected as the host for the next World Cup,
India will become the first country to hold two consecutive editions. In fact, they havealso been chosen to stage the next junior World Cup. It will be third time in succession. This dramatic metamorphosis is primarily due to the `Right Person for the Right Job`
Only a dynamic person with proven credentials can help turn around the fortunes of Pakistan hockey. The most suitable person is Tauqeer Dar (Olympic gold medalist, 1984). He Ticks all the Boxes. He is connected to the grassroots through running the Dar Hockey Academy. It can easily be regarded as the best grassroots academy in Pakistan which is regularly providing players to the national senior and age group teams. This has been managed through Corporate sponsorship, arranging sponsorship from private sector which also included six European tours (Holland, Germany and Belgium) plus a visit each to India & Malaysia have been conducted.
Can Bring Foreign Teams: In 2012, when the terrorism in Pakistan was at its worst, Tauqeer arranged a tour of flying Dutch Veterans. That side included a number of Olympic gold medallists & World Cup winners. Flying Dutch veterans played three very well attended matches in Lahore.
A hockey league on the pattern of the PSL is very much feasible, with someone like Tauqeer at the helm. If a hockey league is staged in Pakistan, there are all the chances that it will be even more successful than the PSL. In cricket, high profile leagues are already being run in quite a few countries. But in hockey, apart from Holland, there is no mega league.
Professional Leagues in other Sports:
Kabaddi: Kabaddi is a sport which requires almost negligible finances. It is very popular in the rural areas.
The first Super Kabaddi League of Pakistan was successfully staged during May 2018 in Lahore. Ten city based franchise model with team from the four provinces, Islamabad and AJK saw players not only from Pakistan but also from Iran, Sri Lanka, Malaysia and Bangladesh. But it ran for just ten days and all the matches were played in Lahore. It lasted only one season. If given a little more patronage, Super Kabaddi League of Pakistan has the potential to become a regular annual event running over weeks like cricket`s PSL.
Pakistan winning the Kabaddi World Cup this February should also boast this sport in the country. It was Tapal Tezdum Kabbadi World Cup. Apart from this title sponsorship, the World Cup had eight other major sponsors.
Kabaddi League could bring far reaching affects. Kabaddi is regarded by many as the nearest thing to a complete sport. It builds all the major attributes — speed, stamina, strength as well as the killer-instinct. It was due to this reason that during 50s and early 60s, Pakistan was best in athletics in Asia and won golds in even more competitive Commonwealth Games. Khaliq (sprinter), Raziq (hurdler), Iqbal (hammer), Nawaz and Jalal (both javelin) got ratings among world`s top 7-13 at some stage of their career. Interestingly, they were all primarily Kabaddi players in their native villages before joining army and becoming athletes.
Some would say that Kabaddi is not an Olympic sport plus the Pakistani version of Kabaddi is not a part of Asian Games either. But what is important about this sport is that Kabaddi is very popular in Pakistan. The most popular sport in the USA is American Football which has a very small following outside the USA and Canada. Likewise, the most popular sport in Australia is Australian Rules football. It is almost non-existent outside Australia.
Volleyball: Volleyball is the most widely played sport in the world; 218 national federations are affiliated with the FIVB (International Volleyball Federation). No other sport boasts as many.
The sport (both men and women) has been part of the Olympics since 1964. As many as 26 countries, more than any other team discipline, have won Olympic medals. This alone depicts the high standard of this game across most parts of the world.
Pakistan won bronze medal at the 1962 Asian games. At the Asian Volleyball championships, the country's best show came in 1989 when Pakistan surprised many by finishing 4th in a highly competitive field.
Volleyball team's international achievements are third only to hockey and cricket if we talk about team games.
In fact, preparations for the 1st professional league in Pakistan were in the final stages before coronavirus struck. Pakistan Volleyball Federation President Chaudhry Yaqoob told that the league was set to be organized in April-May of 2020. "We were about to enter a new volleyball era in Pakistan with the inauguration of the first professional league. The coronavirus outbreak has ruined all our plans." Yaqoob said it was planned that eight teams with names of cities would compete in the league. "We had already reached sponsorship deals and all the formalities were complete. We were about to announce our plans when the pandemic's impacts started surfacing."
Players from outside Pakistan were also to feature in the league. Since Pakistan is a leading Asian volleyball nation, players from some top clubs had expressed their willingness to compete in the tournament. Matches were planned in Peshawar, Wah, Islamabad, Lahore, Sialkot, Sahiwal, Karachi, Quetta and Faisalabad. Like Kabaddi, Volleyball also doesn`t require big resources.
Such leagues will have multiple and varied benefits:
Big financial houses who buy the franchises bring a lot of investment. Jobs are created: Players, management staff, fitness experts, media persons, merchandise, among others. PSL is the living example. Development of the sports infrastructure: by the private sector owning the franchises. Youth`s attention and energy gets focused on healthy activities. Not only youth, people of all ages, will have their favourite teams to support. Sports culture will flourish. Kids will have role models; aspire to become like them. National cohesion will enhance: Players from the Punjab appearing for Baluchistan`s teams; players from KP in sides from Sindh.
In the PSL, the Quetta Gladiators had just one player from Balochistan, yet the whole province celebrated its successes Prime Minister, during his election campaign, mentioned many a time that people from other countries would come to Pakistan for employment. Foreign players in these leagues will fulfill this election promise. Competitive atmosphere will definitely produce better players which will in turn produce better performances of the national teams in the respective sports.
Sports in which Pakistan has more chances to succeed:
Squash: Pakistan has a great legacy- the most successful nation. The revival could be difficult but certainly not impossible. The country currently dominating the world squash scene is Egypt, a third world country like Pakistan. Moreover, unlike in the past, when players like Hunt, Jehangir and Jansher each dominated for many years, presently no player is unbeatable. What is required? Early spotting of talent, proper guidance and training preferably by some former stalwart on the model of Jehangir Khan/Rahmat Khan or Jansher Khan/Mohammad Yasin. Jehangir lived and trained with Rahmat 24/7 for months. Same was the case with Jansher vis a vis Mohammad Yasin.
Badminton: This is an Asian sport. Asians have been dominating badminton for along time. Not one but a number of Asian countries have been producing world class badminton players: Indonesia, China, Japan, Malaysia, Korea, Thailand, India, Hong Kong and even small countries like Vietnam. As many as seven different countries of the continent currently figure in world's top 10 men and women.
Asians' small frame, agility, quick reflexes, supple joints, flexibility and wrist work make them physically geared for this sport.
Pakistan too had excellent players in the past. Tariq Wadood (highest world ranking 12), Javed Iqbal and Hassan Shaheed all emerged at around the same time in the 1970s and Pakistan badminton had its best era. In the 1974 Asian games, Pakistan defeated the teams of Japan and South Korea, badminton's two major powers. In the next edition, they went one better and won the team bronze, at the 1978 Asiad.
Badminton is widely played in almost all the parts of the country. Even today, a Pakistani girl Mahoor Shahzad is ranked 133 in the world. At the 2018 Asian games, she played Tia Tzu Ying, the world no 1 and the eventual gold medallist. Mahoor lost 14-21 and 17-21 after giving good fight in both the games.
A badminton league in Pakistan is very much feasible. It can be modelled on the pattern of India`s Premier Badminton League. Launched in 2016, PBL is now world`s richest badminton league. It is participated by seven franchise teams like IPL. Each team plays six ties in the league stage in which each tie consists of five matches, followed by semi-finals and final. The matches played are two Men's singles, Women's singles, Men's doubles and Mixed doubles. India is now a major power in badminton. Its men and women figure high in the world rankings. At the 2016 Olympics, India won only two medals, a silver and a bronze. The silver was won by their female badminton player P.V.Sindhu.
Why did India turn to badminton instead of tennis which is more glamorous sport and also enjoys higher status in commercial terms? – Because Indian players had more chances of success in badminton. No Asian male player has ever won a tennis grand slam event. While only two females (a Chinese and Japanese) have been successful. Badminton is also cheaper to play than tennis and squash which require proper courts even at the lowest level.
Athletics: Athletics is called the mother of all the sports. In 50s and early 60s, Pakistanwas best in athletics in Asia. Pakistani athletes also won golds in more competitiveCommonwealth Games. Khaliq (sprinter), Raziq (hurdler), Iqbal (hammer), Nawaz andJalal (both javelin) got ratings among world`s top 7-13 at some stage of their career.
At the 2018 Asian Games, a medal came Pakistan`s way after a long time, first since1990. Again, a javelin thrower, Arshad Nadeem won a bronze at the 2018 Asian Games. Incidentally, he later qualified for the next Olympics. He thus becomes the first Pakistani athlete to qualify for the Olympics ever since qualifying standards were introduced a few decades back. In fact, he is a definite medal prospect at the next Olympics.
Track and field -Olympics' most popular discipline- requires minimal finances. Poor countries like Kenya and Ethiopia are major powers in distance running. In Kenya, in the 1960s, the European priests were amazed to observe that the local children daily walked and ran miles on hills to reach the school. They thought about utilizing this immense stamina of poor kids into something beneficial. Hence, they devised the plan to groom these kids as long distance runners. The rest is history: Kenya has been the dominating force in races from 800 metres to the marathon for last more than five decades.
I have spent time in Pakistan's northern areas and have been to a height of more than 21,000 feet. One was awestruck to see the ease with which the people of Gilgit-
Baltistan walked up the mountains — at such great heights where rarefied atmosphere with low oxygen concentration made it even difficult to breathe normally.
It won't be a far-fetched dream to see the Kenyan success story replicated in Pakistan's Gilgit-Baltistan.
Wrestling: Pakistan has a proud wrestling history. At the Commonwealth games, of the total 25 golds won by Pakistan, the share of the wrestlers is an astonishing 21. But more importantly, the sport has also brought Pakistan medals at the Asian games and even at the greatest stage, the Olympics. Yes, Pakistan's first individual Olympic medal, a bronze, was garnered by Basheer pehalwan at the 1960 Rome Olympics; boxer Hussain Shah, also a bronze medallist in 1988, brought the only other individual Olympic medal to the country.
Though our wrestlers still shine at the Commonwealth Games, their performance at the more competitive Asian arena has of late declined. Pakistan had been a potent wrestling force at the Asian games. The grapplers won six gold medals at the Asian games with the last one coming in 1986. Since then, not even a bronze has been won at the Asian games' wrestling. Winning at the Commonwealth stage is encouraging but there is not much competition in wrestling at these games.
Whereas Pakistan's wrestling fortunes have plummeted, India has had a great rise. In recent time, they have been winning at every level including the highest stage. At the 2012 Olympics, the Indian grapplers won a silver and a bronze. This is a far cry from the older days when Pakistan was way ahead of India, until the early 70s. In fact, Pakistani wrestlers of 60s regarded the bout against an Indian at the Asiad, CW Games, Olympics, etc. as their rest day.
The traditional mud arenas called akhara have always served as a nursery for Pakistan's wrestling and the grapplers from akhara graduated to win laurels for the country in the international wrestling done on the mat. The enthusiasm is still there. There are always good crowds at the important competitions.
I have witnessed two recent Sher-i-Punjab Dungals. Staged at the wrestling stadium in Iqbal Park, Lahore, one was thrilled to see the wonderful atmosphere. The 5,000 capacity stadium was filled beyond capacity. Spectators, of all ages, had come even from outside Lahore: Gujranwala, Sahiwal, Sialkot, Bahawalpur, etc. There were a number of bouts on the akhara with the title bout, "Sher-e-Punjab", obviously being the climax. A couple of duels involved kids not even into their teens. Hence, the enthusiasm, public support, tradition and proud history; all is there. The missing link is the training along the modern lines.
India Badminton experience is a worthwhile example to train potential talents according to modern methods. Indian Badminton legend Prakash Padukone, father of the present day Bollywood diva Deepika Padukone, was the first Indian to win the prestigious All England Championship which is Badminton's Wimbledon, in 1980. That year also saw him at the top of the World Rankings.
When in his teens, Prakash Padukone's precocious talent was noticed by the state government of his home state Karnataka and he was sent to Indonesia, the most dominant badminton nation of that time, along with Asif Pirpia, another highly promising shuttler of Karnatka. Padukone lived, studied, trained and played in the highly competitive Indonesian domestic circuit for a few years. Living, training, playing with and against world class players made Padukone a world class player himself and he reached heights untouched by an Indian before him.
This Indian badminton model can be applied to wrestling and may be some other sports in Pakistan. Pakistan wrestling doesn't need to look that far to the far East. Our neighbours and friendly countries Iran and Turkey are great wrestling nations –almost invariably winning wrestling medals at the Olympics and World Championships. Both these wrestling giants also have had the honour of hosting the world championships five times each.
Arrangements can be made to invite the wrestling coaches from the two countries. After scouting in different parts of Pakistan they should pick a batch of around 10 young talented wrestlers in early teens. The selected lot would then be sent to Iran/Turkey to live, study and wrestle for three to four years. Learning and competing in the most competitive environs should help them grow into world class wrestlers and bring glories to Pakistan.
Shooting: In most of the sports, it might be difficult to catch up with the top countries in a shorttime. However, in some sports natural talent is not that important – it is practice, facilities and professional guidance. Shooting is one such sport.
Bangladesh is not regarded a strong sporting nation nor with big resources. All its eight medals (2 gold, 4 silver & 2 bronze) at the Commonwealth Games spread over six editions have come through shooting. India has won nine golds at the Olympics. Eight have been won by its hockey team. The solitary individual gold was won by a shooter in 2008.
Pakistan is blessed in a way. Khyber Pakhtunkhwa has a rich tradition of producing sharp shooters. In fact, it is said that Pashtuns are born shooters.
Other Benefits of Sports
Sport participation is generally considered to provide a multitude of positive benefits to individuals and society including but not limited to
1. Reductions in crime
2. Increases in social capital and social integration
3. Improvements in health through physical activity
Coming To Health:
Since childhood, we have been told that sports/physical activity is necessary for good health, and also `Healthy Mind in a Healthy Body`.
Obesity:
Obesity is a close second to smoking as the biggest cause of premature death.
Health problems associated with obesity: Obesity is a major risk factor for diabetes, gall bladder diseases and breathlessness. It is a moderate factor for coronary diseases, hypertension, osteoarthritis and gout. To a lesser degree responsible for cancer (of breast, endometrium and colon), reproductive hormone abnormalities, low back pains, etc. Obesity is also related to psychological and social problems. Rates of anxiety and depression are 3-4 times higher among obese people.
For young adults with obesity, the mortality rate is 50% higher than the non-obese
National Psyche and Pride:
Success in sports does wonders for the national psyche. I read an article in an Indian magazine sometime in early 80s where Pakistan`s sporting successes were envied.
The theme of the article "Pakistan, a far smaller country, boasts world`s best player in three major sports, Jehangir Khan (squash), Imran Khan (cricket) and Hassan Sardar (hockey). India, on the other hand, has no one comparable." A decade later, in early 90s, I came across a somewhat similar article, "Pakistan has world`s best exponents in squash (Jansher Khan), hockey (Shahbaz Ahmad) and cricket (Wasim Akram), plus Pakistan is world champion in all these three sports. India is not there."
Mr. Ijaz Chaudhry is a respected sports journalist with roots in both Pakistan and the United Kingdom. Having covered more than 20 sports for prestigious newspapers, magazines, websites and TV/Radio channels, he is presently based in Lahore. Website: http://www.sportscorrespondent.info
The opinions and views expressed by the author or the readers may not reflect the views and editorial policies of the Allsportspk. Thus, the content published is not the responsibility of Allsportspk.