Breaking- Russian Mountaineer Rescued; Pak Pilots "Did The Impossible"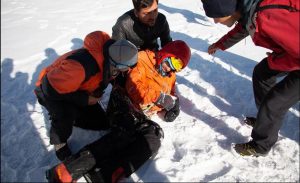 ISLAMABAD: The Russian mountaineer Alexander Gukov, who was left hanging since few days on a ridge of the Latok-1 mountain in Pakistan, has been rescued.
The Pakistan military helicopters cum rescue team after many attempts have finally rescued Mr. Alexander and airlifted him to a hospital in the city of Skardu. The mountaineer is reported to be very weak but miraculously in good shape considering his ordeal.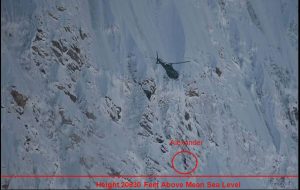 Unfortunately high winds and poor visibility repeatedly delayed rescue efforts; the likelihood of rescuing Gukov alive were slipping away. Finally, on 31st morning at 2:45 , the weather cleared for long enough for the rescue to be attempted. Details are still coming in, but at 4:49 it was reported that the mission had been successful, thanking the Pakistani helicopter pilots who had "done the impossible".
Breaking-Lotak 1; Pakistan: 1 Russian Mountaineer Dies; Other "Supposedly" Trapped
The Russian mountaineer had been trapped at approximately 6,200m on Latok I since 25th July, following the death of his climbing partner Sergey Glazunov as they attempted to descend the 7,145m peak. The pair had set off on their summit push on 12th July. By 15th July they had elected to abandon their heavy equipment at approximately 5,500m, taking only five days worth of food with them for the final push.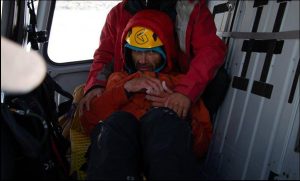 The pair were turned back before the summit of Lotak 1 mountain due to bad weather, and tragedy struck as they attempted to descend; Gukov could only watch as Glazunov fell to his death while rappelling. Gukov sent out an SOS and was forced to wait in the hope of rescue, clinging to the wall without equipment to descend, and without food supplies. He managed to build a snow cocoon to shield himself from the elements and was able to stay in contact with rescuers via a satellite phone till the battery had run out.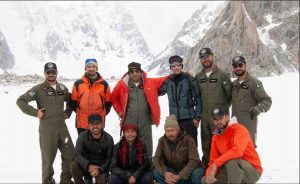 According to Mountaineering Federation of Russia website, the two mountaineers were part of an expedition that planned to make a film titled "Impossible is not forever." The team had already attempted to climb Latok 1 in 2017, but were even then unsuccessful due to prevailing weather conditions.
For more updates keep visiting allsportpsk