Lt Gen Shah Rafi Alam Memorial Cup 2018: Day 2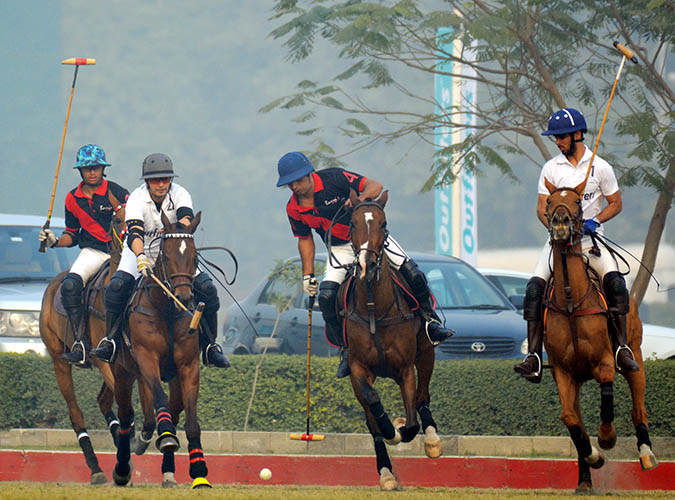 LPC LAHORE: Barry's and Rijas/Green Orchard carved out impressive victories in the Outfitters-sponsored Lt Gen Shah Rafi Alam Memorial Polo Cup 2018 matches played at the Lahore Polo Club (LPC) ground.
Hernan Pieres guided Barry's 6½-4 triumph over Outfitters in the first encounter of the day. Hernan Pieres was top scorer from the winning side with his fabulous four goals while Jamil Barry and Raja Mikael Sami contributed one goal apiece. They had also half goal handicap advantage. From Outfitters, Ahmed Ali Tiwana banged in a brace while Shah Shamyl Alam and Adnan Jalil Azam hit one goal each.
The match started with a field goal from Ahmed Tiwana to give Outfitters 1-0 lead which was soon equalized by Barry's when Hernan converted a 40-yard penalty successfully while Jamil Barry fired a field goal to give Barry's 2-1 edge. Outfitters bounced back in the second chukker by banging in brace – one each by Shah Shamyl and Adnan Jalil – to take 3-2 lead which was leveled by Barry's when Hernan struck a field goal to finish the chukker at 3-3.
The third chukker was evenly poised as one goal each was scored by both the sides as from Outfitters, Ahmed Tiwana was scorer while Hernan thwarted for Barry's to draw the blood at 4-4. Barry's then changed the strategy and started playing aggressive polo and they succeeded in pumping in two more goals through Hernan and Raja Mikael to register an impressive 6½-4 victory.
The second encounter of the day saw Rijas/Green Orchard registering 6-4½ victory over Guard Group. Geoffredo emerged as top scorer with four goals while Ahmed Zubair Butt thwarted two goals. From the losing side, Bilal Haye struck all the four goals but his heroics couldn't help his team score win.
Two matches will be conducted on Thursday, as Master Paints Black, Artema Medical and Army will vie against each other under American system in the first encounter of the day while Jubilee Insurance/Master Paints will take on Diamond Paints in the second match.
For updates regularly visit: Allsportspk