The Malaysian Women's National Baseball team arrived in Pakistan to participate in the scheduled women's baseball series with Pakistan's National Women's Baseball teams.
According to Pakistan Federation Baseball press release, the WBSC-World Baseball Softball Confederation has officially approved the series and both teams subject to results will be awarded world ranking points.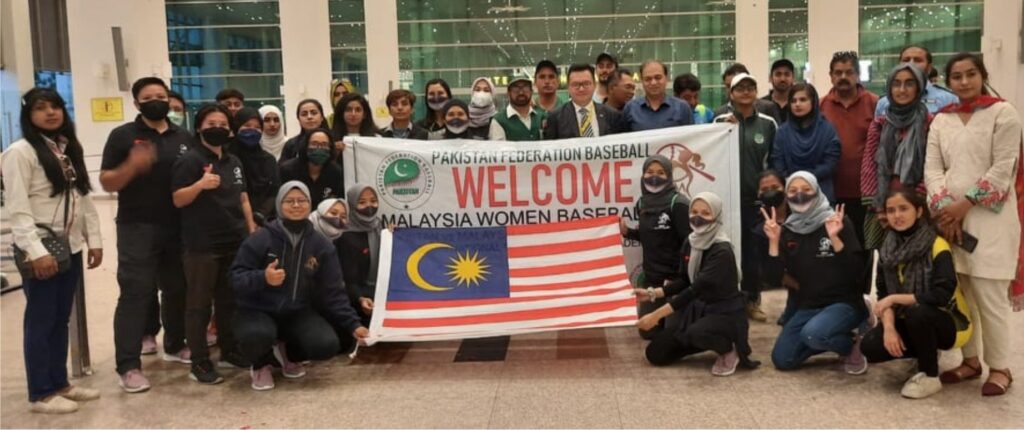 17-member contingent of Malaysian Women's baseball team which arrived in Pakistan accompanied by Malaysian Baseball Federation, President, Mr. Sajali bin Hussain, left Islamabad Airport for Lahore, where they are scheduled to play three matches series in Bahria Town, Lahore on 27th, 28th and 29th March.
The teams are:
Pakistan: Madiha Rasheed, Ansa Irshad, Aqsa Abid, Sidra Riyasat, Humaira Khan, Zainab Riaz, Ayesha Ijaz, Zahida Ghani, Asia Sadiqa, Rashida Parveen, Noorena Khalil, Umm e Hani, Zulikha Malik, Sadia Bibi, Aneela Kanwal, Hira Abbas, Saiqa Riaz and Maryam Butt. The coaches will be Tariq Nadeem and Umair Bhatti.
Malaysian: Nurul Ain Izzatie Binti Yusof 2. Afrina Afiqah Binti Hilmi 3. Ilina Binti Salleh 4. Noraina Binti Mahat 5. Farah Binti P Ramli 6. Siti Nurfarahin Binti Rahim 7. Siti Noor Aishah Binti Samin 8. Roziah Binti Ali 9. Nor Shuhada Binti Mohammad Abdul Rasid 10. Nurul Ain Farahah Binti Yusof 11. Nur Afrina Binti Azman Ali 12. Nur Nabila Izzat Binti M. Sapiee 13. Shally Tipong Petrus 14. Ruzanaliza Binti Abd Ghani
Officials 1. Nifizah Binti Mohd Taib – Umpire2. Rohaida Binti Hassan – Official 3. Sazali Bin Husain.