USA: Zlatan Ibrahimovic has always been known for his temper in the football world. In his entire football career, Ibrahimović has been given 69 yellow cards and 13 red cards.
Today was also a similar day as the LA Galaxy forward, was given a red card after he slapped the opponent team player while playing in MLS (Major Soccer League) match.
Zlatan's History With LA Galaxy
Zlatan entered the Hollywood with a stunning performance in his first match, when he scored 2 goals and La Galaxy won the match by 4-3. The crowd was amazed by the Swedish National as no one was match to him in that league.
Zlatan has been retired from Sweden National football team after Euro 2016 and he will also miss this year's world cup which is to be played in Russia.
How it happened?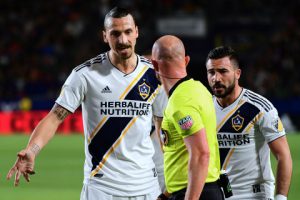 It was all going well till the 40th minute, when Michael Petrasso accidently stepped on Zlatan's foot. Zlatan Ibrahimovic didn't take it lightly, as he got furious and slapped the Montreal Impact player on the back of his head.
After that, both players fell on the field and the match came to a halt. Referee Ismail Elfath ran to see what happened and both the players were trying to win referee's sympathy.
But the referee preferred to see the video of what actually happened between the two players. So, after seeing the V.A.R (Video Assistant Referee) system, the referee gave Michael Petrasso a yellow card and Zlatan Ibrahimović was given a red card as the LA Galaxy forward was sent back to the dugout.
This wasn't the first time Zlatan has received a red card, but, when he played for his former clubs like Juventus, Barcelona, PSG and Manchester United, he received many of them.
This decision didn't impact the game, as although Montreal were controlling the game with a 56% possession and had 15 more shots at the goal, but La Galaxy succeeded in winning the match when Ola Kamara scored a fabulous solo goal in the 75th minute.
For updates regularly visit: Allsportspk