MMA Pakistan: Exclusive Talk With Promoter Muhammad Rizvan Ali
Mixed Martial Arts is gradually but steadily making its space in the sports community of Pakistan. There is a number of athletes who have emerged on the country's MMA scene and have gained recognition both nationally and internationally.
But the aspect, which is mostly ignored are the people who work behind the scene and bring these athletes into the octagon. These individuals especially the organizers work tirelessly but go unrecognized. Allsportspk breaks the ice and exposes such organizational talents.
One of these individuals and top promoter of Pakistan is Muhammad Rizvan Ali, who has promoted and introduced multiple MMA athletes mainly in the international arena. These include fighters from both Pakistan and International MMA arenas.
In an exclusive candid conversation with AllSportspkPk, Ali shared his love for the sport, the journey from a fighter to a promoter and talked about the MMA scope in Pakistan.
Q: What made you take interest in MMA? It was 2003-4 when while studying in school, we used to go to school in a van. During this ride my classmates used to talk about WWE and for some reason it interested me a lot. Unfortunately, due to financial reasons there was no Television in our house, so when they talked about wrestlers I used to feel deprived of not being able to watch these famous wrestlers. However, despite the electronic visual absence I had posters of some of the famous wrestlers like HHH, Kane and Rock and I loved them. So basically, the school van talk strengthened my love in wrestling.
In 2007 I had a dream of becoming a wrestler and came to know about Brock Lesner fighting in MMA. He had become a professional wrestler and earlier was also known as a professional footballer. Then I searched about UFC but started to like MMA more. By 2011, had made up my mind to become a fighter but did not have the courage at that time to compete in the cage. With time, I became stronger and journey to become a MMA fighter started.
Q: When did you properly join the sport as an athlete? While living in Rahim Yar Khan which is far away from Lahore, I used to interact via Facebook with Mr. Bashir who is considered Pakistan's GodFather of MMA. Finally, he invited me to join his gym so in 2013, I moved to Lahore and started training.  
I am extremely thankful to Bashir Ahmed and have the utmost respect for him. He has rendered uncountable services for MMA in Pakistan.
Q: Why did you become a MMA promoter rather a fighter? The reason why I left training and started promotion was because my arm was broken during training of my MMA debut fight in Fighting Alliance-3. It was fractured from the elbow joint and completely dislocated. At the time proper treatment was not done mainly due to financial reasons. Plus, my training was discontinued for a while as I could not lift weights and perform some other required exercises.
Later, I again consulted the doctors, but it was a bit late and they advised that the manner in which the arm has cured there is a high risk possibility of losing my arm.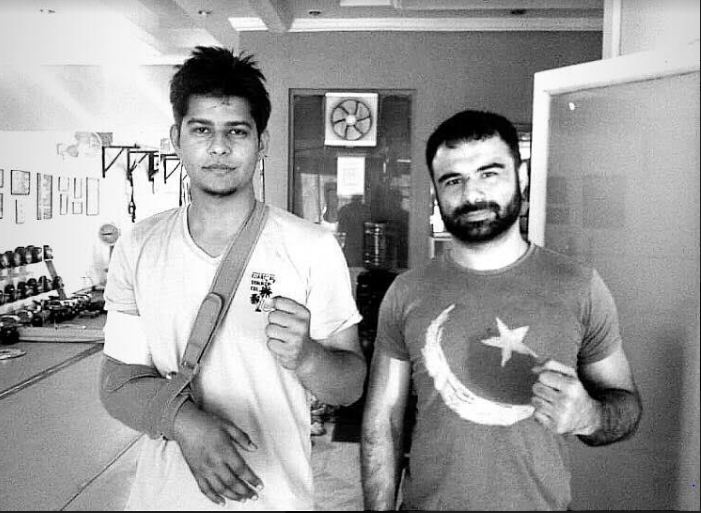 Pakistan-Punjab CM National Karate C'ship '19: Wapda Lifts Men & Women Titles
My promoter journey had in a way started during my training as Mr. Bashir involved me in the Gym management. I learned a lot from him about this business which include the important aspect of matchmaking for local promotions. So after the injury,  I already knew about the management side for the fighters but I did not have the contacts and the experience within the industry. I kept sending profiles of Pakistani fighters to different promotions through social media but did not get a good response. Finally, I was able to organize a local fighter's participation in an Amateur championship bout in Thailand. He won that fight, hence as a promoter I climbed the first step.
Then I met Faizan Fayyaz, a Pakistan origin promoter living in Singapore. He had a lot of experience in the management of MMA industry. At that time, I had risen to becoming a matchmaker for Fighting Alliance, so he sent me profiles of some of his fighters to be included in Fighting Alliance fights.
Due to this experience we became friends and I learned a lot from him about promotion and management. He is very close to my heart and like a real brother. I am very thankful as he taught me some techniques of international managing the MMA industry. I owe a lot to him for helping me live my passion with MMA and achieve my dreams.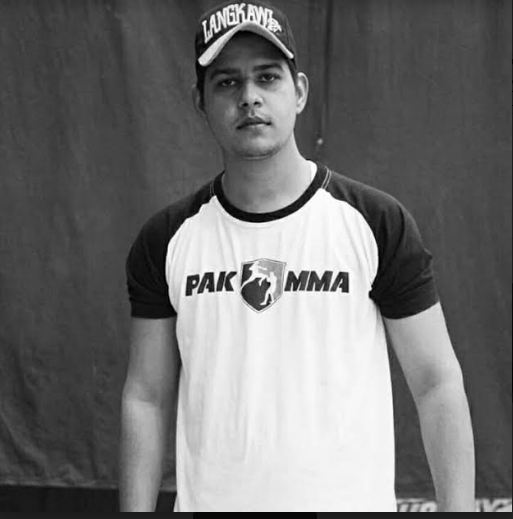 Q: How do you manage the athletes for MMA? I pick athletes after watching and noticing them around the globe. After finding a good fighters, I offer them to join our management. When they join us than we talk to the matchmakers around the globe and get the best possible opportunity for our talent.
Earlier, I had my own management company named Prime Sports Management and after the experience for some years,  I merged it into MTK Global MMA and now I am working with the living legend and the king of MMA Management "The Great Marcelo Brigadeiro". He has made me the associate of MTK Global MMA and CEO for MTK MMA MiddleEast and Asia Side.

Q: How developed is MMA in Pakistan? Pakistani MMA Industry is growing very fast. I have put some renowned fighters from Pakistan to ONEFC like Ovais Shah, Muhammad Imran, and Asad Warrach. 
Further, I have arranged MMA events with Nasir Khan, Adnan Ali, Ahmed Mujtaba's, Jalil Ahmed and Shafiq Awan.
I believe that in next 7-8 years, Pakistan will have world champions in this sport. 

Q: How you see the future of MMA in Pakistan, promotion wise? Like in sense of sponsors? It is a very interesting sport. People really enjoy it and I have experienced it both in local and international events. Although currently in Pakistan, people mostly talk about cricket people are slowly learning about MMA. I am sure, very soon, MMA will get major sponsors and it will become a major sport in Pakistan.
For more updates keep visiting allsportspk