Diamond Paints claimed the Bank Alfalah National Open Polo Championship trophy after beating spirited BN Polo team by 7-5 in the action packed final played at the Lahore Polo Club.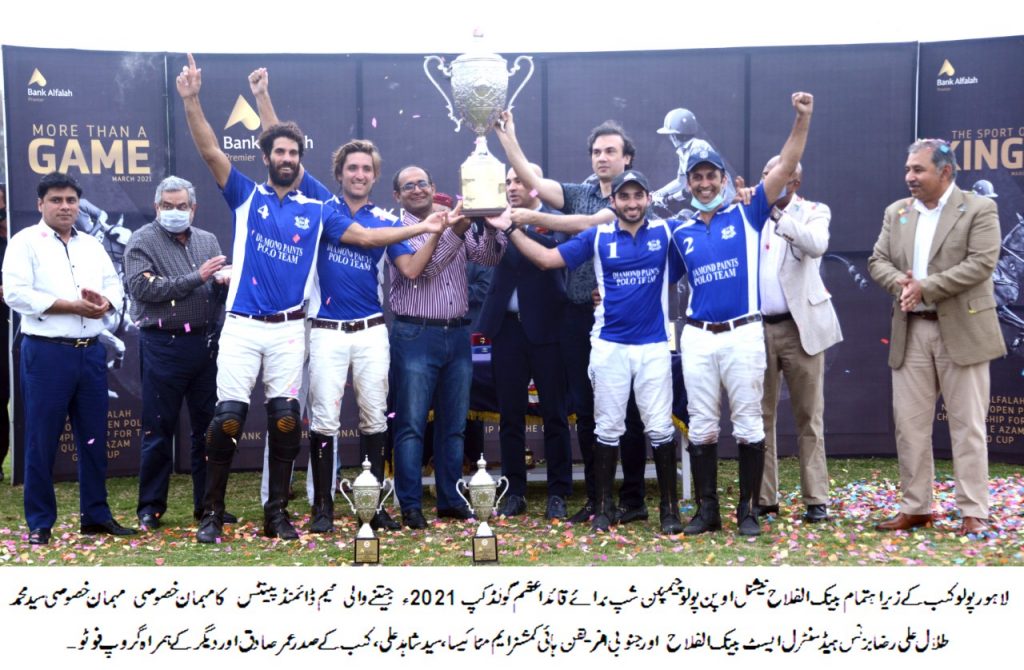 Diamond Paints were off to a flying start and maintained their lead till the end. The winning side dominated the first three chukkers well while BN Polo though made a good comeback in the fourth and fifth chukkers, but Diamond Paints also added crucial goals in their tally and when the final whistle was blown, Diamond Paints emerged as winners of the prestigious premier polo event of the country and also grabbed the glittering trophy.
Raul Laplacette emerged as top scorer from the winning side with a contribution of fantastic four goals while Saqib Khan Khakwani and struck a brace and Ramiro Zavletta hit one goal. From the losing side, Juan Maria Ruiz Tito and Eulogio Celestino banged in a brace each while Raja Mikail Sami scored one.
The subsidiary final was won by Barry's, who outpaced DS Polo/ASC by 7-4.
At the concluding ceremony, the coveted National Open trophy was handed over to team Diamond Paints while BN Polo team received runners-up trophy.
The other Awards recipients were:
– Hissam Ali Hyder was handed the best Pakistani player award,
– Raul Laplacette of Diamond Paints was declared the player of the tournament and
– Ernesto Trotz was of Barry's handed the award of scoring the most goal of the tournament.
– Basil Faisal Khokhar received emerging talent award,
– Leenah Barry the best lady player award,
– Shaharyar Khan was handed the best spirit of polo award,
– Arib Ali Malik the best player of –2-0 category,
– Mir Huzaifa Ahmed the best player of 0-2 category,
– Raja Mikail Sami the best player of 2-4 category.
– Lolly 11720 was declared the best pony of Pakistan and the award was received by Col Saleem Baboo and Lt Col Zulfiqar,
– Chakrera was named the best pony of the tournament and her award was received by Diamond Paints' Mir Shoaib Ahmed,
Lahore Polo Club President Omer Sadik thanked his entire team for successfully organizing the premier national tournament and especially expressed his gratitude to sponsors Bank Alfalah for supporting the game of kings and knights and especially sponsoring the most prestigious tournament of Pakistan "National Open Polo Championship 2021 for Quaid-e-Azam Gold Cup" and hoped that they would continue their support for this beautiful game.
Bank Alfalah's Syed Muhammad Talal Raza, South African High Commissioner in Pakistan, M. Madikiza graced the occasion as chief guests and distributed prizes and shields among the winners and top performers. IOC member in Pakistan Syed Shahid Ali was also present.
لاہور (سپورٹس رپورٹر) لاہور پولو کلب کے زیراہتمام بینک الفلاح نیشنل اوپن پولو چیمپئن شپ برائے قائداعظم گولڈ کپ 2021ء ٹیم ڈائمنڈ پینٹس نے جیت لیا۔ فائنل میں دلچسپ مقابلے کے بعد ناقابل شکست بی این پولو ٹیم کو 7-5 سے شکست کا سامنا کرنا پڑا۔ تفصیلات کے مطابق لاہور پولو کلب میں کرونا ایس او پیز کے تحت ہونے والے اس فائنل کو دیکھنے کیلئے صرف ممبرز اور ان کی فیملیز کو اجازت تھی۔ اس موقع پر مہمان خصوصی سید محمد طلا ل علی رضا بزنس ہیڈ سنٹرل ایسٹ بینک الفلاح اور جنوبی افریقن ہائی کمشنر ایم مٹاکیساتھے۔ اس موقع پر پاکستان میں انٹرنیشنل اولمپک کے ممبر سید شاہد علی، کلب کے صدر عمر صادق، ایگزیکٹو کمیٹی ممبرز بھی موجود تھے۔ فائنل میچ بہت ہی زبردست ہوا۔ ڈائمنڈ پینٹس کی ٹیم نے میچ کے آغاز سے ہی لیڈ حاصل کرلی۔ پہلے چکر میں ڈائمنڈ پینٹس نے دو دوسرے چکر میں دونوں ٹیموں نے ایک ایک تیسرے چکر میں بھی ڈائمنڈ پینٹس نے دو جبکہ چوتھے اور پانچویں چکر میں ٹیم بی این پولو نے گول سکور کیے۔ ڈائمنڈ پینٹس کی طرف سے راہول لیپ سٹے نے چار، ثاقب خان خاکوانی نے دو جبکہ رومیرو زیولیٹانے ایک گول سکور کیا۔ بی این پولو کی طرف سے جان ماریو ٹی ٹو رئیوز نے اور الوکیو سیلسٹیو نے دو دو جبکہ راجہ میکائل سمیع نے ایک گول سکور کیا۔ ادھر تیسری چوتھی پوزیشن کے میچ میں ٹیم باڑیز نے ڈی ایس پولو کو 7-4 سے ہرا دیا۔ اختتامی تقریب میں سال کے بہترین کھلاڑیوں کے ایوارڈز بھی دیئے گئے۔ ایمرجنگ ٹیلنٹ ایوارڈ ابھرتے ہوئے کھلاڑی بازل فیصل کھوکھر کو جبکہ لیڈیز بہترین کھلاڑی کا ایوارڈ لینا باڑی کو، سپرٹ آف پولو ایوارڈ شہریار خان کو، 0 سے -2 کی کیٹیگری کا ایوارڈ عارب علی ملک کو، 0-2 گول کیٹیگری میں بہترین کھلاڑی کا ایوارڈ میر حذیفہ احمد کو، 2-4 کیٹیگری میں بہترین کھلاڑی کا ایوارڈ راجہ میکائل سمیع کو، پاکستان بہترین گھوڑے کا ایوارڈ ٹیم ری ماؤنٹس کے لولی 11720 کو دیا گیا جو لیفٹیننٹ کرنل سلیم بابو، لیفٹیننٹ کرنل ذوالفقار نے وصول کیا، سید واجد علی شاہ ٹرافی برائے بہترین گھوڑی کا ایوارڈ میر شعیب احمد کی گھوڑی چکریرا کو دیا گیا جبکہ ٹورنامنٹ کے بہترین پاکستانی کھلاڑی کا ایوارڈ حسام علی حیدر اور ٹورنامنٹ کے مین آف دی ٹورنامنٹ کا ایوارڈ راہول لیپ سٹے جبکہ ٹورنامنٹ میں سب سے زیادہ گول کرنے پر خصوصی ایوارڈ باڑیز کے ارینسٹو ٹروٹز کو دیا گیا۔ اختتامی تقریب میں صدر لاہور پولو کلب عمر صادق نے تمام لوگوں کا خصوصی بینک الفلاح کا خصوصی شکریہ ادا کیا جنہوں نے شاندار ٹورنامنٹ سپانسر کیا۔