*ANNOUNCEMENT* 
Dear Chess Fraternity, 
Positive developments are taking place in Pakistan Chess arena. Thereby, during May and June multiple activities are taking place which include: international (Youth event in Maldives), district and provincial level events all over Pakistan for National Championship and ultimately 44th Chess Olympiad. 
As Pakistan Chess Masters is a 3 day Mega Classic Highest Prized championship*, so for players to have a less clustered schedule and have an easy playing environment *it has been decided to postpone Pakistan Chess Masters 2022* .*

Important Notes:
1. Punjab Qualifying Chess Championship will be independently held. For which details will be announced shortly by Chess Association of Punjab contact.
2. *Paid Fees will be refunded* on priority basis. If required  03070033325 may be contact.
Grateful for the enthusiastic response. In sha  ALLAH will be in touch. 

Management Team Pakistan Chess Masters
Dear Participants; Enthusiasts and Potential Winner's!
Presents
Two Mega Chess Championships — Pakistan Chess Masters 2022 and Punjab Qualifying Chess
Pakistan's First 3 Day Premium Classic Chess Championship's with Highest 'CASH' Prize of Rs. 350,000
scheduled in sha ALLAH on same Weekend
MAY 2022
13th Friday, 14th Saturday & 15th Sunday
Read below the Championship details and register to become a participant and hopefully one of the first Winners of the prestigious Championship.
Wishing you Good Luck!
Patrons – Associates- Sponsors

Championship: Events – Formats – Participation – Schedules
Event 1
Pakistan Chess Masters (Open) – Men
Event 2
Pakistan Chess Masters (Open) – Women
Both Events 1 & 2
Format: Classical
Total Participation (Men & Women):
200 Players (First Come First Basis)
Date:
MAY 2022
13th Friday, 14th Saturday & 15th Sunday
Event 3
Pakistan Chess Masters – Juniors
(Open For 18U, 16U & 12U)
Format: Rapid
Total Participation (All Categories): 50 Players (First Come First Basis)
Date:
MAY 2022 15th Sunday
Ranking
FIDE Rated*
Venue – Location
Rising Sun Institute, DHA, Lahore – School for Special Children
544/2-XX, Khayaban-e-Iqbal, Sector XX, DHA, Phase 3, Lahore
Al hum dulilah as a philosophy Allsportspk with Divine blessing works towards the mission of integrating different segments of the society especially the Special Humans. Thus, despite other Prime options for venues, RSI was selected.
Cash Prize Awards Structure
The Highest Cash Prized Championship Award of Rs. 350,000 will be distributed to Winners according to the decided structure + Special Trophies will be presented to First three of each Event and Certificates will be presented to all Participants.
Top 10 Men and 10 Women players from Punjab will qualify for Punjab Province Team to participate in the Pakistan National Chess Championship 2022.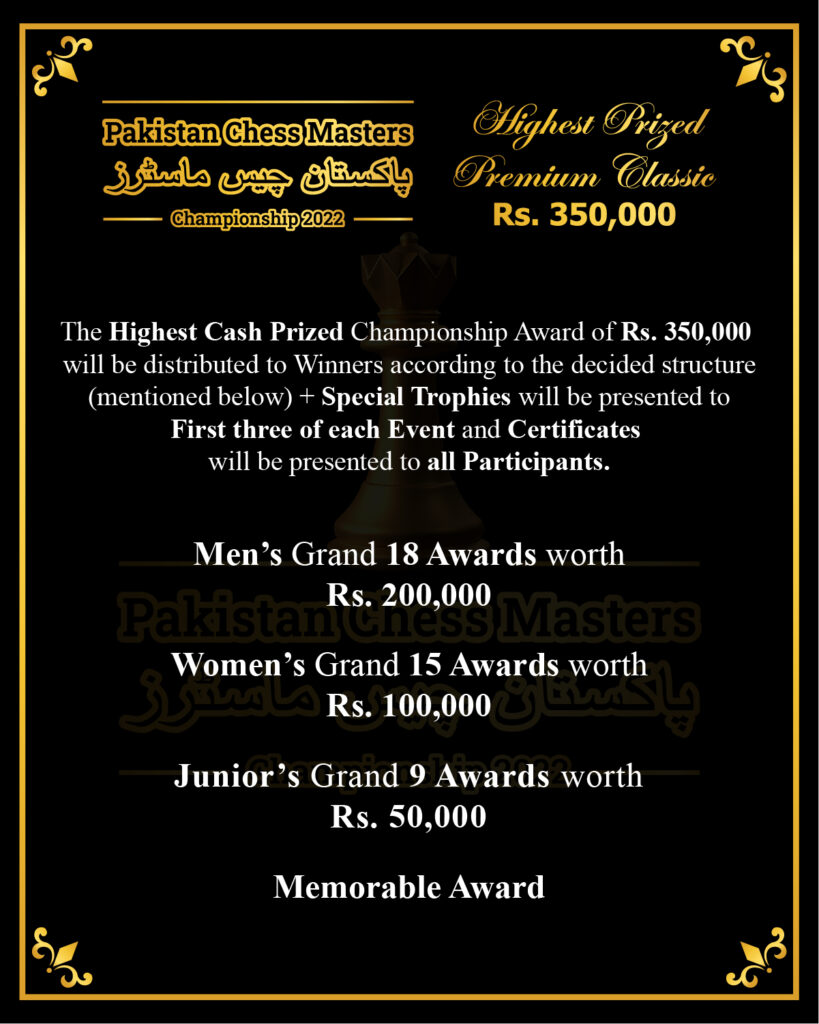 Registration Process – Procedure
All Rules & Regulations are as per announced guidelines. Any applicable to Punjab Qualifying are specified.
Total Players Participation of Events 1 & 2 (Open – All Ages): 200
Total Children Under 18 Years Players Participation (Open): 50
Last Date for Registration:
8th May 2022
Registration will be closed as soon as the maximum number of players are registered. No registration will be accepted after this milestone is achieved. Registration will be done on first come first served basis
All Punjab Division / District champions will play as per their quota provided by Chess Association of Punjab.
Procedure for Registration
Step 1
Submit Registration Fee:
Pakistan Chess Masters – Men & Women
For Quota players of Chess Association of Punjab
No Entry Fee
For Regular Players:
Till 8th May – Rs. 1,500
From 9th May – Rs 2,000
Pakistan Chess Masters – Juniors – Rs. 1,000
Boarding & Food
Lunch will be provided for All three Days + Tea
Accommodation will be provided to all players from outside Lahore
Send Payments Via To:
a) JazzCash (03070033325) Tahir M. Raja
b) Allsportspk (IBAN PK95ALFH5604005001164024) Bank Alfalah
Step 2
After Payment is made kindly send the receipt copy with following Identification details to:
03070033325 (WhatsApp) or pakistanchessmasters@gmail.com
Identification Required for Pakistan Chess Masters – Men & Women Participants
FIDE ID or CNIC Copy or B-Form
Email Address & Cell Number
Identification Required for Pakistan Chess Masters – Juniors Participants
CNIC or B Form for Age Proof
Email Address & Cell Number (if available)
Important: Proof of Payment & Identification is a MUST (No registration / registration will be accepted without Proofs)
Step 3
Identification Required On Championship Days
Original ID card & B Form
System – Rounds Schedule & Time Rules
Schedule First Day – 13th May
Reporting Time: 09:00 AM
Opening Ceremony: 09:30 AM
Starting Time: 10:00 AM (Clocks for Round 1 will start at 10:00 AM sharp)
Note: Pairing For the First round will be released on a day before at 9pm
System of Play
The Championship shall be played according to the Swiss league system
Time Control
60 Minutes Each Player + 30 Seconds Increment Per Move
Software
Swiss manager pairing software shall be used. Results shall be upload on
https://chess-results.com/fed.aspx?lan=1&fed=PAK
*FIDE Rated In Finalization
Rounds & Schedules
For Men – Total Rounds: 7 –
Daily Schedule as appended below:
Rounds 1 & 2 on Friday, 13th May
Round 3, 4 & 5 on Saturday, 14th May
Rounds 6 & 7 on Sunday, 15th May
For Women – Total Rounds: 6 –
Daily Schedule as appended below:
2 Rounds (Daily) on All 3 Days
For Juniors – Total Rounds: 5 –
Only on 15th Sunday as appended below:
Reporting Time: 9 am
Starting Time: 10 am
Time Control: 15 minutes each player + 5 seconds increment per move

Coordination Teams
Tournament Directors
Hanif Qureshi-NM
Raja Gauhar
Muhammad Zahid-NM

Technical Director
Muhammad Zahid-NM
Arbiters
1. Ehtesham Ul Haq – Chief Arbiter
2. Muhammad Zahid – Arbiter
3. Zorez Shabkhez – Arbiter
4. Sidra Butt – Arbiter
Management Rules

COVID 19 and/or Other Rules & Spectator Policy
Event Organiser's related to COVID-19 or another must be followed. Any violation of SOPs may lead to disqualification.
Limited spectators will be authorised to enter the playing areas at a time. Therefore, accordingly audience may have to wait in the Open areas.

Management Rights
The Management reserves the right to change the tournament details as specified above or otherwise, at any time without prior notice (negligible chance). However, all effort will be made to inform the participants of any changes made primarily via Allsportspk web releases.
Enquiry Contacts
OO92 (0) 3070033325
+ Whatsapp +
00 (92) 333 4615345
00 (92) 305 5050055*
*Focal Number For Punjab Qualification Chess Championship
Management + Organizer