Islamabad's Amna Ali Qayyum claimed double crowns in Girls U-18 and U-14, while emerging Asad Zaman stunned Hussnain Ali Rizwan in the Boys U-18 final of the Millat Tractors Junior National Tennis Championship 2021, which concluded at the PLTA Courts, Lahore. 
The highlight of the final day was the Girls U-18 final between Amna Ali Qayyum and Natalia Zaman, where both the players displayed high-quality tennis skills and fought for each and every point till the end. After a tough fight, Amna succeeded in trouncing Natalia 6-4, 6-4 to claim the second title, after in the earlier Girls U-14 final, she outclassed Labika Durab 6-1, 6-0 in the . 
"First of all, I am thankful to my parents for their all-out support and motivation, which helped me and my brother emerge as professional tennis players in national circuit. My hard work and dedication helped me win back-to-back titles and I am hopeful of winning more and more titles throughout the year," Amna said. 
The Boys U-14 final was also a treat to watch for all the spectators, as promising Asad Zaman managed to beat seeded player Hussnain Ali Rizwan 6-2, 5-7, 12-10 after a tough battle. Both the players kept on giving tough time till the end, but Asad once again showed his class and overcame spirited Hussnain to clinch the well-deserving title.
"I am grateful to McDonald's for sponsoring and encouraging me, which helped me emerge as title winner. I am also thankful to my mentor and coach Rashid Malik for putting faith in me and transforming me into a tough fighter, which helped me give tough time to seeded players and win the national title. I will continue to work hard and try to claim more titles."
Results of the Day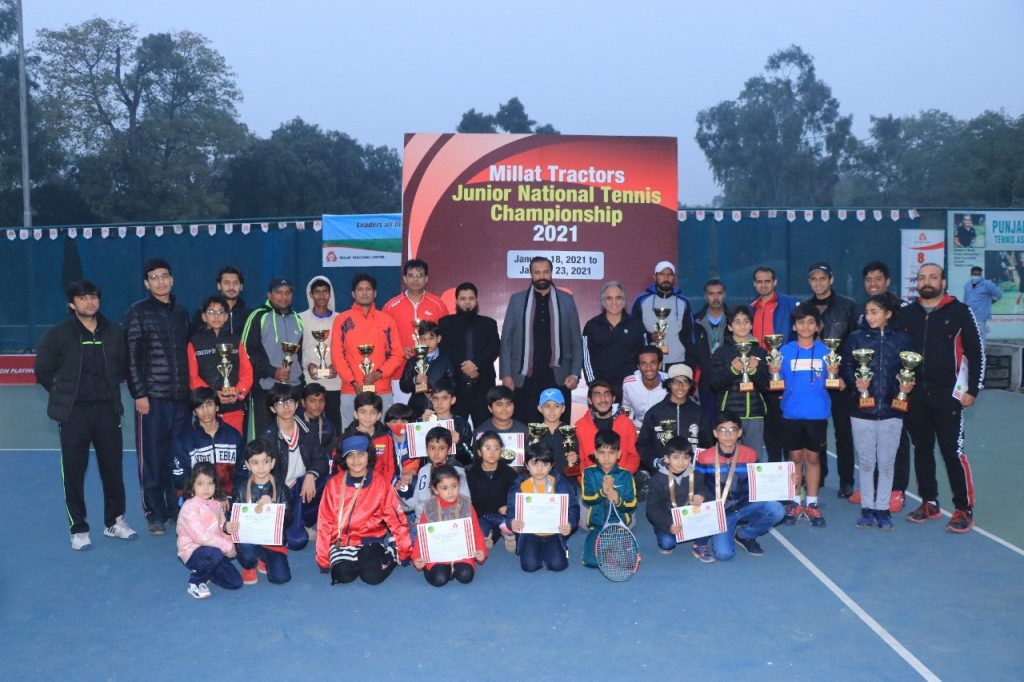 In the Boys U-18 final, Hasheesh Kumar played well against Faizan Fayyaz and won the final and title with a score 6-2, 6-2.
The Boys U-18 Doubles title was lifted by duo of Farman Shahkeel and Nalain Abbas, who defeated Hasheesh Kumar/Mahatir Muhammad 4-1, 2-4, 10-7.
The Boys/Girls U-12 Doubles title was won by Ameer Mazari and Abubakar Talha, who defeated Abdur Rehman/Nabeel Ali Qayyum 4-1, 4-2.
The Boys/Girls U-12 Singles title was claimed by Abubakar Talha (Wapda), who beat Ameer Mazari 5-3, 5-3.
Abdur Rehman grabbed the Boys/Girls U-10 title after toppling Aalay Hussain 4-1, 4-1. 
The Boys/Girls U-8 gold medal went to Rameez Pirzada, silver to Mustafa Uzair Rana and bronze Zainah Abdullah while Boys/Girls U-6 gold was won by Emaan Munoo, silver by Yahya Tariq and bronze by Ameen Abdullah.
In the Men's Singles final, Imran Bhatti beat Hasheesh Kumar 6-3, 4-6, 10-7 for the title while Ladies Singles was clinched by sensational Haniya Minhas, who defeated Esha Jawad 6-4, 6-3.
The Seniors 35 plus Doubles title was won by Tariq Sadiq/Kashif Rehmat, who beat Talha Waheed/Ashar Ali Khan 6-7, 7-5, 6-2.
Millat Tractors officials, Lt Col Mukhtar Ahmad Bhatti alongwith Imran Ayub gave away prizes and certificates to winners of all the categories.