Pakistan Vs England Test Series
England: The time has finally come for Pakistan to face one of the strongest teams in Test cricket, and it's none other than the English team.
Moreover, what makes this series even more compelling is that Pakistan is going to play against England in English conditions which means England will certainly have an advantage over them.
However, after beating Ireland and playing a few domestic tests on English soil Pakistan are more than confident to face England in their first test of this series that is scheduled to start from 24th May 2018.
Pakistan Vs Ireland Historic Test: Pakistan Beats Ireland By 5 Wickets
That's the reason as to why Allsportspk presents a brief analysis before this Test series starts to explain the strong points and opportunities that each team will have in Test Series.
Sarfaraz Ahmed – A Chance To Shine?
Although, the Pakistani skipper has emerged as a strong ODI captain after he won the champion's trophy in 2017, however, he has yet to prove himself as a solid leader in Test cricket.
And, this series can provide the 31-years old a solid chance to establish himself as a middle-order batsmen and more importantly emerge as a leader of the Pakistan Test team.
Pakistan's Senior Batsmen – A Golden Chance To Step Up
This is not an option rather a necessity. As, most of this Pakistani side is inexperienced and if senior batsmen like Azhar Ali, Asad Shafiq and the skipper, Sarfaraz don't rise up to the occasion, then Pakistan's chances to win even a single Test match are quite dim.
Pakistan vs England Test Series: Inexperienced Pakistan Team & English Weather Conditions
Can Mohammad Amir lead Pakistan's Pace Attack?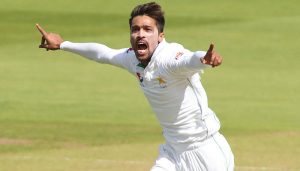 In the match against Ireland and the domestic matches that were held after that, one thing was surely missing. And, that was the spark of the talented pacer, Mohammad Amir.
Although, Mohammad Abbas covered for him in the Irish test as he was the leading wicket-taker, however against England Amir has to show his variations and pace. Otherwise, it may become too difficult for Pakistan to contain England's batting line-up.
English Team – Low In Confidence?
England lost the Ashes to Australia and following that they had a tough test series in New Zealand. Mickey Arthur also pointed out this fact and this is definite a concern for England and this weakness will be exploited by Pakistan as England will look to win this series to regain their confidence.
Debutants – Who Will Be The Hero?
Both teams have given chances to new players and also done several changes in their squad. However, it will be the debutantes who will be eyeing to steal the limelight and make a place for themselves in their respective teams.
The English team has included one spinner named Dominic Bess while Pakistan are going to play 7 such players that have no experience playing on the historic ground of Lords.
The 2 Test matches schedule is as follows:
Test 1 of 1: Pakistan Vs England, 23rd May 2018
Test 2 of 2: Pakistan Vs England, 1st June 2018
Although, nothing is final as of yet however the possible squads that will feature in the 1st Test are as follows:
Pakistan:
A Ali
A Shafiq
F Ashraf
H Ali
H Sohail
I Ul-Haq
B Azam
M Abbas
M Amir
S Ahmed (Cpt. , Wkt)
S Khan
England:
DM Bess
JM Bairstow (Wkt.)
MD Stoneman
AN Cook
BA Stokes
CR Woakes
DJ Malan
JC Buttler
JE Root (Cpt.)
JM Anderson
SCJ Broad