Pakistan Vs South Africa 3rd Test Day 2: Proteas Extend Their Lead By 212 Runs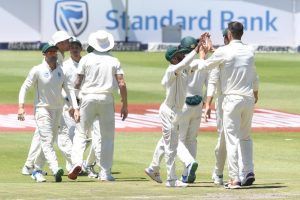 Towards the finish of Day 2, South Africa are in a leading position, courtesy of Hashim Amla and Quinton de Kock who have expanded their lead by 212 runs  Amla is unbeaten on 42 while de Kock is unbeaten on 34.
Prior in the day, South Africa secured a 77-run first-innings lead over Pakistan, after Proteas leading wicket taker in this series, Duanne Olivier took his third five-wicket haul.
Nonetheless, South Africa's poor showcase in the field remained the feature of the day, as they dropped 5 catches, in the first hour of the opening session.
Scorecard – Pakistan Vs South Africa:
Pakistan's 1st Innings: 185 all out (49.4 Overs, RR: 3.72, 226 minutes)
South Africa's 2nd Innings (continued): 135/5 (37 Overs, RR: 3.64)
Social Media Reactions – Pakistan Vs South Africa 3rd Test Day 2:
#SAvPAK
Pakistan vs South Africa
Most runs and most wickets of the series. pic.twitter.com/9RFITnZe1N

— Junaid Hassan (@_realJD) January 12, 2019
140+ KPH balls bowled in SA vs PAK series.

– Pakistan 25 (4.1 overs)
– South Africa 412 (68.4 overs) pic.twitter.com/7j9msdGxw6

— Clive (@vanillawallah) January 12, 2019
Why does the commentator in the South Africa v Pakistan game keeps saying it caught De Kock when it clearly hit De bat

— jimmy flaxman (@jimflax) January 12, 2019
That's too easy, South Africa can lose even after setting up the target of 500+ because the greatest batting line up of all time in world cricket in Pakistan scares any bowling team so they can chase literally anything down let alone 500+, that's the damn real reality eh!? ??

— Arjun (@LifeIsAnElation) January 12, 2019
If Pakistan restrict South Africa under 300 lead like 270 or 280, they still has a chance. Can they do it is a big question but this test may end on fourth day if not three.

— Mazhar Abbas (@MazharAbbasGEO) January 12, 2019
Sarfraz Ahmed rues 'three bad shots' in Pakistan's collapse: He included his own dismissal among the avoidable ones that he felt had cost Pakistan the chance of getting close to South Africa's first-innings total https://t.co/TwtmGYgjzh pic.twitter.com/qgXsgC1I0A

— Cricket news (@cricket_news112) January 12, 2019
For more updates about Pakistan vs South Africa keep visiting
allsportspk