Premier League '18-19 – Highlights: Chelsea Suffer Their Worst Defeat In Over 22 Years
These are the next 4 matches of the Premier League, Match Day 24 of 38. The match highlights and the top 10 teams points table is included.
Premier League '18-19 – Highlights: Manchester City Continue To Dominate
Points Table – Premier League '18-19
| | | | | | |
| --- | --- | --- | --- | --- | --- |
| Rank | Name | Won | Draw | Lost | Points |
| 1 | Liverpool | 19 | 4 | 1 | 61 |
| 2 | Manchester City | 18 | 2 | 4 | 56 |
| 3 | Tottenham | 18 | 0 | 6 | 54 |
| 4 | Arsenal | 14 | 5 | 5 | 47 |
| 5 | Chelsea | 14 | 5 | 5 | 47 |
| 6 | Manchester United | 13 | 6 | 5 | 45 |
| 7 | Wolves | 12 | 5 | 9 | 35 |
| 8 | Everton | 10 | 6 | 9 | 33 |
| 9 | Watford | 9 | 6 | 8 | 33 |
| 10 | Bournemouth | 10 | 3 | 11 | 33 |
For Complete Premier League 2018-19 team rankings, click here
English Premier League 2018-19 – Full Schedule
Match 7 of 10: Southampton vs Crystal Palace
Result:  1 – 1
Goal Scorers:
Crystal Palace: Wilfried Zaha 41′
Southampton: James Ward-Prowse 77′
Match Statistics:
| | | |
| --- | --- | --- |
| Southampton | Team Stats | Crystal Palace |
| 13 | Shots | 15 |
| 4 | Shots On Target | 3 |
| 59% | Possession | 41% |
| 529 | Passes | 370 |
| 82% | Pass Accuracy | 72% |
| 11 | Fouls | 8 |
| 2 | Yellow Cards | 2 |
| 0 | Red Cards | 1 |
| 2 | Offsides | 0 |
| 3 | Corners | 8 |
Highlights: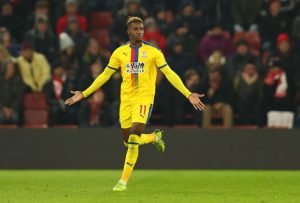 Wilfried Zaha scored and was sent off as Southampton dug out from a deficit to draw with Crystal Palace.
Zaha got a late red card following a demonstration of irritability as Southampton fought against eminent loss to draw 1-1 with individual Premier League strugglers Crystal Palace.
Having finished his 17-match goalless dry season to put Palace ahead in the main half, Zaha saw red for two appointments one after another in the 87th moment, when he responded gravely to a choice by Andre Marriner and snidely cheered the arbitrator after being reserved.
4 – Wilfried Zaha has scored more Premier League goals without netting at home than any other player this season. Travels. #SOUCRY pic.twitter.com/He6YAJUtE6

— OptaJoe (@OptaJoe) January 30, 2019
James Ward-Prowse's third goal  in the same number of class matches had counteracted Zaha's opener, with Mamadou Sakho missing two.
The two sides currently sit four over the assignment zone, in spite of the fact that Palace are set to lose their star man to suspension.
*****************
Match 8 of 10: Bournemouth vs Chelsea
Result:  4 – 0
Goal Scorers:
Bournemouth: Joshua King 47′, 74, David Brooks 63′, Charlie Daniels 90+5′
Match Statistics:
| | | |
| --- | --- | --- |
| Bournemouth | Team Stats | Chelsea |
| 12 | Shots | 11 |
| 7 | Shots On Target | 7 |
| 31% | Possession | 69% |
| 331 | Passes | 714 |
| 77% | Pass Accuracy | 90% |
| 8 | Fouls | 6 |
| 1 | Yellow Cards | 0 |
| 0 | Red Cards | 0 |
| 3 | Offsides | 6 |
| 1 | Corners | 7 |
Highlights: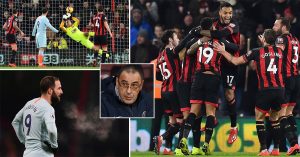 All it took to disintegrate all the energy prepared by local container victories was an excursion toward the south drift. Chelsea were embarrassed by a brilliant Bournemouth here, their guard slashed and uncovered by the pace and cut of their hosts' counterattacks.
Maurizio Sarri had just conveyed a cursing open judgment of his players' insufficiencies after a misfortune at Arsenal prior in the month yet this, in such a large number of ways, was a presentation considerably progressively stale.
Their lead from fifth place, which as of late expanded at six points, has been shaved away, however the insufficiencies in Chelsea's diversion had constantly jeopardized that quest for the best four. Sarri's group are three points and five goals more awful off than Antonio Conte's were at a similar stage a year ago, and were beaten when Junior Stanislas skirted down the privilege and crossed for Josh King to slip a mind blowing complete into the best corner a short ways from time.
4 – Chelsea have lost a Premier League game by a four-goal margin for just the second time in the competition's history (also 1-5 v Liverpool in Sept 1996). Shock. pic.twitter.com/Rk9W10v52X

— OptaJoe (@OptaJoe) January 30, 2019
It was an amazing goal to affirm Bournemouth's first win over a main six side this term, and there would in any case be the ideal opportunity for Charlie Daniels to manage in a fourth in stoppage time. Their very own mid-season calm has been shortened in dynamite design.
This challenge had seemed to pursue a well-known topic. Chelsea, with Pedro and Eden Hazard humming menacingly from flank to flank, had cornered the ball and pinged their passes happily somewhere down in Bournemouth region, however just at any point incidentally compromised to open up trained rivals.
The header from an occupied Mateo Kovacic, which was greatly swung on to the crossbar by Artur Boruc in the opening trades, had given a false impression. The Croatian had squeezed space unnoticed past the far post to direct that endeavor goalwards, however the hosts did not regularly end up dwarfed.
38 – Josh King has drawn level with John Carew and Tore Andre Flo as the joint-third highest Norwegian goalscorer in the Premier League, with only Steffen Iversen (40) and Ole Gunnar Solskjaer (91) netting more. Wood. pic.twitter.com/S7pMRLFf3O

— OptaJoe (@OptaJoe) January 30, 2019
They were substance to watch Chelsea's midfielders trade their passes, sitting tight for them to over-expand or for creative energy essentially to deplete from the play. Boruc would get long-go endeavors conceived of dissatisfaction from Hazard twice, Pedro and César Azpilicueta.
How Callum Hudson-Odoi, slicing a melancholy figure alongside an individual from the guests' security staff simply behind the holes, more likely than not ached for a chance to attempt and disturb the hosts' massed cautious positions. The 18-year-old's oversight from the squad, his exchange ask for won't, had attracted the concentration preceding commencement.
In the event that his nonattendance did not establish discipline for that request to abandon, it had furnished the adolescent with a moment update that constraining inclusion from either Pedro or Willian will be a difficult undertaking.
Gonzalo Higuaín's Premier League debut by numbers:

2 offsides
0 chances created
0 shots

Oh, Chelsea also lost 4-0. pic.twitter.com/NYUD1BfakA

— Squawka Football (@Squawka) January 30, 2019
In truth it was Bournemouth who had really cut out the more respectable possibilities, perpetually on the counter after the breakdown of their most recent expand passing trade. David Brooks, so troublesome in his job simply behind King, was upset by Emerson's shrewd test, at that point twice by Kepa Arrizabalaga.
At the point when Brooks joined his forward and Junior Stanislas in a run upfield just before the interim, the Spanish goalkeeper was thankful Stanislas' shot was spat straight into his waist.
Those odds had filled in as admonitions, however Chelsea never appeared to become familiar with their exercise. Streams, so noteworthy in his first season at this dimension since that mid year exchange from Sheffield United, was again free in the opening trades of the second half to gather Ryan Fraser's cunningly cut go into the penalty region.
FULL-TIME AFC Bournemouth 4-0 Chelsea

A stunning win for the hosts, thanks to a brace from Josh King, a lovely David Brooks finish and a late Charlie Daniels header#BOUCHE pic.twitter.com/5Nrv089gbM

— Premier League (@premierleague) January 30, 2019
The Welshman cautiously and absolutely put his draw back between froze visiting protectors for King, running off his marker on to the go, to hammer his shot determinedly back past Arrizabalaga and in. That mix play would be returned to before the end.
The concession requested a reaction, an exhibit that Sarri's group can infuse direness and extend steadfast rivals once behind. However, even with Gonzalo Higuaín driving their line, they had seemed to come up short on the punch equipped for blasting through Bournemouth's opposition.
Defenders swarmed everywhere throughout the Argentinian at whatever point the ball compromised to contact him. At the point when Pedro avoided that circumstance with a lobbed ignore the hosts' back line, N'Golo Kanté, in a situation from where he has scored as of now this term, mis-controlled before goal.
31 Jan 2018: Chelsea 0-3 AFC Bournemouth
30 Jan 2019: AFC Bournemouth 4-0 Chelsea

The Cherries enjoy playing Chelsea in January#BOUCHE pic.twitter.com/zoWevsKsqT

— Premier League (@premierleague) January 30, 2019
Bournemouth would demonstrate unquestionably progressively heartless. Their counters had cut adversaries separated voluntarily, so there was a certainty to the augmentation of their lead. Rivulets may have seen his break into Chelsea's half stifled by David Luiz just for the ball to gun allowed to King, who freed his partner with a grandly weighted first-time go into space.
The adolescent took as much time as is needed once he had gathered, cutting inside the perplexed Brazilian before facilitating home his side's second of the night past the uncovered Arrizabalaga.
*****************
Match 9 of 10: Liverpool vs Leicester City
Result:  1 – 1
Goal Scorers:
Liverpool: Sadio Mane 3′
Leicester City:  Harry Maguire 45+2′
Match Statistics:
| | | |
| --- | --- | --- |
| Liverpool | Team Stats | Leicester City |
| 10 | Shots | 5 |
| 3 | Shots On Target | 2 |
| 72% | Possession | 28% |
| 778 | Passes | 301 |
| 86% | Pass Accuracy | 65% |
| 13 | Fouls | 6 |
| 1 | Yellow Cards | 3 |
| 0 | Red Cards | 0 |
| 4 | Offsides | 3 |
| 7 | Corners | 1 |
Highlights: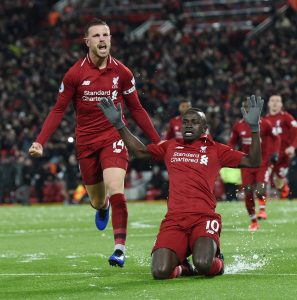 When the last story comes to be recounted the 2018-19 season, how imperative will this match end up being? Liverpool have moved five points clear of Manchester City and, hence alone, it has been a gainful 48 hours for Jürgen Klopp's group.
However there was no making tracks in an opposite direction from the reality this was a botched chance for the Premier League pioneers, with the principal indications of nerves clearing Anfield and maybe getting in the psyches of a couple of players.
This is surely no opportunity to get organize alarm, with 14 diversions still to go, and it was especially amazing given that Sadio Mané, Liverpool's most perilous player, had given them the lead from the principal essential assault.
Liverpool were confronting a group who had lost four of their last five matches, yet Leicester were intense, resolved rivals who declined to be cowed and exhibited a soul of harmony that made it feel bewildering Claude Puel discovers his position addressed so as often as possible.
FULL-TIME Liverpool 1-1 Leicester

Harry Maguire cancels out Sadio Mane's early opener – but the Reds' lead at the top extends to 5 points#LIVLEI pic.twitter.com/2WLh4JpyuI

— Premier League (@premierleague) January 30, 2019
Liverpool, thusly, appeared to feel the weight in a way that couldn't be said of some other time this season. It was uncommon, for instance, to see Mohamed Salah so ineffectual. It was not that Salah played gravely, simply that he didn't draw near to his most elating dimensions. Indistinguishable connected to the group from an entire and, however Liverpool expanded their leeway at the best, the mistake was tangible.
Liverpool surely set off just as they had been given a lift by the outcome at St James' Park the past night. There were just two minutes on the clock when Mané traded goes with Andy Robertson, exploited Harry Maguire missing the endeavored leeway and invoked the opening goal with a cunning first touch and exact right-foot wrap up.
Not one player in blue had dealt with a spotless bit of the ball before it wound up in Kasper Schmeichel's net and, in those early trades, Liverpool resembled a group in rush, quick to take care of business rapidly.
Chelsea have suffered their joint-heaviest Premier League defeat in the club's history (together with 1-5 vs. Liverpool in Sep 1996).

A torrid evening for Sarri & Co. pic.twitter.com/oJ6oLuT991

— Squawka Football (@Squawka) January 30, 2019
Roberto Firmino verge on multiplying the lead. Mané flashed a header wide, unchallenged from a corner, and in those minutes Liverpool's supporters could most likely have been pardoned for anticipating an increasingly direct match.
Rather, Leicester started to develop in certainty – energized, maybe, by the reasonable doubt that Alisson may be in a startlingly obliging temperament. One lost go from the Liverpool goalkeeper went directly to James Maddison and the Leicester player surely attempted to benefit as much as possible from a transitory touch from Jordan Henderson as he broke into the penalty zone.
Henderson, filling in at appropriate back without Trent Alexander-Arnold, was assumed the best about for that one and there was another letoff for Liverpool when Alisson vacillated with a freedom and Jamie Vardy ran after the ball. The ricochet wound up with Marc Albrighton and when he swung the cross once more into the penalty region Maddison truly should have improved a free header.
Premier League table:

1. Liverpool 61pts
2. Man City 56pts
3. Spurs 54pts
4. Arsenal 47pts
5. Chelsea 47pts
6. Man Utd 45pts pic.twitter.com/RGuQeG6jYP

— Football Tweet (@Football__Tweet) January 30, 2019
It was an energetic reaction from Leicester yet Klopp was qualified for be frustrated by the way in which his players were making life pointlessly hard for themselves and the equalizer was the situation in point.
Robertson has authentic qualifications to be perceived as the remarkable left-back in the Premier League yet he was blameworthy of yielding an unnecessary free-kick to leave his group in a helpless position.
Klopp's dismay was sure about the touchline and, however Maddison's underlying conveyance was dismissed, Leicester had a lot of players forward. Virgil van Dijk, the Liverpool player nearest to Maguire, had turned off and lost his man. Ben Chilwell restored the ball into the territory and Maguire had the existence to stroke his shot past Alisson.
Liverpool have dropped points at home in the Premier League for just the second time this season.

WWWDWWWWWWWD

Leicester take a deserved point. pic.twitter.com/HsEq6pAVch

— Squawka Football (@Squawka) January 30, 2019
Liverpool's group had been requiring a red card prior when Mané kept running behind the Leicester resistance just to be brought somewhere around Maguire. The inside half got away with a booking and, with the match level, the accentuation was back on Liverpool to relieve the group's nerves. But Leicester could now detect the anxiety. The appearance of the match had changed definitely and, in spite of being on a poor run, Puel's side had just demonstrated this season they could raise their execution against the best sides.
At half-time a group of groundsmen were sent on to expel specks of snow from the penalty zone that Liverpool would assault. The opposite side was left as it seemed to be.
Premier League – Week 24
Devastating loss for Man C losing to Newcastle 1-2. Liverpool couldn't capitalize with their 1-1 tie. I don't see Man C mentally ready to challenge Liverpool for the title. An absolutely embarrassing performance & loss (0-4) for Chelsea v Bournemouth pic.twitter.com/peK7ZXguDK

— Kamran Karimlou (@Kamran_Karimlou) January 30, 2019
Not that it appeared to have excessively effect and it was Leicester with the principal clear open door when another free-show selected Maguire. The offside wave to stayed and Roberto Firmino, surprisingly, blocked the header a yard or two from his own goal.
From that point onward, Liverpool had a lot of the ball and an OK penalty advance when Ricardo Pereira trod on Naby Keïta's foot yet they couldn't discover a route through and their night finished in disappointment.
*****************
Match 10 of 10: Tottenham vs Watford
Result:  2 – 1
Goal Scorers:
Tottenham: Son Heung-min 80′, Fernando Llorente 87′
Watford: Craig Cathcart 38′
Match Statistics:
| | | |
| --- | --- | --- |
| Tottenham | Team Stats | Watford |
| 17 | Shots | 9 |
| 3 | Shots On Target | 1 |
| 69% | Possession | 31% |
| 588 | Passes | 274 |
| 85% | Pass Accuracy | 67% |
| 6 | Fouls | 9 |
| 0 | Yellow Cards | 4 |
| 0 | Red Cards | 0 |
| 1 | Offsides | 5 |
| 9 | Corners | 5 |
Highlights: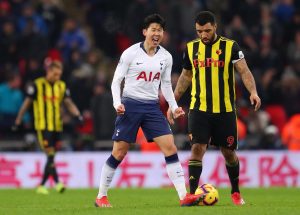 Tottenham might be out of two cups, however they are not out totally out of frame. Time was running out on a harshly chilly night in north London and the home side appeared to once more set out toward annihilation. Be that as it may, at that point two saints developed – Son Heung-min on his arrival to the side having contended at the Asian Cup and afterward, with 87 minutes on the clock, Fernando Llorente, the man who prior had missed a sitter however at this point rose to send a header into the back of the net. It was the champ.
Maurico Pochettino's men currently get themselves only two points behind Manchester City and will overwhelm the victors should they beat Newcastle on Saturday. Watford, in the interim, stay ninth and will feel collapsed given the amount they had put into this match having led the pack in the primary half through Craig Cathcart.
Tottenham dodging draws in the Premier League like pic.twitter.com/6v9PbdFMX5

— ODDSbible (@ODDSbible) January 30, 2019
Son, one of eight changes to the side who limped to crush at Selhurst Park, began in assault nearby Llorente as Pochettino revamped his players in a 3‑1‑4‑2 development and the South Korean rapidly got the attention with his vitality and direct running. As ahead of schedule as the third moment he caused frenzy with all due respect, and specifically to Cathcart, with a driving run into their territory. After six minutes he slice inside on to one side foot and hit a twisting shot from long range that floated only wide of the far post.
Those minutes aside, in any case, the home side had little effect amid the primary a large portion of, their forward play stodgy and to some degree unsurprising against adversaries who likewise rolled out eight improvements from their very own FA Cup fourth-round experience, the 2-0 triumph at Newcastle, and stayed unfaltering in a 4‑4‑1‑1 arrangement.
Write off Mauricio Pochettino's #Tottenham at your own peril …

Three points, after being down 1-0 down with 10 to go. #TOTWAT #PremierLeague pic.twitter.com/6itwpRpEf1

— Optus Sport (@OptusSport) January 30, 2019
What's more, the meeting side could have led the pack themselves following four minutes had Troy Deeney possessed the capacity to interface with Daryl Janmaat's conservative cross as he hopped from a plain position inside the region. Sadly for the Watford chief, Toby Alderweireld was close by to flick the ball to security with an imperative header.
There was no salvation for Spurs, be that as it may, a short ways from half-time and as they surrendered in amazingly messy design. José Holebas swung a corner into the region, Hugo Loris turned out to gather the ball yet rather wavered, furnishing Cathcart with the reality to head the ball into the net by means of a redirection of Davinson Sánchez. It was the Watford protector's fourth goal of the period and the prompt for a to some degree scanty and as of now disturbed home group to make their dismay considerably progressively clear.
FT: Spurs 2, Watford 1. Tottenham Hotspur just don't do Premier League draws. With the scores elsewhere this was a big result for Tottenham after a tough week. Great moment for Llorente as well after a tough night until that point.

— Alasdair Gold (@AlasdairGold) January 30, 2019
Pochettino's response was quick. Off went Serge Aurier at half-time and on came Lucas Moura. That implied a move of position for Moussa Sissoko, from focal midfield to conservative back in what was currently a 3-4-2-1 arrangement.
It was new job for the Frenchman however he took to it well and conveyed the cross on a little ways from which the home side ought to have evened out. Llorente did well to advance beyond Adrian Mariappa yet after his shot was kept out by means of a great stop by Ben Foster the striker's next commitment was downright a howler – a shot with a knee that missed a vacant net from a matter of yard out. Llorente held his head with sickening dread as the ball floated over the bar and as he did, a crisp influx of groans and moans exuded from most of those in participation.
Tottenham Hotspur's victory over Watford tonight means they have gone 28 @premierleague games without a draw – a record set by Bolton between April and December 2011.#BWFC #COYS pic.twitter.com/yCWyqGRSFE

— BWFC Stats (@bwfcstats) January 30, 2019
The miss was an awful one however it at any rate started Tottenham into life. They were presently pushing forward with expanding animosity and in expanding numbers. On 63 minutes, Christian Eriksen's low shot constrained Foster into another shrewd spare and after that not long after Ben Wilmot, having gone ahead as a substitution for Tom Cleverely, cleared Danny Rose's low left-sided drive from for all intents and purposes on his goalline.
The weight was mounting however Watford stood firm. Javi Gracia's men were additionally arranged to utilize unlawful methods so as to keep their adversaries under control, Lucas Moura particularly. The Brazilian was chopped down in his tracks on various events, with Mariappa and Etienne Capoue accepting appointments from arbitrator Graham Scott for doing accurately that.
Man City lost
Man Utd drew
Liverpool are level
Chelsea are behind
Tottenham are losing

A crazy midweek in the Premier League!#LIVLEI #PL pic.twitter.com/490WFzVbxL

— bwin (@bwin) January 30, 2019
#Tottenham and #Arsenal, the only winners of Premier League's 24th round.

— Ylli Tafarshiku (@ylliit) January 30, 2019
Tottenham gave off an impression of being setting out toward a third progressive home misfortune yet then came the turnaround. On 79 minutes, Isaac Success neglected to make it 2-0 with a side-footed shot from short proximity and afterward, a moment or so later, Son demonstrated to him how it ought to be finished with a short proximity drive. That had all the earmarks of being that yet with time running out came Lloente's very own telling commitment.
Visit allsportspk, on 2nd February for the first matches of Match Day 25 of 38; Premier League 2018-19.