Princess Cup Youth Scrabble Championship: Pakistan's Hassan Wins 4th Youth Title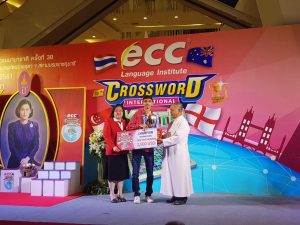 Hassan Hadi Khan capped a great year for Pakistan by winning the Princess Cup Youth Scrabble Championship at Bangkok, Thailand today.
This is Pakistanis fourth global youth title in the last year or so. Incredibly all four have been won by different players.
Allsportspk Achieves – 29th Princess Cup Youth Scrabble Championship: Pakistan Dominates
Interestingly his identical twin Hammad Hadi won the same championship last year. This is only the second time Pakistan has participated in the Princess Cup and won each time!
Hassan was in great form throughout the championship and remained in the top three positions almost from the beginning.
His twin brother Hammad was also in the race for the title. With one match to go there was a real possibility of an all-Pakistan final but Hammad list his last game and finished 4th.
Hassan finished the main round on top of the ladder and faced Thailand's Tanaphon Kamenkij in the best of 3 final.
The final was a unique experience which was played on a giant 12 feet scrabble board and watched by thousands of spectators at the arena.
Hassan won the first game 454-383 but Tanaphon made the finals exiting by winning the second 498-410.
It all came down to the last game of the championship which turned out to be a nail-biting affair. Hassan kept his cool and won 413-397.
Hassan was grateful to God for accomplishing a milestone for the country and was confident to performing well for Pakistan. Talking to the media, he was very content and added, "I am glad to clinch this title for my country."
The young champion was thankful to Pakistan Scrabble Association (PSA) for providing full support to participate in the event
The Director Youth Program of Pakistan Scrabble Association stated that "this is probably Pakistanis greatest performance in any sport." And hoped that the Government will take notice of these achievements and play its due role in further development of the game.
For more updates keep visiting allsportspk