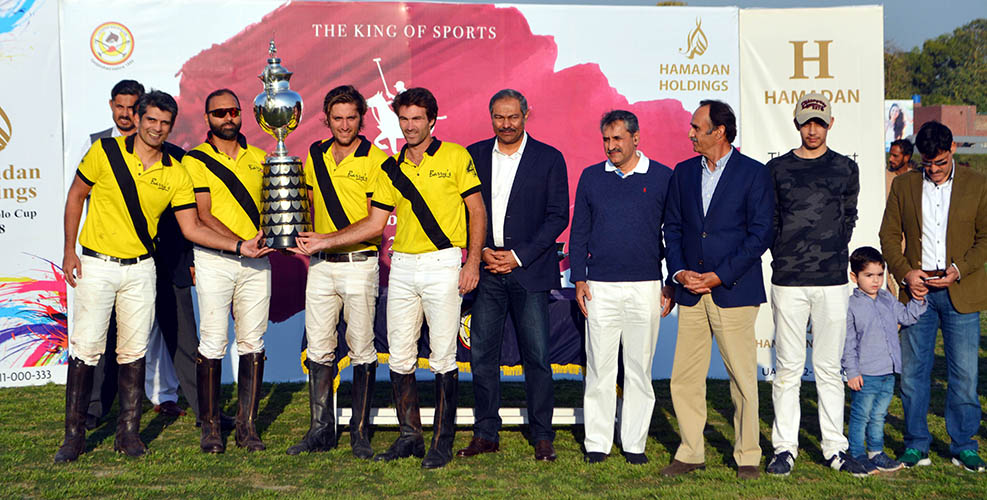 LPC LAHORE: Barry's striker Juan Maria Ginazu left Master Paints/Rizvi's efforts tasteless in the final to secure his side Hamadan Holdings Punjab Cup 2018 here at the Lahore Polo Club's main Aibak ground on Sunday.
On this sunny day, Army secured third position when it came from behind to overpower Newage/BBJ Pines in the subsidiary final held just before the title match. Their win came in a sudden death fifth chukker after score was 7-all equal at the end of four quarters.
Ginzu, who is also called as Tito, struck five times in Barry's 7-6 win over Master Paints/Rizvi's while Army relied heavily on Ignasio Negri to get its share of win with their horseman's also struck five goals in their team's 8-7 win over Newage/BBK pines.
Barry's vs Master Paints/Rizvi's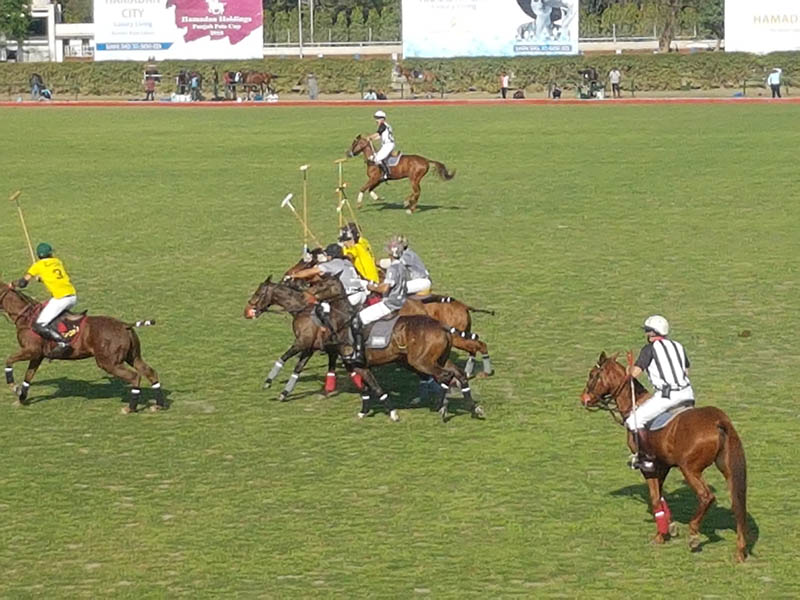 Tito's team mate Ramiro Zaraleta and Nafees Barry completed the score by adding one goal apiece. As from the losing side, Master/Rizvi, Saqib Khan Khakwani and Hamza Mawaz Khan scoring one goal each, played a supporting role for Juan Cruz Losada, who came up with four goals, on shot of the winning team Barry's.
As Tito came up with a lead for Barry's, Saqib brought the equaliser to conclude the opening chukker. But Tito hit three back to back goals with fourth of the chukker and fif th of the team was converted by Ramiro. Masters/Rizvi's responded with one goals through Juan to finish the second chukker.
Allsportspk Images – Punjab Cup 2018 – Three Goal scoring video clips
Barry's consolidated its lead with an addition of another goal from Nafees in the third quarter, which was their team's sixth. The seventh goal came from Tito. From then on though Masters/Rizvi's increased their attacks but they could went through Barry's danger zone three times with thanks to Juan's late assault. In whole of the final, eight field goals were produced while the other goals came from spot penalty, three 30 yarders and a safety shot.
Howard George Smith, Jason Dixon were umpires and Salvador was the match referee.
Army vs Newage/BJJ Pines
Earlier, Army had to use all of its strengths to overcome a tough resistance unleashed by Newage/BJJ Pines. Both the teams remained on equal terms in the opening chukker with two goals each. Ignasio and Brig Zulfiqar Baig score one goal each from Army side while Salvador produced two.
Army then dominated the second chukker in which Miguel Luis scored two goals and Ignasio one with one goals coming from Newage's Salvedor.
Ignasio scored the lone goal of the third chukker giving an edge to Army. But in the fourth chukker Sakvador and Mumtaz Abbas with two goals each provided an edge to Newage/BBJ Pines. However, Ignasio with two back to back goals, one concluding the fourth chukker and the golden goal in the fifth chukker earned Army a deserving win..
For updates regularly visit: Allsportspk