LPC LAHORE: Master Paints/Rizvi's and Barry's qualified for the main final after defeating their respective opponents in the Hamdan Holdings Punjab Polo Cup 2018 matches played here at the Lahore Polo Club (LPC) ground.
Master Paints/Rizvi's vs  Diamond Paints/Guard Rice
Juan Cruz Losada hammered a hat-trick to help Master Paints/Rizvi's beat Diamond Paints/Guard Rice by 6-5½ in the thrilling first encounter of the day. Hamza Mawaz Khan, Saqib Khan Khakwani and Sufi Farooq struck one goal apiece to complete the tally for the victors. Deigo Araya smashed in all the five goals for Diamond Paints/Guard Rice, which had half goal handicap advantage, but his efforts couldn't help his team score victory.
Master Paints/Rizvi's were off to flying start as they hammered a hat-trick through Losada, Hamza and Saqib to take 3-0 lead. By the close of the first chukker, Deigo struck one to make it 3-1. Master Paints/Rizvi's maintained their supremacy in the second chukker as well as they thwarted two more goals to have a healthy 5-1 lead. Sufi Farooq and Losada were the goal scorers as they contributed one goal each.
Diamond Paints/Guard Rice bounced back in the third chukker as they scored two back-to-back goals through Deigo to reduce the margin to 5-3. They also fought well in the fourth and last chukker and score one more goal through Deigo to further close the margin to 5-4 but Losada then fired a fabulous field goal to enhance their lead to 6-4. Deigo once again converted one off spot penalty to make it 6-5, but it was too little too late situation for Diamond Paints/Guard Rice as they lost the match by 6-5½.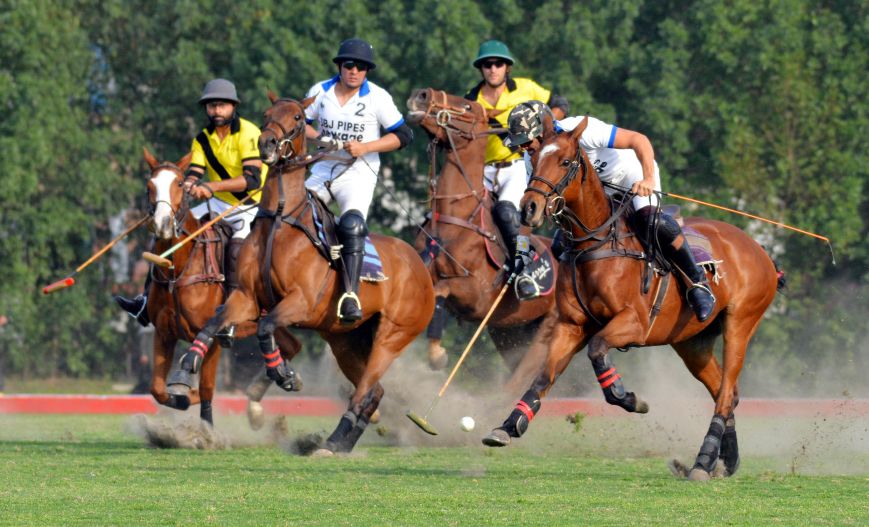 Barry's vs Newage/BBJ Pipes
The second encounter of the day also proved to be a nail-biting one, as Barry's edged out Newage/BBJ Pipes by a close margin of 7-6. High-flying Juan Maria Ginazu (Tito) fired fabulous five goals for Barry's while Ramiro Zavaleta and Bilal Haye contributed one goal each. Although Salvador Ulloa also pumped in five goals and Ahmed Ali Tiwana hit one for Newage/BBJ but their heroics couldn't bear fruit for their team.
Newage/BBJ Pipes dominated the first chukker by scoring a hat-trick through Salvador and Barry's hit one through Ramiro to make it 3-1. Barry's bounced back well in the second chukker and struck two through Bilal Haye and Ginazu to level the score 3-3. Ahmed Tiwana then converted one in the beginning of third chukker to give Newage 4-3 edge but Barry's again fought back well and banged in a brace through Ginazu to have 5-4 lead.
The fourth and decisive chukker saw Barry's adding one more through Ginazu to enhance their lead to 6-4. Salvador then thwarted two tremendous goals to draw the blood at 6-6. In the dying moments of the match, Ginazu slammed in the match-winning goals to guide Barry's 7-6 victory.
Five-star Ignasio Negri led Army to an impressive 8-0 triumph over Master Paints Black in the third and last encounter of the day. Besides Ignasio's five goals, Omar Minhas (2 goals) and Brig Zulfiqar Ali Baig (1 goal) also played their significant role in Army's win.
Master Paints Black fully dominated the first chukker as Gerardo Mazzini pumped in a hat-trick to give his team 3-0 edge. Army bounced back in the second chukker where they fired fabulous four goals through Ignasio (3 goals) and Brig Zulfiqar (1 goal) to take 4-3 lead but Master Paints Black also converted two goals – one each by Agha Musa and Gerardo Mazzini – to take back 5-4 lead.
The third chukker remained goalless while Army stamped their authority in the fourth and last chukker as he slammed in a quartet – two each by Omar Minhas and Ignasio – to take insurmountable 8-5 lead, which remained intact till the end and helped them win the match in style.
 For updates regularly visit: Allsportspk