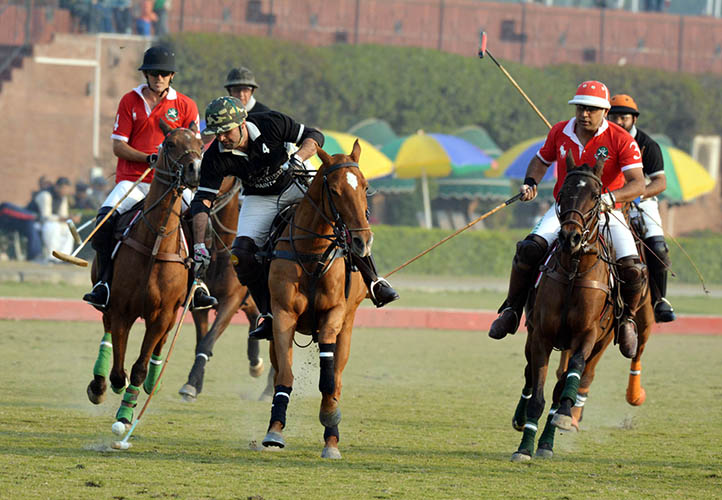 LPC LAHORE: Army defeated Black Horse Paints by narrow 4-3 goals in a sudden death chukker to register a nail-biting victory in the Samba Bank Lahore Open Polo Championship 2017 here at the Lahore Polo Club ground on Friday.
Lahore Polo Club: 2017 – 18 Season Calendar
Omer Minhas emerged as top scorer from Army with his tremendous three goals while the remaining one was scored by Luis Mighal Duggan. From Black Horse Paints, Hissam Ali Hyder struck two goals and Abubakar Siddique converted one.
Army stamped their authority right from the first chukker when they thwarted three tremendous goals Luis Mighal and Omer Minhas. No goal was scored in the second chukker while the only goal of the third chukker was pumped in by Abubakar to reduce the margin to 3-1. Black Horse bounced back in great style in the fourth chukker when Hissam banged in a brilliant brace to level the score 3-3. When the final whistle was blown, the score was equal 3-3 so the match entered the sudden death chukker, where Omer Minhas converted marvelous match-winning goal to give Army a thrilling 4-3 triumph.
Hamza Mawaz Khan and Hernan Pieres were the field umpires.
Allied Bank has already qualified for the main final from Pool A while in pool B, Army, Black Horse Paints and Newage have equal points, so the other finalist from this pool will be decided on penalty shootouts on Saturday at 12:00 pm.
The finals will be played on Sunday.
For updates regularly visit: Allsportspk