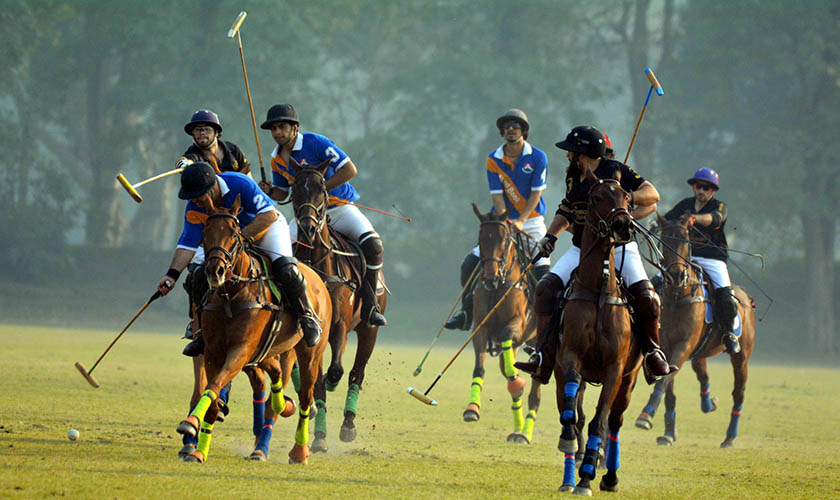 LPC LAHORE: Allied Bank and Barry's carved out hard-fought victories in the Samba Bank Lahore Open Polo Championship 2017 matches played here at the Lahore Polo Club (LPC) ground on Thursday.
In the first match of the day, Allied Bank defeated Diamond Paints by 7-5. Mumtaz Abbas Niazi slammed in three goals from the winning side while Raja Arslan Najeeb and Hamza Mawaz Khan, who played in place of Saqib Khan Khakwani who couldn't play the match due to illness, scored two goals apiece. From the losing side, Eulogio Celestino hammered a hat-trick while Ahmad Khan and Mir Huzaifa Ahmad hit one goal apiece.
Lahore Polo Club: 2017 – 18 Season Calendar
Mumtaz Abbas started the match with a field goal to give Allied Bank 1-0 lead which was equalized by Diamond Paints through Eulugio Celestino to finish the chukker at 1-1. Allied Bank dominated the second chukker by smashing in an impressive hat-trick through Raja Arslan Najeeb (2 goals) and Mumtaz Abbas (1 goal) to take 4-1 lead while in the dying moments of the chukker, Eulugio struck one for Diamond Paints to reduce the margin to 4-2.
The third chukker was started with another field goal from Mumtaz Abbas to give Allied Bank 5-2 edge but Diamond Paints then made a comeback by scoring two back-to-back goals through Ahmad Khan and Eulugio to close the gap to 5-4. Diamond Paints also started the fourth and last chukker well by firing a field goal through Mir Huzaifa to level the score at 5-5. At his stage, it was anyone's match as both the teams fought well for scoring more goals but it was Allied Bank's Hamza Mawaz who succeeded in converting a 60-yarder first and then fired a field goal to steer Allied Bank to an impressive 7-5 victory.
Hissam Ali Hyder and Ahmad Nawaz Tiwana were field umpires.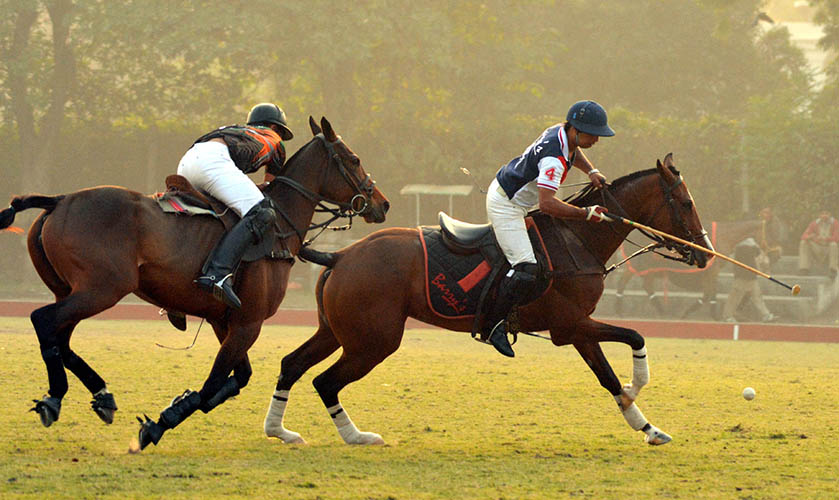 Barry' defeated Green Orchard/Rijas by 5-4 in the sudden death chukker to win the second encounter of the day. Hernan Pieres was top scorer from the winning side with three goals while Raja Samiullah and Raja Mikael Sami scored one goal each. From the losing side, Geoffredo and Ahmed Zubair Butt banged in a brace each, but their efforts couldn't bear fruit for their team, which lost the match with a narrow margin of 5-4.
Green Orchard score the only goal of the first chukker to take 1-0 lead which was equalized by Barry's in the second chukker but Green Orchard one again succeeded in taking 2-1 lead before the end of the second chukker. Barry's once again leveled the score at 2-2 in the beginning of the third chukker but Green Orchard then slammed in two back-to-back goals to take 4-2 lead once again.
 FIP Snow Polo World Championship 2017
The fourth and last chukker saw players vying against each other for converting goals for their respective sides, but it was Hernan Pieres who succeeded in pumping in two impressive goals for Barry's to level the score at 4-4. It was all that both the teams could get as when the final whistle was blown, the match was tied at 4-4 and it was then decided in the sudden death chukker, where Raja Mikael Sami scored a match-winner to guide Barry's to a nail-biting victory.
Eulugio Celestino and Raja Arslan Najeeb supervised the match as field umpires.
For updates regularly visit: Allsportspk