The Sapphire Punjab Junior Tennis Championship 2022 continued at the Punjab Tennis Academy Bagh-e-Jinnah. The action included upset and revenge between emerging Abdur Rehman (AAA Associates) and rising star No 2 seed Zohaib Afzal Malik.
The finals of the event will be played on Friday, 18th March at 3:00 p.m.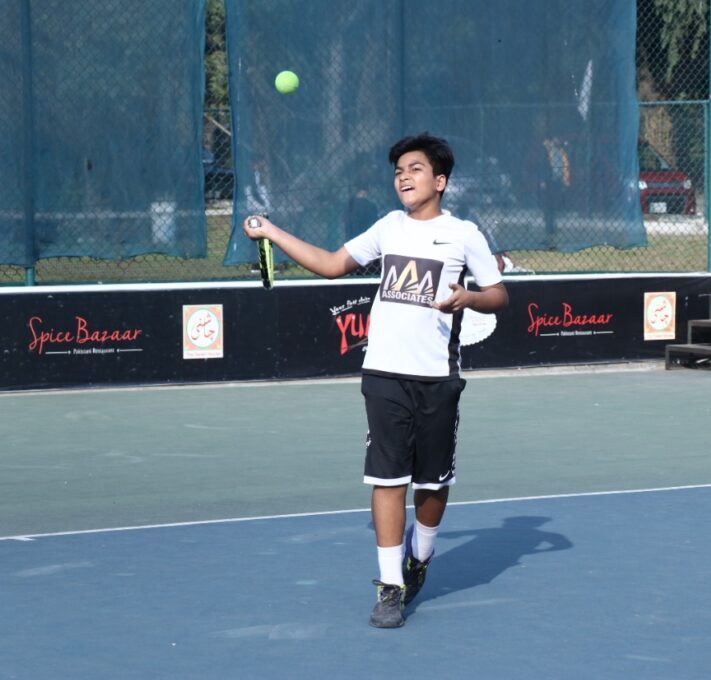 In the U-12 semifinals, emerging player Abdur Rehman (AAA Associates) was up against Zohaib Afzal Malik. Abdur Rehman played tremendous tennis right from the word go as he smashed some superb and down the line shots, which gave him upper hand on his opponent and helped him win the crucial encounter by 8-3.
The second semifinal of the U-12 category was won by Umer Jawad, who overwhelmed spirited Ismail Aftab by 8-1.
Zohaib Afzal Malik then took sweet revenge in the U-14 semifinals against the same U-12 opponent – Abdur Rehman – by outpacing him with a good margin of 8-2. Zohaib showed his class against young Abdur Rehman soon after the beginning of the important match and put him under pressure to comfortably win the semifinal conceding just two games. In the second U-14 semifinal, Umer Jawad faced some resistance from Ismail Aftab before winning the match by 8-4.
Young Hajra Sohail (AAA Associates) played superb tennis during the Boys/Girls U-10 final against Mustafa Uzair and dominated the title clash in great style, winning the final by 8-2.
In the U-18 semifinals, Hassan Ali routed Amir Mazari 8-4 while Asad Zaman outclassed Zaeem Ghafoor 8-1.
Abdur Rehman (AAA Associates) in action against Zohaib Malik.