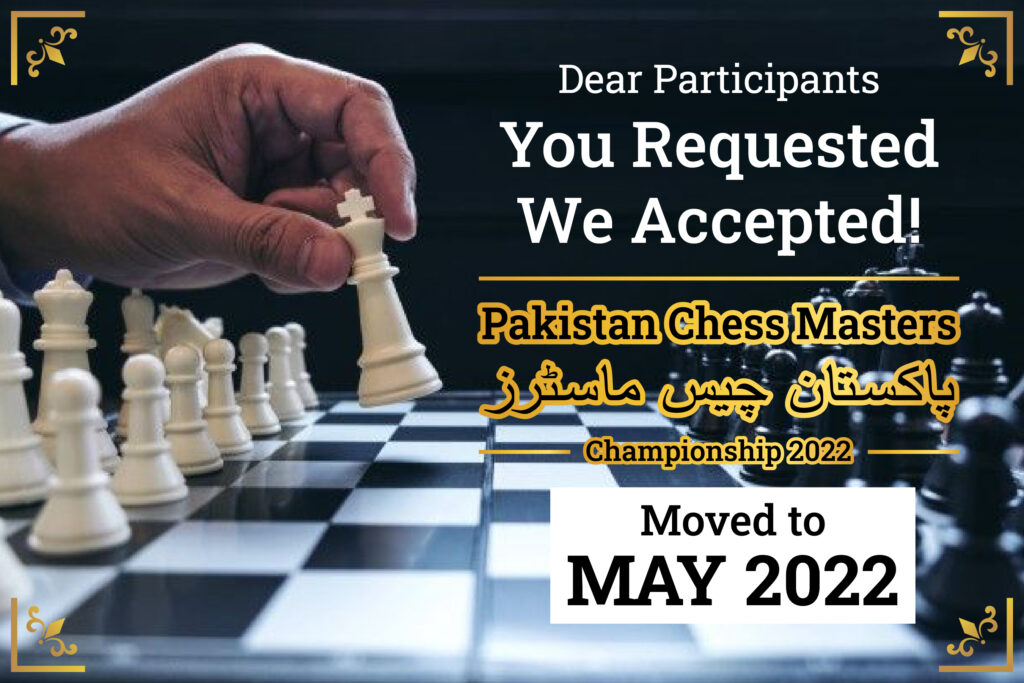 Dear Expected Participants and Enthusiasts,
Thank you! for your overwhelming response. Due to the extraordinary number of requests to participate in a CLASSIC Championship, as during March there are other scheduled and expected sports, cultural and national activities. Therefore, in interest of eager participants especially as Pakistan Chess Masters is a 3 Day CLASSIC Championship and the Highest Prized Classic in Pakistan worth Rs. 350,000 – the Championship has been rescheduled and will be In sha ALLAH held in May 2022.
Pakistan Chess Masters a Premium event to be held annually has been initiated to provide a platform for Chess players of all skill levels to cash in on their dedication and achieve the ultimate height of World Chess Grandmasters.
Pakistan Chess Masters is another endeavor of Allsportspk to set a new trend in its Human cum Social Development journey by developing the Divine gift called Mind – the human ethos and thereby society.

Championship Events Formats – Schedules
Event 1
Pakistan Chess Masters – Men
Event 2
Pakistan Chess Masters – Women
Both Events – Open & Classic
MAY 2022*
Event 3
Pakistan Chess Masters – Juniors
Open (18 Years & Below) & Rapid
MAY 2022*
* Exact Dates during MAY Will Be Announced Soon
Ranking
FIDE Rated
Venue
DHA-Defence Housing Society, Lahore, Pakistan
Management & Organizers
Enquiries
OO92 (0) 3070033325
+ Whatsapp +
00 (92) 333 4615345