Team Remounts lifted the glittering trophy after thumping Newage/Rizvi's by 7-1 in the Lt. Gen. Shah Rafi Alam Memorial Polo Cup, played at the Lahore Polo Club.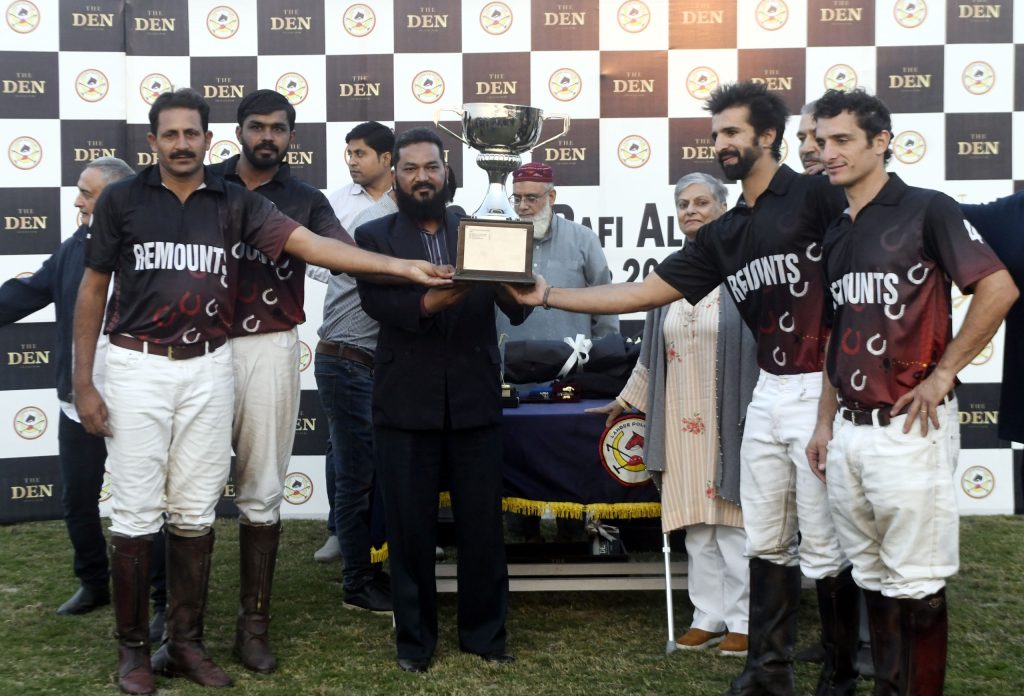 Nicholas Antinori was the star who played heroic role in Remounts title triumph as he added fabulous four goals in his team's total tally while the remaining goals were contributed by Raja Temur Nadeem (2 goals) and ALD (R) Shahid Imran (1 goal). From the team Newage/Rizvi's, the only goal was converted by Tomas Marin Moreno. 
Although Newage/Rizvi's started the final well by converting a field goal yet Remounts bounced back in great style and banged in two back-to-back goals to earn a 2-1 lead in the first chukker and then maintained this supremacy till the end and won the final by 7-1. Mark Holmes and Shah Shamyl Alam supervised the final as field umpires while Tomas Reinoso was match referee. 
Earlier in the subsidiary final, Rijas Development/Master Paints defeated Diamond Paints/Sheikhoo Steel by a narrow margin of 7-6. From the winning side, Mannuel Carranza pumped in five fantastic goals while Raja Jalal Arslan banged in a brace. From the losing side, Andres Llorente hammered a hat-trick, Mir Huzaifa Ahmad a brace and Saqib Khan Khakwani one goal.
Wife of Late Lt Gen Shah Rafi Alam, Mrs. Tameez Alam, graced the occasion as chief guest and distributed prizes among the winners and top performers. 
لاہور(سپورٹس رپورٹر)لاہور پولو کلب کے زیراہتمام لیفٹیننٹ شار رفیع عالم میموریل پولو کپ 2021ء  سپانسرڈ بائی دی  ڈین (Den)  ٹیم ری ماؤنٹس نے جیت لیا۔ فائنل میں نیوایج /رضویز کی ٹیم کو 7-1 سے ہرا دیا۔ تفصیلات کے مطابق لاہور پولو کلب میں شاہ رفیع عالم میموریل پولو کپ 2021 ء کا فائنل دیکھنے کیلئے تماشائیوں کی ایک بہت بڑی تعداد موجود تھی۔ اس موقع پر دی ڈین کے سی ایو فیصل تارڑ، مسز تمیز عالم، شاہ قبلائی عالم، شاہ شمیل عالم لاہور پولو کلب کے صدر عمر صادق، سیکرٹری آغا مرتضیٰ علی خان، ایگزیکٹو کمیٹی ممبرز، کمانڈنٹ مونا بریگیڈیئر محمد نعیم اور فیملیز کی بہت بڑی تعداد بھی موجود تھی۔ فائنل میچ میں ٹیم ری ماؤنٹس نے شاندار کھیل پیش کرتے ہوئے نیوایج /رضویز کی ٹیم کو 7-1 سے ہرایا۔ ری ماؤنٹس کی طرف سے نکلوس انٹونیو نے شاندار کھیل پیش کیا اور چار گول سکور کیے جبکہ دیگر میں راجہ تیمور ندیم نے دو جبکہ عمران شاہد نے ایک گول سکور کیا جبکہ نیوایج /رضویز کی طرف سے واحد گول تھامس نے سکور کیا۔ ادھر سب سڈری فائنل میں دلچسپ مقابلے کے بعد ٹیم ریجاس ڈویلپمنٹ /ماسٹر پینٹس نے ڈائمنڈ پینٹس /شیخو سٹیل کو 7-6 سے ہرا دیا۔ ٹیم ریجاس ڈویلپمنٹ /ماسٹر پینٹس کی طرف سے مینول کرانزا نے 5 جبکہ 2 گول راجہ جلال ارسلان نے سکور کیا جبکہ  ٹیم ڈائمنڈ پینٹس /شیخو سٹیل کی طرف سے ایندرس لورنٹے نے تین، میر حذیفہ احمد نے دو جبکہ ثاقب خان خاکوانی نے ایک گول سکور کی۔ اختتامی تقریب میں مرحوم جنرل شاہ رفیع عالم کی بیوہ مسز تمیز عالم اور دیگر نے کھلاڑیوں میں انعامات تقسیم کیے۔