Shahid Hamid Memorial Tennis Tournament concluded with the finals taking place and the winners/results being as follows:
Scroll Down For Previous Day's Overviews
Men Singles:
Final: Jibran ul Haq bt Yawer Ali 6-4, 3-6 (10-5) Super Tiebreak
Men Doubles:
Final: Zalan Khan/Murtaza bt Daisuke Unemi/Yameen 6-4, 4-6, (10-7)
Ladies Singles:
Final: Fatima Ali Raja bt Zainab Ali Raja 8-2
Boys U-18:
Final: Zain Ali bt Ibrahim bin Sohail 6-3 7-6(4)
Girls Under 14:
Final: Ayesha Masood bt Wania Khalid 6-3
Boys Under 14:
Final: Hassan Usmani bt Orhan Sohail 8-2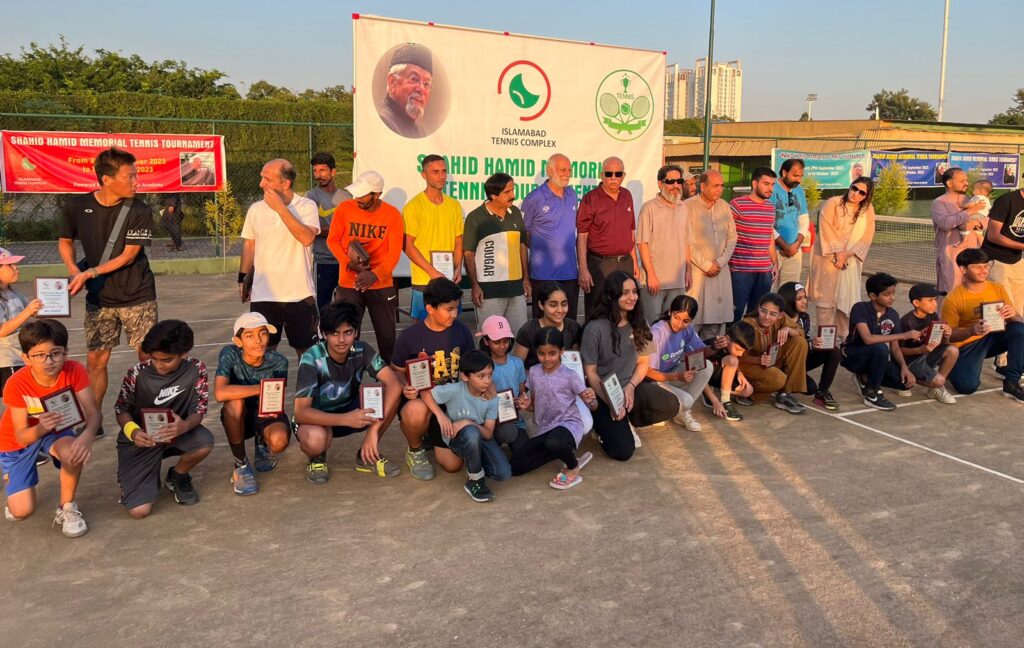 Boys Under 10:
Final: Behroze Memoon bt Amir Masood
Boys Under 12:
Final: Moazam Baber bt Raja Mohammad Taha 6-2
Girls Under 10:
Final: Manha Amalia Aidrus bt Manha Khalid Raja 6-1
Shahid Hamid Memorial Tennis 2023: Day & Round 1
Shahid Hamid Memorial Tennis Tournament commenced at Islamabad Tennis Complex. The tournament is being organized in the memory of Air Marshal Shahid Hamid Raja (Late) who helped the tennis fraternity and supported the game of tennis.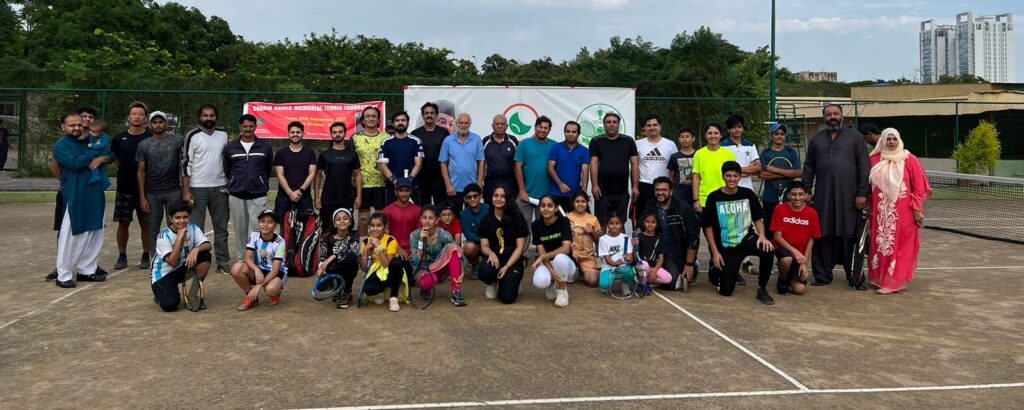 There are nine events in tournament for which entries have been received from various clubs of Islamabad, Rawalpindi, Taxila, Wah cantonment. Mr. Rashid Khan along with Mr. Fazal-e-Subhan inaugurated the event.
Results till weblication (Events and matches are still in progress.)
Men Singles – Round 1
Hammad Ali bt Ahmed Murad 8-1; Abdullah Shafqat bt Ali Zain 8-4; Taimoor Adil bt Abdul Hadi 8-2; Danish Raza bt Emaddin 8-4; Daisuke Unemi bt Kaleem Zaib 8-4; Muhammad bin Abdul Waheed bt Mamoon Arshad Kiyani 8-3; Osama Janjua bt Rohan Norani 8-1; Idrees bt Qasim Khan 8-3; Haider bt Abdul Rehman Choudhry 8-5.
Men Doubles-Round 1
Mohammad/Adul Rehman bt Saqib/Idrees 8-6; Daisuke/Yameen bt Behram/Qasim 8-2; Kaleem/Danish bt Raja Asif/Khurram Baig 7-6 (5); Adnan Khan/Saud Masood bt Taimur Adil/Mujtaba 8-4; Zalan Khan/Murtaza Khan bt Haider Ali/Haider Khan 8-0;
Ladies Singles-Quarter Finals
Shandana Rabi bt Zara Shabaz 8-3; Zainab Ali Raja bt Ayesha Masood 8-2; Dana bt Amna 8-3; Fatima Ali Raja bt Zara Lawangin 8-6.
Boys U-14-Quarterfinals
Sameer Masood bt Awais 6-3; Salman Khan Niazi bt Mohammad Ali Izzat 6-3; Orhan Sohail bt Moazam Baber 6-1; Amar Masood bt Raja Mohammad Taha 6-2;