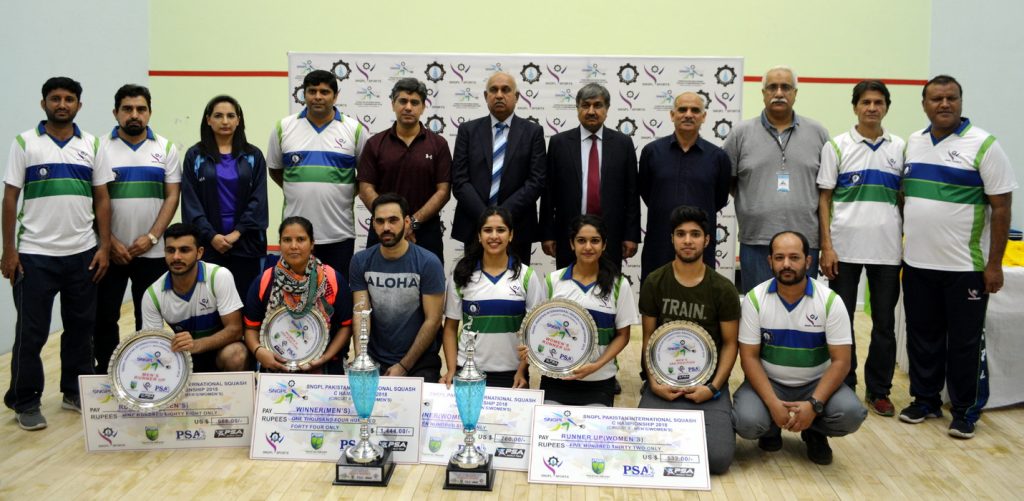 Lahore: Farhan Mehboob and Madina Zafar annexed the SNGPL Pakistan International Squash Circuit-II, titles after winning their respective finals played here at the Punjab Squash Complex.
Farhan Mehboob had to struggle hard to beat spirited Tayyab Aslam by 3-2 in a marathon 48-minute final. In this clash of titans, both the players played exceptionally and amused the spectators through their outstanding squash skills and techniques, who, in return, kept on supporting and cheering for them till the end.
Both the players were in great form from the first game and gave each other tough time till it was 11-all. Farhan then changed his gear and successfully won the next two games in a row to win the game by 13/11. Tayyab then changed his game plan and started playing aggressive game, which helped him put Farhan under pressure and won the second game easily by 11/1.
Continuing his aggressive approach, Tayyab also won the third game 11/4 and was all set to win the fourth game by scoring the match point, but Farhan Mehboob then showed his class and utilized his wide international experience to first equalize the score at 11/11 and then smash two more points to win the game 13/11. Tayyab was nowhere in the fifth and decisive game, which was fully dominated by Farhan, who outclassed his opponent 11/3 to win the an extraordinary final 3-2.
The Women's singles final proved to be a one-sided affair as younger sister Madina Zafar overpowered elder sister Faiza Zafar by 3-0 in just 14 minutes. Madina dominated the final right from the start, as she won the first game easily by 11/4. In the second and third games, Madina though faced some resistance yet she dominated again and won both the games in a row by 11/7 and 11/8 to win the final.
Speaking on the occasion, SNGPL Managing Director Amjad Latif congratulated the winners as well as the organisers for holding the event successfully. "The sincere efforts and hard work of SNGPL team and PSA officials made the event a success. The SNGPL will continue to support all the games and especially Pakistan squash."
PSA General Secretary, Shiraz Saleem said that PSA has renovated the squash courts in a befitting manner and made them ready for international events. "All the players gave out their best to win their respective matches and in the end, the top players emerged as winners. I congratulate the winners and hope other players will also practice hard to win the next events."
For more updates keep visiting allsportspk