USA: The world's first public squash court in New York City was unveiled. A pioneering initiative project of the Public Squash Foundation, whose goal is to give public exposure to Squash and thereby offer free access to it in public places.
The new squash court, at Hamilton Fish Park on Lower East Side, is the latest addition to the NYC Parks' Adopt-a-Park program installed on one of the park's four handball courts. The court has added beauty to the landscape. As a reporter wrote in the local media – This amazingly cool court looks more like an Apple Store glass cube than a fitness facility.
The manufactures of the inaugural all-glass court are ASB Squash, who according to reports have installed 7,000 squash courts in 70 countries all over the world. The New York open court, is modelled on the ASB Show Glass Court used in the leading world tournaments, which include PSA World Tour events, WSF World Championships and Commonwealth Games. However, it has been modified and made suitable for the outdoor environment.
The court is funded by nonprofit Public Squash and will be available free – without any fee. To create awareness and knowledge about the game of squas, the public will be offered free clinics throughout the summer.
The court in brief:
A U.S. Open-quality, pro, glass squash court
Modified for the outdoors
Stands 18.5' tall
Nearly 32' long and 20' wide
Has an elastic floor with drainage capabilities
No roof
Providing for open-air play.
Installed on one of four of Hamilton Fish Park's handball courts
It will stand for six months.
According to an understanding to promote Squash, the ASB management has shown interest and committed to continue its cooperation with the World Squash Federation (WSF) and Professional Squash Association (PSA). The common objective is to encourage other cities, local federations and communities in the USA and all over the world to follow the New York example.
While officially inaugurating the New York Court, the NYC Parks Commissioner Mr. Mitchell Silver, stated:
"It is exciting to work with the Public Squash to bring an amenity as unique as outdoor squash to one of our city parks."
"Athletic activity benefits us mentally and physically; and falling in love with a sport like squash can expose us to worlds we may never have otherwise come into contact with."
The Director of Public Squash, Mr. Ryan Wall,added:
"Bringing squash outside, and making it free to the public, is the best way to give access to all, and increase the visibility of the game."
ASB USA Consultant Mr. Conor O'Malley explained:
"There are several key ingredients needed for any successful project to come together; you need the right timing, partners, patience and perseverance. So in essence, this is really a story of triumph for the squash community brought about by Public Squash Foundation, ASB, NYC Parks & Recreation Department – and, of course, made possible by the generous supporters.
The former US Squash Vice President, added:

"We hope this is the just the beginning of more courts and more cities embracing this Public Squash movement."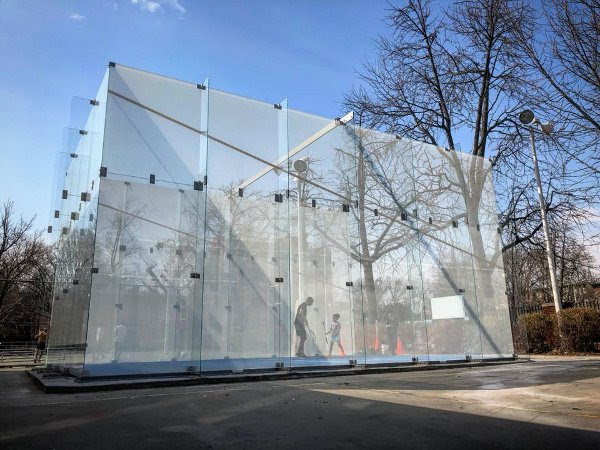 Tommy Berden, the PSA's Chief Commercial Officer, said:
"As Squash is bidding for inclusion in the Olympic Programme, the opening of a public outdoor squash court in New York serves as a strong example of the value that squash can bring to a host city, by easily and efficiently integrating with the modern urban landscapes and lifestyles.
"I am convinced that the new court will further contribute to enhance the image of the iconic East Village known for its diverse, dynamic and artistic community and will become a popular sport venue for the locals."
For updates regularly visit: Allsportspk