Origin of Squash
This game dates back to 1830 and was first played at Harrow, London. And the first ever squash court was witnessed in Concord, New Hampshire in 1884.
Then in 1904, squash also stepped into USA territory and an association of Squash was formed in Pennsylvania. However, the sport was still pretty much unknown in major parts of the world.
With the passage of time as this game gained popularity and it was adopted by many countries. Gradually, the game rules and regulations were refined as the sport became  renowned in various parts of the world.
Squash is currently being played in a total of 188 countries with over 20 million squash players that are participating in this sport on a domestic or international level.
True Masters Of Squash; A Comprehensive List – Men & Women
Like any sport, Squash has also witnessed some players that are still considered as the true masters of this game due to their un-parallel skill.
Squash Legendary Players – Men
Although several players might come in this category but the Top 3 were as follows: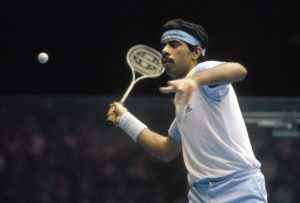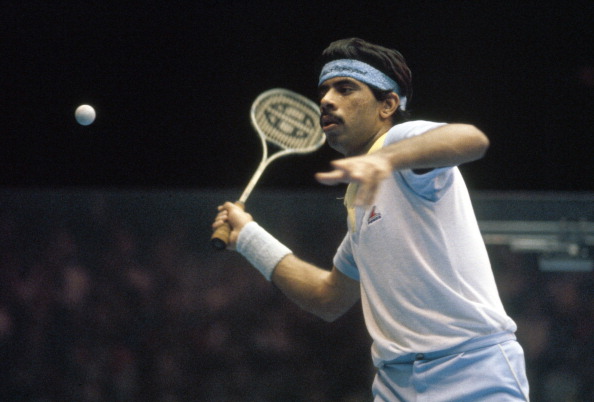 Born in Pakistan, Khan is still termed as the greatest player this sport has ever produced. With insane squash skills excellent composure, Jehangir Khan was praised equally by his fans and rivals as he broke a considerable amount of records in this entire career.
Khan won the British Open ten times and took the World Open 6 times but his most notable record in Squash was remaining unbeaten for five years as he won 555 straight squash matches in that era.
Known by the nickname of "King Khan" and "The Punisher", Jansher Khan also hails from Pakistan and holds a record of winning the World Open and the British Open for a total of 8 and 6 times respectively.
He shared a healthy rivalry with Jehangir Khan and won a total of 99 titles in his 16-year career in which he dominated almost every player in the world.
Pakistan dominated this sport for 50 years before ending their magnificent after Jansher Khan retired in 2002.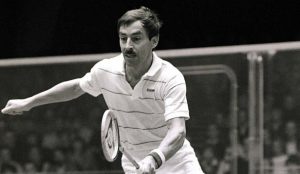 Born in Ireland, Barrington was a world class player of his time and was known by the name of "Mr.Squash" due to his extraordinary achievements.
At that time, the British Open was considered as the World championship so his achievement of winning this tournament 6 times in a row was quite an achievement during that era.
After his retirement, Barrington started his career as a squash player and is currently the coach of World No.1 Mohamed El Shorbagy.
Contemporary Players – Men
Some of the contemporary players that have taken this sport by storm are as follows:
Having won the World Open in 2008, 2012 and 2014, the Egyptian is known by the nickname of "The Artist" due to the style of play in which he performs in this sport.
With a total of 40 titles to his name Ashour also holds the honor of being the youngest player to be the World No.1 in this sport.
Currently the World No.1 in this sport, Elshorbagy is also an Egyptian and has a total of 29 titles to his name.
Considered as one of the most talented players in contemporary squash, Elshorbagy has also won the World Open for a total of 3 times in 2012, 2014 and 2017 respectively.
Legendary Players – Women
Women have also achieved great heights in this sport and that is why we have included some of the retired and contemporary players of this sport in the list below. Have a look: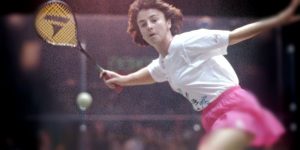 Liz Irving had a wonderful squash career in which she won 4 World Team Championships also held the honor of being a runner-up in the World Open in 1993.
Currently the Australian has made a career for herself as a squash coach as she helps young women in fulfilling their passion of playing this wonderful sport.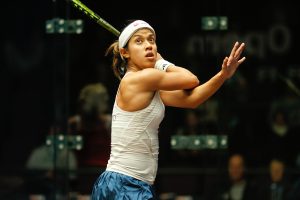 Nicol David has been playing squash since, 17 years now and she has dominated this sport like no other woman. Currently coached by Liz Erving, the Malaysian squash player holds the record of winning the World Open for a total of 8 times.
Her tenure between 2008-2012 was the most brilliant aspect of her career as she won 5 consecutive titles in this period.
Sarah Fitz-Gerald – retired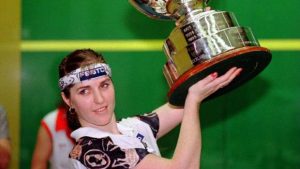 Another Australian makes it to our list and it is none other than Sarah Fitz-Gerald who holds the honor of winning 5 World Opens and 2 British Open and one Qatar classic in 15-year career.
Even after her retirement she is still hailed as the one of the top ranked players of this game.
This is the end of Part 1. Stay tuned for Part 2 which will cover more aspects of this amazing sport. Also, don't forget to comment down below to let us know your thoughts about this article.
For updates regularly visit: Allsportspk