Talent Spotlight – Tennis: Huzaifa Abdul Rehman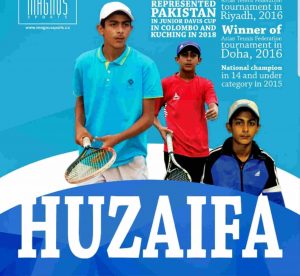 In the competitive world of sports there are many young sportsmen and women, who have the talent but do not reach the levels they can. According to Allsportspk survey the main reasons are – lack of timely publicity, recognition and financial support.
Allsportspk through the "Talent Spotlight" series takes the initiative to shed light on potential sports talents who are within the recognizable performance radar. However, they need the public, media and sponsorship acknowledgement and recognition that they deserve!
The Allsportspk Talent Eyes in this article have spotlighted a tennis star who's particulars and credentials are:
Name
Huzaifa Abdul Rehman
Born
28 November 2002
Sport
Tennis
Early Days
Huzaifa started playing tennis at the age of 4 years in the small town Okara, where his father Mr. Faisal, was posted while serving in the Pakistan Army. His initial link with Tennis was established while accompanying his father to the courts.
According to Huzaifa "Initially it was for fun. However, due to the style and elegance of the sport and especially having seen the major tennis stars on television, he started to develop the ambition to be like one of them."
As the interest grew, Mr. Faisal also realized that Huzaifa had the potential, so he started to seriously focus on his coaching. The training took a serious turn in 2010, when the family moved to the town of Mangla. It was after this serious and professional training that in 2011, Huzaifa for the first time won a Under 10 title.
According to Mr. Faisal, Huzaifa has progressed due to having been trained primarily on the hard court surface and ultimately also on clay. Elaborating on why not the grass courts? He explained that in tennis the grass surface does not help to develop a players game. Secondly, the ball bounce factor is the main issue and thirdly, most of the major tournaments are played on hard and clay courts.
Professional Coaching
After having been trained by his father during the initial years, Huzaifa had the opportunity to also be trained by international professional coaches, which included:
2014 – 2016: The first professional coaching experience was with Asim Shafik. He had different stints with him from 4-6 weeks in Islamabad.
2014, 2015 and 2016: Attended 3 training camps at Asian Tennis Centre in Bangkok.
2017: Underwent 7 weeks training at Potter's Wheel Tennis Academy, Beijing under supervision of Carlos Rodriguez – coach of former World No. 1 – Justine Henin and Li Na.
Lately, Huzaifa has trained for 10 weeks in Koza Tennis Academy Istanbul under Gavin Hooper – coach of former world No 1 Monica Seles.
Both the coaches, believe that Huzaifa has the potential to reach the top of tennis world circuit. However, it is only possible if he is given the conducive training environments.
Performance Radar Facts
National Junior Champion* in Under 10 in 2011.
National Junior Champion* in Under 14 Category in 2015.
Finished the year 2016 as *Asian No 2 in Under 14* Category winning 6 tournaments in Doha, Tehran, Colombo Riyadh and Islamabad.
Represented Pakistan Asian Junior Championship in Under 14 Category in Bangkok in 2016 and win *Silver medal*
Represented Pakistan in Under 14-Junior Tennis in Kuching, Malaysia during April 2015.
Represented Pakistan in Junior Davis cup in Sri Lanka and on the Gold Medal, helping Pakistan to qualify for the next round.
During 1st year of competitive circuit, he is currently at 1152 in World U18 Junior rankings.
Most Memorable Moment
Winning the ATF Qatar – Under 14 in November 2016.
For more updates keep visiting allsportspk