Tennis – Rogers Cup '18: Nadal and Simona Win Titles
The reigning World No.1 tennis player, Rafael Nadal beat unseeded Stefanos Tsitsipas to win the Rogers Cup and extended his dominance in the sport.
Rafael Nadal Parera is a Spanish national and a professional tennis player. He recently won the French Open 2018, lost the Wimbledon semi-final to Djokovic and now regained his status as the tennis master by winning this tournament.
King in Canada ??@RafaelNadal wins 80th ATP title 6-2 7-6(4) over Tsitsipas.#RogersCup pic.twitter.com/8TaOxxmHnR

— Tennis TV (@TennisTV) August 12, 2018
On the other hand Tsitsipas, who turned 20 today, recently, beat Dominic Thiem, Novak Djokovic and Alexander Zverev, after finally being beaten by Rafael Nadal, 6-2, 7-6(4).
Tennis-Rogers Cup 2018: Juan Martin Injured
"Congratulations Stefanos for a great week – and happy birthday!"@RafaelNadal with some lovely words for the birthday boy today.#RogersCup pic.twitter.com/UBl5x6eqKA

— Tennis TV (@TennisTV) August 12, 2018
VAMOS! @RafaelNadal defeats Tsitsipas 6-2, 7-6 to win his 4th @rogerscup!!
2005?
2008?
2013?
2018?
CONGRATULATIONS RAFA! ?? pic.twitter.com/UyqQ2T6ya5

— Rafa Nadal Academy by Movistar (@rnadalacademy) August 12, 2018
Stefanos Tsitsipas in his post match press conference about how it feels to play against Rafael Nadal:

"And the patience that Rafa has is amazing. He never cracks. He will always grab you like a bulldog and always will have you — he will always make you suffer
on the court." pic.twitter.com/TBnb0euu4x

— Mike McIntyre (@protennisfan) August 13, 2018
Simona Halep Bags Another Rogers Cup Title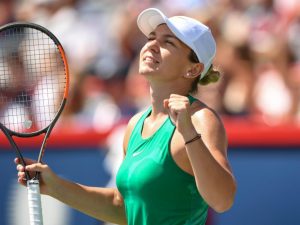 .@Simona_Halep takes her second @CoupeRogers title!

Outlasts Stephens 7-6(6), 3-6, 6-3, in a high-quality epic! pic.twitter.com/EEyBFULd5q

— WTA (@WTA) August 12, 2018
Halep, who likewise won the Rogers Cup in 2016, rose triumphant after a marathon experience as she beat Sloane Stephens by 7-6(6), 3-6 and 6-4.
World Tennis Rankings – 5th August 2018
This battle lasted over 2 hours and 41 minutes, and left the two players routinely bent over, battling for breath, but it was the French Open winner who finally overcame over the American Stephens.
.@CoupeRogers champion @Simona_Halep has a message for her fans after her big win! pic.twitter.com/yoSY6vwZG9

— WTA (@WTA) August 12, 2018
That's definitely a way to save a set point, @Simona_Halep! #CoupeRogers pic.twitter.com/YkVNYlVwEP

— WTA (@WTA) August 12, 2018
Simona Halep has lost one match in her last three tournaments. The World No.1 wins her 2nd @CoupeRogers d. Sloane Stephens 76 36 64 in 2h41m.

Tough, physical week for Halep and an impressive run to her 3rd title of the season (d. Pavlyuchenkova, Venus, Garcia, Barty, Stephens).

— WTA Insider (@WTA_insider) August 12, 2018
Puzzled ? "Simona Halep, the women's winner, received a cheque for $529,480 (U.S). The men's winner, Rafael Nadal, collected $1,020,425. The total financial commitment for the men's event was $5,939,970 and that was more than double the $2,820,000 available for the women." https://t.co/nNPrwBv4nL

— Paula Bernardino (@Paula_B_CSR) August 13, 2018
Sloane you played 100% this one was closer than the FO final. Girl, I am so proud of you! This year what I love is the FIRE and the FIGHT! You will beat Simona Halep again I believe it! You are an amazing champion and I am rooting for you. Proud of your FIGHT today.??

— OrvilleLloydDouglas (@OrvilleLloyd) August 13, 2018
For more updates keep visiting allsportspk