Switzerland: The World Baseball Softball Confederation today unveiled the Game schedule for the U-15 World Cup 2018 to be held in Panama from 10-19 August.
The world's top tournament in the U-15 youth category and Official World Championship — which will feature the world's best baseball players born in 2003-2005 — will be contested over 50 games and in three stages:
Opening Round (group stage/round-robin)
Super Round
World Championship Medal Round.
"These 50 games of the IV WBSC Baseball World Cup in Panama will determine which nation possesses the best U-15 baseball team and players on the planet," said WBSC President Riccardo Fraccari. "
This global tournament with nations participating from all corners of the earth — also showcases our sport's geographic footprint, connection to youth and bright future of hitting one billion players, fans and followers by the next decade."
Through the Continental Championships/Qualifiers, the U-15 Baseball World Cup features the top nations and players from the Americas — North, Central, South and the Caribbean — Asia, Africa, Europe and Oceania.­
Nations in Group A: Will begin the global competition for the Title of World Champion at the new US$ 16 million, 8,500-seat Estadio Kenny Serracín in David -Province of Chiriquí.
Host/No. 14 Panama
No. 1 United States
No. 6 Chinese Taipei
No. 19 Brazil
No. 21 Germany
No. 22 China
Nations in Group B: Will battle at the 3,000-seat Estadio Rico Cedeño in Chitré (Province of Herrera).
No. 2 Japan
No. 4 Cuba
No. 8 Australia
No. 9 Netherlands
No. 12 Dominican Republic
No. 26 South Africa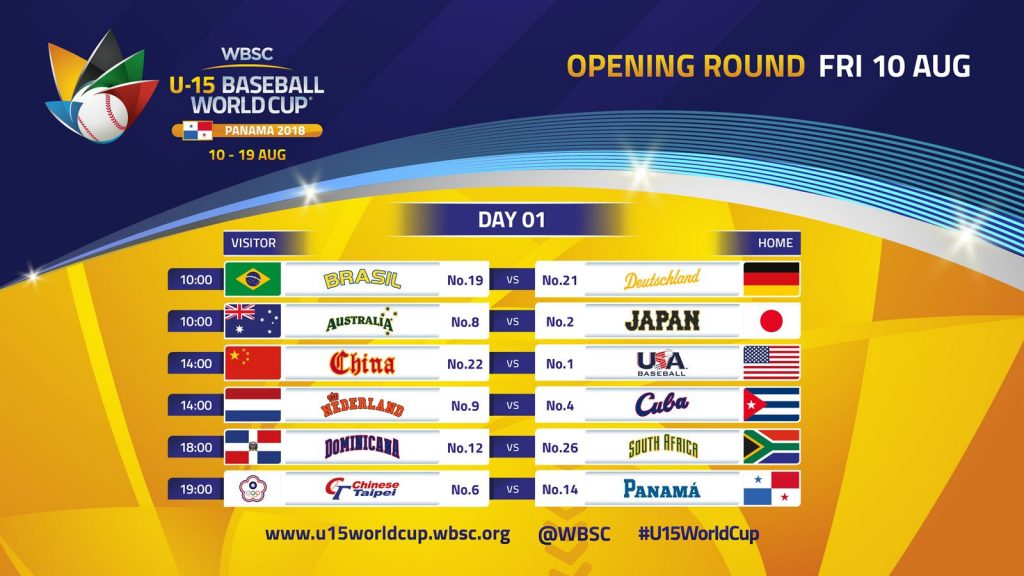 Day 1 – Opening Round 
Game 1: South America's Brazil and European U-15 champion Germany will meet to open the youth World Championship.
Game 2: Asia and Oceania's U-15 continental champions — Japan and Australia — will collide.
Game 3: Wild card China will make its U-15 Baseball World Cup debut against Americas U-15 co-champion USA.
Game 4: European U-15 runner-up Netherlands will face two-time defending U-15 World Champions Cuba.
Game 5: Americas U-15 co-champion Dominican Republic will meet Africa's top baseball nation, South Africa.
Game 6: Host Panama will open with the Asian continent's U-15 runner-up, Chinese Taipei.
Day 3 will feature the re-match of the U-15 Baseball World Cup 2016 Final, Cuba versus Japan, which Cuba won, 9-4, to repeat as the top U-15 baseball team in the world.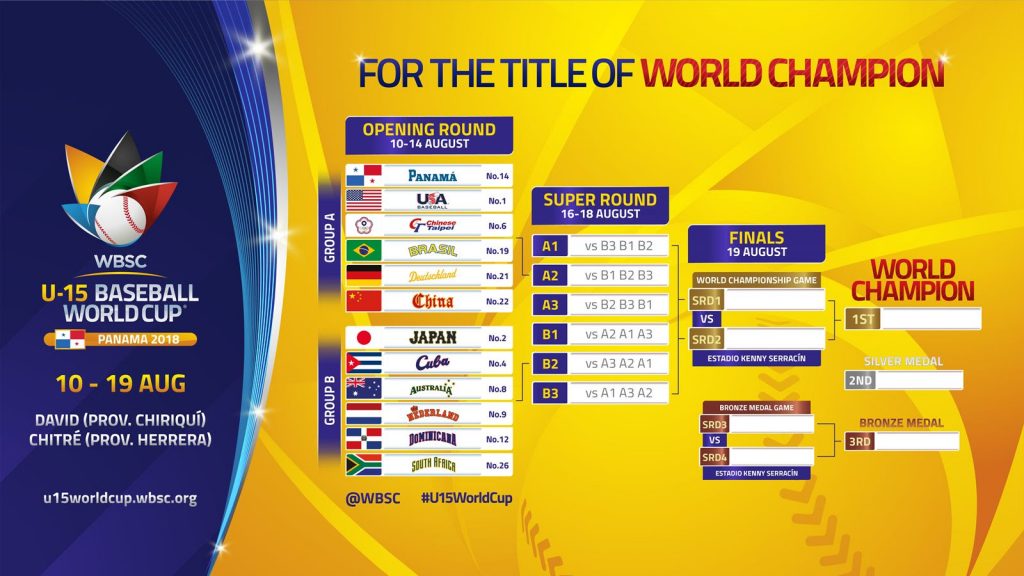 Super Round
Following the 30-game Opening Round, the top three finishers from Group A will battle the top three finishers from Group B in a three-day Super Round at David's Estadio Kenny Serracín. The 7th-12 Place Consolation Round will be staged at Estadio Rico Cedeño in Chitre.
World Championship Medal Round
The top two nations in the standings following the Super Round will play For the Title of World Champion on Sunday, 19 August, at 18:00. The 3rd/4th Place Bronze Medal Match will be staged at the same venue at 13:00.
The previous U-15 Baseball World Cup (2016) had a total broadcast reach of over 60 million households and attracted online viewers from 192 countries and territories.