WBSC U-23 Baseball World Cup 2018: Mexico Victorious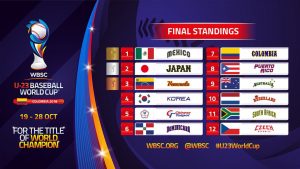 COLOMBIA: Mexico's Under-23 Men's National Baseball Team won for the first time the Baseball world championship, by defeating Japan in the Final of the WBSC U-23 Baseball World Cup2018.
The Mexican U-23 National Baseball Team's scored an historic 2-1, 10-inning victory in front of 7,000 plus fans at Estadio Edgar Renteria in Barranquilla, Colombia.
The order of the positions held by competing country teams were as follows:
Mexico
Japan
Venezuela
Korea
Chinese Taipei
Dominican
Colombia
Puerto Rico
Australia
Netherlands
South Africa
Czech Republic
The victory received in Mexico with great excitement was evident over the social media. Statistically, the Twitter experts and analytics stated that the baseball victory enhanced the social media impressions by 1,593.5%, as to the profile visits there was a 1,795.0% increase. And the final results posted on the Facebook, made it one of the major posts by generating over 10,000 shares and 48,517 likes.
Some of the tweets were:
Alfredo Harp Helu a billionaire from Mexico tweeted, "Mexico world champions in baseball, the U-23 [National Team] defeated Japan in the final, 2-1 in 10 innings."
Liga MX football club Tigres UANL tweeted, "We will always be proud to see Mexicans succeed and more if they are world champions."
The Liga MX Women footballers also liked and/or retweeted WBSC U-23 Baseball World Cup content following Mexico's win.
CEO Javier Salinas of Liga Mexicana de Beisbol (LMB) and LMB clubs praised the team and players on their historic result. The Mexican U-23 National Team under the Mexican Baseball Federation (FEMEBE) was formed by players in LMB, the country's top-tier professional baseball league..
Additionally tweets were from Mexico's National Commission for Physical Culture and Sport (CONADE), popular sports journalist Ines Sainz, WWE's Sin Cara and AC Omonia footballer and Olympic gold medallist Jorge "Chatón" Enriquez.
For more updates about Baseball World Cup 2018 keep visiting allsportspk