Women's World Jr. Team Squash C'ship '19: Egypt's 7th Successive Title
MALAYSIA: The final of the CIMB Foundation WSF Women's World Junior Team Squash Championship 2019, as expected was won by the favourities Eqypt.
Egypt lives up to being the world's best in Squash with this 7th successive world team title and 9th overall since they won the first team title in 1999. 
The overall Medals and Positions are as follows: 
Gold – Egypt
Silver – Malaysia 
Bronze – shared by Hong Kong China and England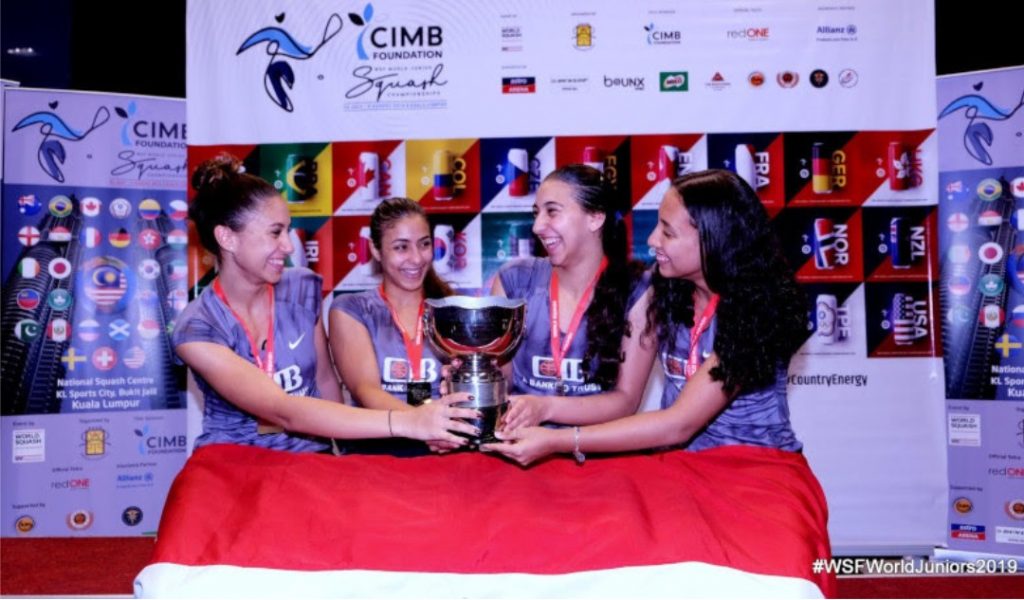 5th Postilion – India by beating USA 2-1
7th Position – Switzerland by defeating Australia 2-0
9th Position – Canada
10th Position –  New Zealand
11th Position – South Africa
12th Position – France  
13th Position – Japan
14th Position – Sweden
15th Position – Republic of Korea
16th Position – Ireland
The detailed result were as follows: 
[1] EGYPT bt [2] MALAYSIA 2/0 
Hania El Hammamy bt Aifa Azman 6-11, 11-6, 11-9, 11-3
Farida Mohamed bt Ainaa Ampandi 11-9, 8-11, 4-11, 11-9, 11-4
3rd place: [3] HONG KONG CHINA & [4] ENGLAND
5th place play-off:
[6] INDIA bt [5] USA 2/1
Sanya Vats lost to Marina Stefanoni 3-11, 12-10, 2-11, 4-11
Aishwarya Khubchandani bt Olivia Robinson 11-6, 5-11, 11-7, 11-4
Yoshna Singh bt Caroline Spahr 11-6, 11-7, 12-10
7th place play-off:
[8] SWITZERLAND bt [10] AUSTRALIA 2/0
Ambre Allinckx bt Alex Haydon 11-6, 8-11, 11-6, 11-4
Simona Frevel bt Katie Davies 11-8, 11-9, 3-11, 11-7
9th – 12th place play-offs:
[7] CANADA bt [9] FRANCE 2/1
Charlotte Orcutt lost to Ninon Lemarchand 6-11, 3-11, 11-7, 12-10, 4-11
Erica McGillicuddy bt Yuna Loaec 7-11, 5-11, 11-5, 11-8, 11-9
Brianna Jefferson bt Lea Barbeau 11-4, 8-11, 11-5, 12-10
[11] NEW ZEALAND bt [15] SOUTH AFRICA 2/0
Anika Jackson bt Teagan Roux 13-11, 13-15, 5-11, 12-10, 11-5
Winona-Jo Joyce bt Taryn Emslie 11-6, 11-3, 11-9
13th place play-off:
[14] JAPAN bt [17] SWEDEN 2/0
Erisa Sano Herring bt Sara Månberg 11-2, 11-5, 11-4
Rafu Takahashi bt Anna Kaiding 11-8, 11-9, 11-7
15th place play-off:
[12] REPUBLIC OF KOREA bt [13] IRELAND 2/1
Chae Won Song lost to Emma McGugan 9-11, 9-11, 7-11
Shin Yu Jin bt Emma Lundy 11-2, 11-7, 11-5
Jang Yea Won bt Alessia Osborne 9-11, 11-9, 9-11, 14-12, 11-7
17th place play-off:
[16] SINGAPORE bt [18] CHINESE TAIPEI 2/0

Paige Teresa Hill bt Wu Yi-Chen 11-5, 11-3, 11-3
Sonya Bajaj bt Chen Pin Yu 11-3, 11-0, 11-4
For more updates keep visiting allsportspk