Women's World Jr. Team Squash C'ship '19: Present Champions Egypt Vs Hosts Malaysia Final

MALAYSIA: The final of the CIMB Foundation WSF Women's World Junior Team Squash Championship 2019, will be played between the top two seeds of Egypt and Malaysia.
The hosts Malaysia survived a nervy testing Semi-final against Hong Kong China to book a berth for the final against the present title-holders Egypt. Malaysia the second-seeded hosts booked the final place after beating Hong Kong 2-0 at the semi-finals played at Bukit Jalil National Squash Centre in Kuala Lumpur.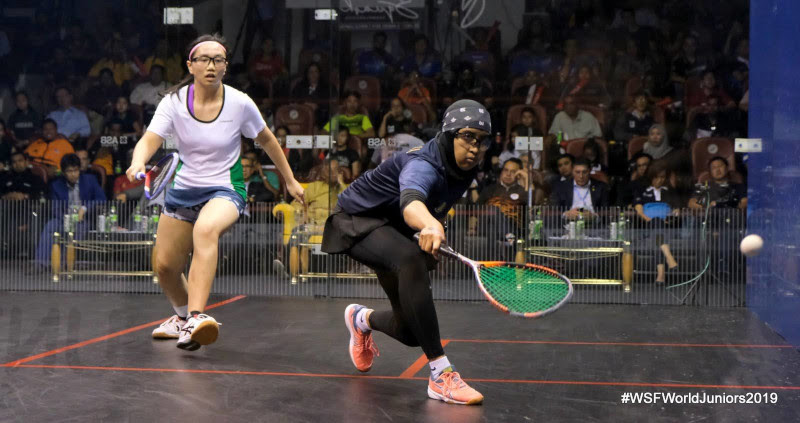 In the second semi-final, as expected Egypt the defending champions showed their dominance by a convincing 3-0 victory over England. This stes
Egypt to compete for the seventh straight title fight.
For the other positions the results were:
5th-8th playoff, India beat Australia 2-0. Will meet USA, who defeated Switzerland 3-0, for fifth place.
 9th-12th playoffs, Canada are well set to finish in ninth position after having two wins till now and they just need to finish strongly against France.
13th-16th playoffs, Sweden defeated Ireland and will face Japan for the 13th spot.
The detailed results were:
Semi-finals:
[1] EGYPT bt [4] ENGLAND 3/0

Hania El Hammamy bt Elise Lazarus 11-2, 11-5, 11-5
Jana Shiha bt Alice Green 11-7, 11-4, 11-4
Farida Mohamed bt Evie Coxon 11-7, 11-5
[2] MALAYSIA bt [3] HONG KONG CHINA 2/0

Aifa Azman bt Chan Sin Yuk 11-2, 6-11, 14-12, 13-15, 11-9
Chan Yiwen bt Kirstie Po Yui Wong 11-2, 11-3, 11-0
Ainaa Ampandi v Lee Sum Yuet
5th – 8th place play-offs:
[6] INDIA bt [10] AUSTRALIA 2/0

Sanya Vats bt Alex Haydon 13-11, 7-11, 15-13, 6-11, 11-7
Aishwarya Khubchandani bt Sze Yu Lee 11-6, 11-5, 11-7
[5] USA bt [8] SWITZERLAND 3/0

Marina Stefanoni bt Ambre Allinckx 2-11, 11-7, 11-6, 11-7
Elisabeth Ross bt Cassandra Fitze 11-8, 11-9, 11-9
Caroline Spahr bt Simona Frevel 11-7, 11-4, 11-0
9th – 12th place play-offs:
[15] SOUTH AFRICA bt [9] FRANCE 2/1

Faith Panashe Sithole bt Ninon Lemarchand 7-11, 11-5, 11-4, 10-12, 11-6
Teagan Roux lost to Lea Barbeau 12-14, 4-11, 1-11
Helena Coetzee bt Mahe Asensi 11-7, 11-8, 5-11, 6-11, 17-15
[7] CANADA bt [11] NEW ZEALAND 2/1 
[7] CANADA bt [11] NEW ZEALAND 2/1

Charlotte Orcutt lost to Anika Jackson 11-7, 13-11, 11-13, 8-11, 12-14
Molly Chadwick bt Natalie Sayes 9-11, 11-6, 6-11, 11-2, 11-6
Erica McGillicuddy bt Georgia Robcke 11-2, 11-4, 7-11, 11-6
[11] NEW ZEALAND bt [9] FRANCE 3/0

Anika Jackson bt Yuna Loaec 11-8, 11-9, 11-8
Georgia Robcke bt Lea Barbeau 4-11, 12-10, 7-11, 11-5, 11-7
Winona-Jo Joyce bt Mahe Asensi 9-11, 11-4, 11-4, 11-8
[7] CANADA bt [15] SOUTH AFRICA 3/0

Charlotte Orcutt bt Faith Panashe Sithole 11-3 ret.
Molly Chadwick bt Teagan Roux 13-11, 11-3, 15-17, 11-6
Brianna Jefferson bt Helena Coetzee 20-18, 11-8, 11-3
13th – 16th place play-offs:
[17] SWEDEN bt [13] IRELAND 2/1

Sara Månberg bt Emma McGugan 11-5, 11-6, 11-2
Moa Bönnemark lost to Emma Lundy 9-11, 4-11, 13-11, 10-12
Malin Frank bt Alessia Osborne 11-7, 11-7, 11-6
[14] JAPAN bt [12] REPUBLIC OF KOREA 2/0

Erisa Sano Herring bt Chae Won Song 11-9, 10-12, 11-5, 11-9
Ayumi Watanabe bt Shin Yu Jin 5-11, 11-4, 7-11, 11-4, 12-10
For more updates keep visiting allsportspk