The second match of the semi-finals was held of the ongoing FIFA World Cup 2018. The match wise highlights are appended below.
Breaking World Cup 2018: Croatia Outplays England; Becomes The 2nd Finalist
World Cup 2018 – Reactions: Croatia In Final; For First Time
FIFA World Cup 2018 – M62: England Vs Croatia 1-2
WC '18 – Match 62: England Vs Croatia
Result: 1 – 2
Goal Scorers:
England: Kieran Trippier 5′
Croatia: Ivan Perisic 68′, Mario Mandzukic 109′
Match Statistics:
| | | |
| --- | --- | --- |
| Croatia | Team Stats | England |
| 22 | Shots | 11 |
| 7 | Shots On Target | 2 |
| 56% | Possession | 44% |
| 590 | Passes | 497 |
| 80% | Pass Accuracy | 76% |
| 23 | Fouls | 14 |
| 2 | Yellow Cards | 1 |
| 0 | Red Cards | 0 |
| 1 | Off Sides | 3 |
| 8 | Corners | 4 |
Highlights:
England made a dream start to the match as the right wing-back namely Kieran Trippier excellent free-kick put the English in front.
Watch the reaction in Hyde Park, London to Kieran Trippier's goal ⚽????????#ENGCRO #WorldCup

Live reporting: https://t.co/SUiaKXvG41 pic.twitter.com/VzNMuxNBZ9

— BBC News (UK) (@BBCNews) July 11, 2018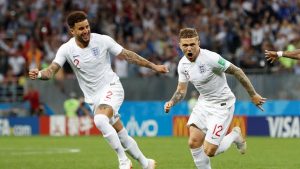 Meanwhile, England's Harry Kane and Jesse Lingard were also busy in spurning chances as England were gearing for a bigger lead.
Meanwhile, Croatia were trying to level the scoreboard but the English defence was proving too strong for them.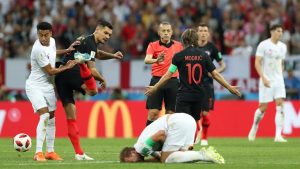 The 1st half ended with England firmly in the driving seat.
In the 2nd half, a new Croatia was witnessed by the spectators as they were clearly playing with an attacking purpose.
Croatia increased the pressure on England and their consistent attacks led Ivan Perisic to score an amazing goal and equalize the scoreboard.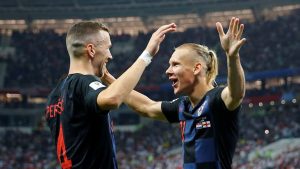 Ivan Perisic's goal vs England. Who's the Ninja at Inter again? #CROENG pic.twitter.com/3VC15Bwo0X

— InterYaSkriniar (@InterYaSkriniar) July 11, 2018
Croatian attacks were not coming to an end as getting in front appeared to be their only objective. On the other hand, England were being very poor with their passes and were gifting possession to the Croation side.
Nevertheless, the score remained 1-1 as the referee blew the whistle to take the match into extra time.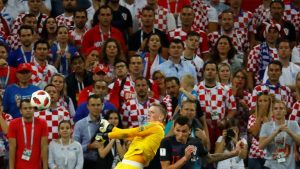 In extra time England came close to scoring off a corner but this effort was blocked by the Croatians.
Now it was Croatia's turn and Mario Mandzukic appeared to be Croatia's hero as he broke the English hearts by scoring at the 109th minute.
The moment Mario Mandzukic took Croatia to the World Cup finals…

INCREDIBLE…@MarioMandzukic9 ??❤pic.twitter.com/P78PAcR9TJ

— ItalianFootballTV (@IFTVofficial) July 11, 2018
In reply, England took several chances but could not score as Croatia made their way into the finals.
Despite his defeat, England will contest for the 3rd position in the third-place play-off with Belgium.
Croatia deserved that. Once they equalized, they took control. Luka Modric outstanding, Ivan Perisic a menace, and Mario Mandzukic scores another big goal. England will regret not scoring when on top early, but they completely lost their shape, the more time elapsed.

— John Duggan (@JohnDugganSport) July 11, 2018
Inter winger, Ivan Perisic created an assist and goal for Croatia while AC Milan legend, Nikola Kalinic, crying at home.

— Budi Windekind (@Windekind_Budi) July 11, 2018
Modric will get the attention and Mandzukic will get the winning goal legendary status….But in the end, Ivan Perisic was so marvelous and Croatia #1 hero on the day. #ENGCRO #CROENG

— Andrew Jerell Jones (@sluggahjells) July 11, 2018
Wasn't to be tonight but I'm still very proud of #England and what they've achieved in this #WorldCup Reaching a World Cup Semi Final and happy to see Harry Maguire and Kieran Trippier scoring their first WC goals.

— Susan Seddon ?????????? (@SuzeTwelve) July 11, 2018
Mario Mandzukic is the only player ever to score in Champions League finals for two clubs and in the last four of the World Cup.

— Richard Jolly (@RichJolly) July 11, 2018
Ohhhh Mario Mandzukic he wears the magic hat, it could of went to pens but he said nah fuck that, he scored a fucking belter an sent England home, get it up you England it's no coming home! ??

— Gregor Smith (@gregor_smith99) July 11, 2018
#CROENG #Perisic
It's coming home
It's coming ho
It's coming
It's comi
It's co
It's Cro
It's Croacia#Rusia2018 #CRO

— ALBERT (@AlbertRibas7) July 11, 2018
Not saying England didn't do really well or anything, and it was a great success, but it's when you see people getting "england world cup winners 2018" tattooed on themselves and commenting "it's coming home" on every post, you just want to rub their faces in the dirt.

— Seany Westside (@WumbasWigwam) July 11, 2018
World Cup 2018: France Squeeze Into The Final
Join allsportspk on 14th July, Saturday for the third place playoff between England and Belgium.