The first match of the semi-final was held of the ongoing FIFA World Cup 2018. The match wise highlights are appended below.
Breaking World Cup 2018: France The 1st Finalist
FIFA World Cup 2018 – M61: France Vs Belgium 1-0
WC '18 – Match 61: France Vs Belgium
Result: 1 – 0
Goal Scorers:
France: Samuel Umtiti 51′
Match Statistics:
| | | |
| --- | --- | --- |
| France | Team Stats | Belgium |
| 19 | Shots | 9 |
| 5 | Shots On Target | 3 |
| 36% | Possession | 64% |
| 345 | Passes | 594 |
| 83% | Pass Accuracy | 91% |
| 6 | Fouls | 16 |
| 2 | Yellow Cards | 3 |
| 0 | Red Cards | 0 |
| 1 | Off Sides | 1 |
| 4 | Corners | 5 |
Highlights:
The last two heavy weight giants of this World Cup 2018, namely France and Belgium came head to head but only one was going to win this crucial encounter.
In the 1st half, defensive play was witnessed from both sides. The attackers of both teams were also finding it hard to get into the 18 yard circle of the opposition.
Belgium was quite dominant with the ball possession in the first half but France was equally impressive in countering Belgium's attacks.
This summed up the first half as no side could score a single goal and the scores were level at 0-0.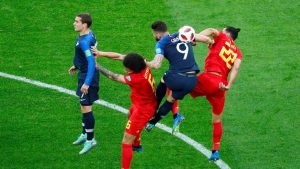 In the 2nd half, France got an early corner and Samuel Umtiti's perfectly timed header put France in the driving seat.
Goaaaaal for France ??
Samuel umtiti with the header from the corner
The blues lead against the Red Devils #فرنسا_بلجيكا#FRABEL pic.twitter.com/fTa5KgwzFM

— Juan (@Juan69140361) July 10, 2018
Best Celebration this world cup by Umtiti!! Vive la France!!! Vive la Africa #FRABEL pic.twitter.com/bwoV0wqT0Z

— D Enii (@AviiStaravana) July 10, 2018
On the other side, Belgium's attacks intensified but to their dismay, they were constantly being hit by fouls as the French defending was looking more strong by the minute.
The Belgians were still dominating in the ball possession but it was their lack of shots at the opposition's goal that cost them the match.
All credit goes to France who deserved to win as they dismantled the World Cup 2018's best attack with ease.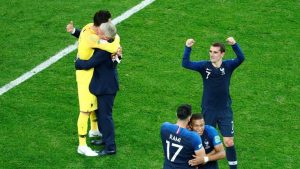 Regardless of the result of tomorrow's match between Croatia and England, France are now the favorites to win this World Cup 2018.
#FRABEL @TJthejas @ratanreddy7 Umtiti strutting be like pic.twitter.com/QIC6o7Fdi7

— Rahul Ravindra (@imrahulravindra) July 10, 2018
Less i forget, tolisso is a stupid human being for not scoring that goal, he wasted pogba's creativity and energy.

Had in been umtiti didn't score, lol we will be addressing this issue well

— Bankole Jnr (@manlikebanksz) July 10, 2018
The same weird noise I made at the TV in approval of Mbappe's skill I just made in disgust of Lineker's Umtiti closing link there. #FRABEL #FRA #BEL #WorldCup

— Stephen Murray (@StephenMurray87) July 10, 2018
#francevsbelgium
France Deserve to step up the Final
Umtiti scores a goal right time the match
Disappointed performance by belgium all

— @Avidev Guha (@avidevguharicky) July 10, 2018
With Umtiti's goal today, Barça players have scored 11 goals in the #WorldCup equaling Tottenham. Yerry Mina (3), Coutinho (2), Luis Suárez (2), Messi , Rakitic , Umtiti and Paulinho (before leaving on loan to Guangzhou Evergrande) [md]

— Barça World (@LegendMessi1) July 10, 2018
#WorldCup #FRABEL #thieryhenry Henry when Umtiti scored for France. Retweet if you understand ?? pic.twitter.com/XsfkqbvxwE

— Dowell BRYANS™ (@PeterBryans) July 10, 2018
Remember the opening? Belgium were aggressive, on the front foot. France drew their sting & stifled the world cup's best attack. A game of small margins, an Umtiti winner and Les Bleus' dream lives on.

— Julia Stuart (@JuliaStuart_SA) July 10, 2018
Samuel Umtiti is done with celebration. pic.twitter.com/UqRHcHslf1

— Langezihle Makhanya (@LangeMakhanya) July 10, 2018
France ?? deserved it … Varane and Umtiti outstanding defenders ⚽Mbappe the star of the World Cup?? Belgium ?? bottled it once again in a big tournament… big guy Courthois beaten at his near post… I think little Pickford would have saved it…

— Chris Sutton (@chris_sutton73) July 10, 2018
France fans are celebrating their FIFA #WorldCup final berth.

Like, REALLY celebrating. (via Mehdi Bhsn/Instagram) pic.twitter.com/lZJFzyFDOq

— FOX Sports (@FOXSports) July 10, 2018
Hazard vs France. Story of his life, teammates letting him down, only outfield player with a rating >7. Penetrated France's deep block, took on players, contributed defensively and came from deep. Was playing central, left and right ??. @hazardeden10 pic.twitter.com/MCszj3sZkH

— ?Mr Chelsea Boss? (@MrChelseaBoss) July 10, 2018
World Cup 2018: Quarter-Finals Day 1 – Summary & Highlights
World Cup 2018: Quarter-Finals Day 2 – Summary & Highlights
Join allsportspk tomorrow for the 2nd semi-final between Croatia and England.