World Cup 2018 – Ronaldo Vs Messi: Similar Exit; Different Story
Months before the commencement of FIFA World Cup 2018, debates of Ronaldo Vs Messi had engulfed the media. Every football fan was busy in tweeting the greatness of his favorite player and as the World Cup started getting closer the GOAT(Greatest Of All Time) debate came into action.
This debate was the most trending until Portugal and Argentina were ousted out of the World Cup 2018. While the GOAT debate is finally coming to rest, the comparisons between the two players is still a hot topic on the internet.
So, in this article, allsportspk analyzes the performances of both these contemporary football greats on three main factors.
Factor #2: Leadership & World Cup Performance
Lionel Messi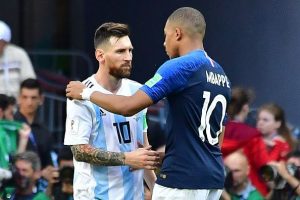 Lionel Messi's influence and skill as a leader were exposed early in the World Cup 2018. The football superstar came under fire after he missed a penalty against Iceland and failed to lead from the front against Croatia.
Fingers were pointed at his captaincy and his inability to lead Argentina in the World Cup. Not only that several players including former Barcelona player, Emmanuel Petit, also highlighted the fact that Messi lacks the leadership mentality.
Messi's poor run continued against France as he only scored a single goal in the last group stage match and Argentina were knocked out of the World Cup 2018.
Lionel Messi had a golden opportunity to re-affirm his greatness but he failed as a leader and as a player as it was only a matter of time before France gobbled up Argentina with Messi again not been able to score a single goal.
Cristiano Ronaldo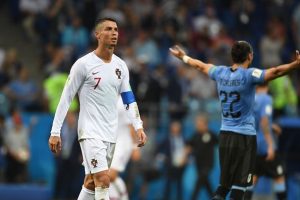 Ronaldo started his World Cup campaign with a bang as the Portuguese star scored a hattrick against Spain in the first group stage match. The Portuguese national continued his performance against Morocco as he scored an early goal which proved to be a match winning one.
In the last group stage match, Ronaldo didn't score and missed a penalty but it didn't matter as he had already taken Portugal to the Round of 16.
Many didn't realize it then but the pressure of carrying Portugal on his shoulders became too heavy for CR7.
This became evident in the Round of 16, when Portugal faced Uruguay and Ronaldo could not muster up a single goal as Portugal were ousted of the World Cup 2018.
However, not many individuals pointed out flaws in Cristiano Ronaldo's leadership qualities as if it was not for him Portugal would have been knocked out of the World Cup in the group stages.
What is Factor #1. Move to the next page to find out!