World Junior Individual Squash C'ship '19: Starts 30th July; Egyptians Favorites; Pak Squad Announced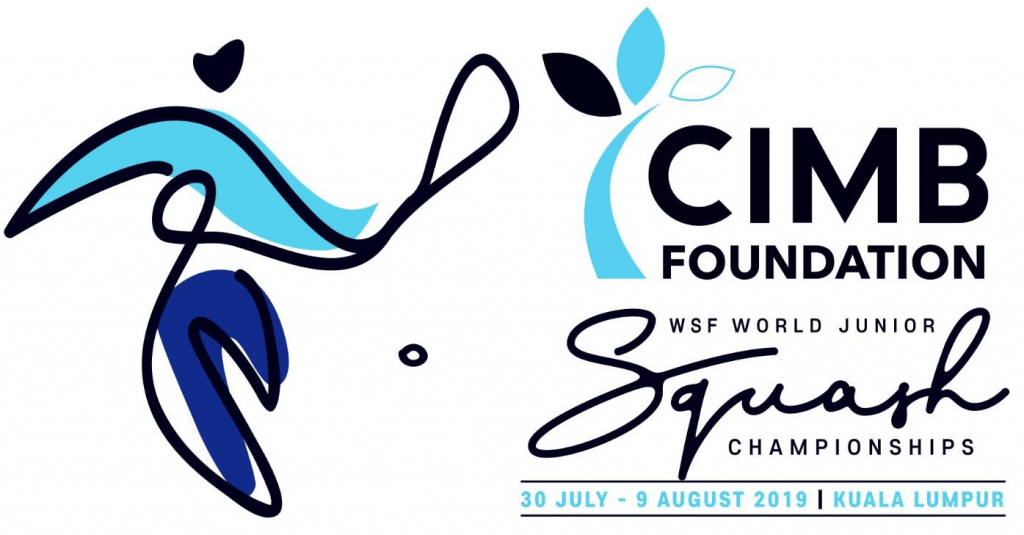 The World Junior Squash Individual is scheduled to be played in Malaysia, from 30th July – 4th August, 2019. The six player Pakistan squad which will be participating has been announced by PSF – Pakistan Squash Federation.
Egypt occupying three of the top four seeds in both the Boys' and Girls' categories are the favourites. The defending champion Asal, is the front runner to win. Closely followed by 2nd seed Omar El Torkey and 3/4 seed Moustafa Elsirty.
As for the girls, the Top seed and World No. 15 – Hania El Hammamy is expected to lift the title. She has played but lost twice the 2017 and 2018 finals Her main challengers, are expected to be Aifa, second seed Jana Shiha and 3/4 seed Farida Mohamed.The Draws for the first round are appended at the end. 

The World Junior Individual Squash championship is the official junior tournament organised by the WSF – World Squash Federation. Entry for individuals aged 19 and below. Since inception the tournament is been organised biennially with the Junior Men (both individual and team categories) being held one year and the next year the Junior Women (both individual and team categories). The individual's event (for both men's and women's category) which started in 2009, is an annual event while the team event remains biennial.    
SRAM – Squash Racquets Association of Malaysia is hosting the 2019 WSF World Junior Squash Championships, which is sponsored by CIMB Foundation. The event will be held at the National Squash Centre, Bukit Jalil.
Malaysia last hosted a World Junior Squash Championships, in 2001 when the world Junior girls' championship was organised in Penang.The Pakistan contingent comprising of 6 players is participating in the event. The squad includes:
Haris Qasim
Hamza Sharif
Mohammad Farhan Hashmi
Noor Zaman
Mohammad Hamza Khan
Naveed Rehman
The Coach of the squad is Mr. Asif Khan. Mr. Tahir Sultan, Honorary Secretary Pakistan Squash Federation would accompany the contingent as Manager.   
2019 Round One Draws
Men's Round One Draw:
[1] Mostafa Asal (EGY) bye
Petr Nohel (CZE) v Andres Villamizar (COL)
Jared Carter (ENG) bye
Aaron Liang (SGP) v Riley-Jack Vette-Blomquist (NZL)
.
[13/16] Toufik Mekhalfi (FRA) bye
To Wai Lok (HKG) v Darryl Gan (MAS)
Ayush Menon (USA) bye
Tae Kyung Jung (KOR) v Hamoud Aljenaidel (KUW)
.
[5/8] Siow Yee Xian (MAS) bye
Fritiof Jacobsson (SWE) v Tristen Worth (RSA)
Tushar Shahani (IND) bye
Dylan Molinaro (AUS) v Campbell Wells (SUI)
.
[9/12] Gabe Yam (NZL) bye
Nicholas Spizzirri (USA) v Nils Schwab (GER)
Dana Santry (USA) bye
Hamza Khan (PAK) v Sayeed Mavani (CAN)
.
[3/4] Viktor Byrtus (CZE) bye
Nicolas Serna (COL) v Wong King Yeung (HKG)
Lewis Anderson (ENG) bye
Leo Fatialofa (NZL) v Leonard Lee (SGP)
.
[13/16] Karim Elbarbary (EGY) bye
Ethan Eyles (AUS) v Pan Shao-Yu (TPE)
Dillon Huang (USA) bye
Jeong-Min Yu (KOR) v Abdulaziz Jasem (KUW)
.
[5/8] Yannick Wilhelmi (SUI) bye
Pedro Paulo Pedroso (BRA) v Manuel Gassmann (MAC)
Yash Fadte (IND) bye
Rafael Gálvez (PER) v Ching-Hsuan Chu (TPE)
.
[9/12] Veer Chotrani (IND) bye
Joshua Penfold (AUS) v Naveed Rehman (PAK)
Elijah Thomas (NZL) bye
Darosham Khan (CAN) v Zacheus Yeo (SGP)
.
Ethan Tang (HKG) v Glenn Templeton (NZL)
Amir Amirul (MAS) bye
Mohammad Karm (KUW) v Mateo Restrepo (COL)
[9/12] Ibrahim Mohamed (EGY) bye
.
Abel Sheng Jin (AUS) v Josiah Chong (SGP)
Danial Nurhaqiem (MAS) bye
Miguel Mathis (SUI) v Kim Jin (KOR)
[5/8] Sam Todd (ENG) bye
.
Maaz Mufti (CAN) v Muhammad Farhan Hashmi (PAK)
Arnaav Sareen (IND) bye
Myles McIntyre (USA) v Reece McLachlan (RSA)
[13/16] Thomas Rosini (USA) bye
.
Chen Wun-Lin (TPE) v Karim Farrag (CZE)
Max Forster (ENG) bye
Jan Wipperfürth (GER) v Hamza Sharif (PAK)
[3/4] Mostafa El Serty (EGY) bye
.
Jerome Aw (SGP) v Bader Almoghrebi (KUW)
Duncan Lee (MAS) bye
Kim Seung Hyeon (KOR) v Gregory Chan (AUS)
[9/12] James Flynn (CAN) bye
.
Noor Zaman (PAK) v Matt Bicknell (CAN)
David Maier (LIE) bye
Adam Agan Bin Aziz (MAS) v Lap Au (HKG)
[5/8] Yehia Elnawasany (EGY) bye
.
Mohammad Ali (KUW) v Raon Yi (KOR)
Ben Smith (ENG) v Liang-Yu Huang (TPE)
Samuel Lavebrink (SWE) v Juan Jose Torres Lara (COL)
[13/16] Haris Qasim (PAK) bye
.
Willz Donnelly (NZL) v Sam Sergo (AUS)
Ali Eshniaf Al Shammiry (KUW) v Rahul Baitha (IND)
Emilio Carrillo (CAN) v Minwoo Lee (KOR)
[2] Omar El Torkey (EGY) bye
Women's Round One Draw:
[1] Hania El Hammamy (EGY) bye
Hsiao Nai-Wen (TPE) v Yuna Loaec (FRA)
Yee Ying (MAS) bye
Ayumi Watanabe (JPN) v Ananya Dabke (IND)
.
[13/16] Kaitlyn Watts (NZL) bye
Brianna Jefferson (CAN) v Monique Da Cruz (RSA)
Lee Sum Yuet (HKG) bye
Sze Yu Lee (AUS) v Lucie Stefanoni (USA)
.
[5/8] Chan Sin Yuk (HKG) bye
Kelly Byrne (IRL) v Lucie Mährle (GER)
Yoshna Singh (IND) bye
Paige Teresa Hill (SGP) v Shin Yu Jin (KOR)
.
[9/12] Alice Green (ENG) bye
Alesya Aleshina (RUS) v Cassandra Fitze (SUI)
Lucia Bautista (COL) bye
Malin Frank (SWE) v Megan Evans (SCO)
.
[3/4] Farida Mohamed (EGY) bye
Molly Chadwick (CAN) v Heylie Fung (HKG)
Evie Coxon (ENG) bye
Leng Lam Leong (MAC) v Mahe Asensi (FRA)
.
[13/16] Olivia Robinson (USA) bye
Amalia Rios (COL) v Alouise Campher (RSA)
Aira Azman (MAS) bye
Kurstyn Mather (AUS) v Nathalie Malmstrom (SWE)
.
[5/8] Chan Yiwen (MAS) bye
Erisa Sano Herring (JPN) v Lucia Bicknell (CAN)
Ainaa Ampandi (MAS) bye
Natalie Sayes (NZL) v Tereza Siroka (CZE)
.
[9/12] Sana Ibrahim (EGY) bye
Sonya Bajaj (IND) v Alina Poessl (SUI)
Malak Mostafa (EGY) bye
Wang Yuan (TPE) v Emma McGugan (IRL)
.
Rafu Takahashi (JPN) v Erica McGillicuddy (CAN)
Alex Haydon (AUS) bye
Lea Barbeau (FRA) v Emma Lundy (IRL)
[9/12] Ooi Kah Yan (MAS) bye
.
Chen Pin Yu (TPE) v Wei Ting Lim (SGP)
Michaela Cepova (CZE) bye
Erin Classen (AUS) v Faith Panashe Sithole (RSA)
[5/8] Elise Lazarus (ENG) bye
.
Gigi Yeung (MAC) v Sara Månberg (SWE)
Anika Jackson (NZL) bye
Wong Po Yui Kirstie (HKG) v Alexandra Kotkolik (GER)
[13/16] Elisabeth Ross (USA) bye
.
Amira Singh (IND) v Simona Frevel (SUI)
Sanya Vats (IND) bye
Madeleine Hylland (NOR) v Ella Lash (NZL)
[3/4] Aifa Azman (MAS) bye
.
Sarah Cao (CAN) v Helena Coetzee (RSA)
Aishwarya Khubchandani (IND) bye
Katie Davies (AUS) v Ninon Lemarchand (FRA)
[9/12] Georgia Adderley (SCO) bye
.
Kurumi Takahashi (JPN) v Wu Yi-Chen (TPE)
Anna Kaiding (SWE) v Serena Daniel (USA)
Katie Wells (ENG) v Alessia Osborne (IRL)
[5/8] Marina Stefanoni (USA) bye
.
Georgia Robcke (NZL) v Chae Won Song (KOR)
Megha Bhatia (IND) v Caroline Spahr (USA)
Teagan Roux (RSA) v Remashree Muniandy (AUS)
[13/16] Nour Khaled Aboulmakarim (EGY) bye
.
Charlotte Orcutt (CAN) v Jang Yea Won (KOR)
Moa Bönnemark (SWE) v Ambre Allinckx (SUI)
Sophie Hodges (NZL) v Taryn Emslie (RSA)
[2] Jana Shiha (EGY) bye
Source: WSF
For more updates keep visiting allsportspk