World Junior Men Team Squash C'ship: Egypt Wins The Title 6th Time
The favourites Egypt beat England 2-0 to win the World Junior Men Team Squash Championship title in India, for a record breaking sixth time. Previously, a five-title record was being held by Australia, 26 years ago. This was Egypt's eighth final consecutive appearance, since 2004.
In the first match, Marwan Tarek, faced Englishman Nick Wall which lasted for 45 minutes. There was a tie-break in the first game, which was finally won by Tarek, then he comfortably took the next two games and the final match score was 12-10, 11-6, 11-7.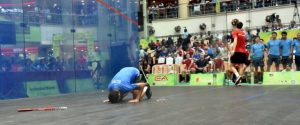 The second match was between Sam Todd and Omar El Torkey which went on for 32 minutes. As in the first match, the opening game was competitive which was finally won by Omar. In the next games it was relatively an easy play for Omar. Thus, giving Egypt the title with fnal score of 13-11, 11-4, 11-4 minutes.
The detailed match wise scorecard of World Junior Men Team Squash Championship Final is as appended below:
EGYPT bt ENGLAND 2 – 0
Marwan Tarek bt Nick Wall 12-10, 11-6, 11-7 (45m)
Omar El Torkey bt Sam Todd 13-11, 11-4, 11-4 (32m)
CZECH REPUBLIC & USA: Bronze medallists
5th place play-off:
CANADA bt MALAYSIA 2 – 1
James Flynn bt Darren Rahul Pragasam 11-7, 11-9, 11-8 (34m)
Ryan Picken lost to Shahrul Izham Nurhaqiem 8-11, 3-11, 6-11 (25m)
George Crowne bt Siow Yee Xian 7-11, 11-8, 11-5, 11-8 (44m)
7th place play-off:
HONG KONG CHINA bt PAKISTAN 2 – 0
Chung Yat Long bt Muhammad Uzair 11-8, 11-3, 12-10 (34m)
To Wai Lok bt Muhammad Farhan Hashmi 11-4, 11-8, 11-6 (24m)
9th place play-off:
SWITZERLAND bt NEW ZEALAND 2 – 1
Yannick Wilhelmi bt Gabe Yam 7-11, 11-6, 11-4, 11-1 (41m)
Campbell Wells lost to Anthony Lepper 11-13, 6-11, 7-11 (34m)
Nils Roesch bt Temwa Chileshe 14-12, 11-6, 6-11, 11-7 (46m)
11th place play-off:
INDIA bt ARGENTINA 2 – 1
Veer Chotrani lost to Miguel Gonzalo Pujol 6-11, 9-11, 9-11 (32m)
Rahul Baitha bt Dylan Tymkiw 11-5, 11-6, 11-8 (22m)
Utkarsh Baheti bt Jeremías Azaña 18-16, 11-6, 11-7 (32m)
13th place play-off:
COLOMBIA bt AUSTRALIA 2 – 0
Matias Knudsen bt Nicholas Calvert 11-4, 11-4, 11-9 (30m)
Nicolas Serna bt Jack Hudson 11-8, 11-7, 4-11, 10-12, 11-9 (58m)
15th place play-off:
IRELAND bt GERMANY 2 – 0
Conor Moran bt Abdel-Rahman Ghait 11-5, 11-5, 9-11, 11-4 (30m)
Scott Gillanders bt Maximillian Baum 11-9, 11-9, 11-9 (35m)
17th place play-off:
SCOTLAND bt FRANCE 2 – 1
Alasdair Prott bt Edwin Clain 11-9, 11-9, 5-11, 11-8 (46m)
Fraser McCann lost to Adrien Douillard 11-9, 7-11, 5-11, 6-11 (45m)
Christopher Murphy bt Toufik Mekhalfi 5-11, 11-3, 11-8, 13-15, 11-5 (80m)
19th place play-off:
SOUTH AFRICA bt SINGAPORE 2 – 1
Murray Schepers lost to Aaron Liang 9-11, 9-11, 12-10, 8-11 (52m)
Jacques Duminy bt Kieren Tan 11-9, 11-3, 11-2 (26m)
Tristen Worth bt Matthew Wong Yu Heng 11-5, 9-11, 11-6, 11-4 (32m)
21st place play-off:
FINLAND bt QATAR 2 – 1
Samuli Niskala lost to Hamad Al-Amri 11-8, 9-11, 7-11, 7-11 (36m)
Ville Koskinen bt Ahmad Al-Muraikhi 11-0, 11-2, 11-9 (18m)
Atte Stengård bt Ibrahim Darwish 11-6, 3-11, 11-8, 11-7 (47m)
23rd place play-off:
ZIMBABWE bt SAUDI ARABIA 2 – 0
Tayne Turnock bt Mohammad Almwled 11-8, 11-3, 11-6 (30m)
Harry Lawton bt Abdulelah Boureggah 11-1, 11-3, 11-0 (15m)
For more updates keep visiting allsportspk