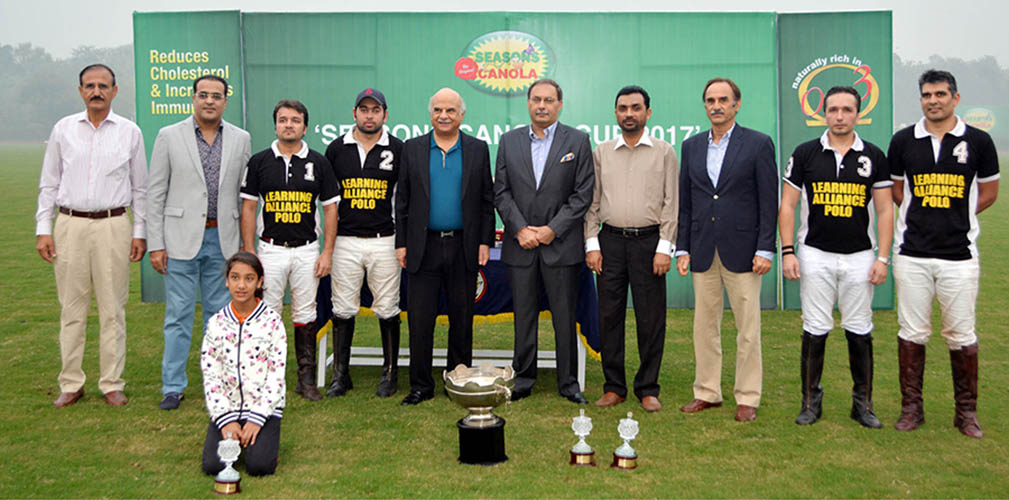 Lahore :Newage emerged as title winners in the Seasons Canola Polo Cup 2017 after defeating Terra Energy by 6 ½ -4 in the final here at the Lahore Polo Club ground on smoggy Sunday.
Hat-trick boy Bilal Haye emerged as hero of the day as he not only converted impressive goals throughout the final but also supported his teammates to help Newage register title triumph. Faisal Shahzad also played brilliantly and scored a brace and while Adnan Jalil Azam contributed one. From Terra Energy, Frasat Ali Chatha, Ghulam Mustafa Monnoo, Mumtaz Abbas Niazi and Ahmed Bilal Riaz hit one goal apiece.
Winning team captain Adnan Jalil Azam said: "This polo season has thrill in it right from the start and this one too proved a very challenging and enthralling event. All the teams were very strong and they gave each other very tough time. I am glad that my team too performed exceptionally and succeeded in winning all its matches and especially the final. I hope the team will continue to perform well and win maximum number of low and high goal events."
Guard Group outlasted Diamond Paints 9-4 in the subsidiary final. Taimur Ali Malik was star of the day for the winning side as he fired fantastic four goals while his teammates Taimur Mawaz Khan hammered a hat-trick and Ali Elahi scored a brace. From the losing side, Mir Huzaifa and M Usman struck two goals each.
For updates regularly visit: Allsportspk