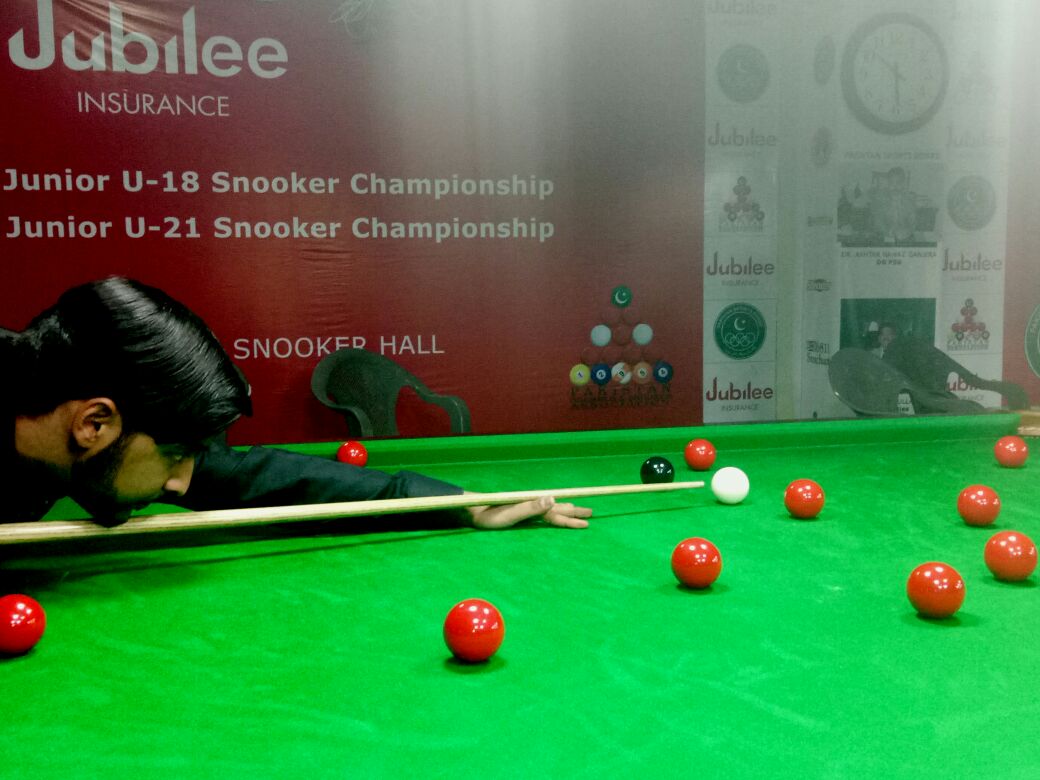 ISLAMABAD: Sind Jr. Champion Shahreyar Khan, Balochistan Jr.Champion Rabish Pervaiz, KPK Jr. Champion Usman Khurshid and Islamabad Junior Champion Sohaib Usman  were defeated by their respective rivals on the second day of Jubilee Insurance 10th National Junior U-21 Snooker Championship 2018 here at PSB Billiards & Snooker Hall, Pakistan Sports Complex, Islamabad Sunday.
16 more matches of the league round will be played on Monday.
Sheheryar Khan, Sind Jr. Champion Sheheryar Khan tasted second defeat in two days when un seeded Muhammad Mehmood Ahmed of Islamabad defeated him by 3-1. Mubashir Munsif of KPK shocked Balouchistan Jr. Champion Rabish Pervaiz by defeating him in the decider frame. Match ended at 3-2.
Similarly, Sheikh Muhammad Mudassir of Punjab who remained runners up in the recently concluded Jubilee Insurance 3rdNational Junior U-18 Snooker Championship faced no difficulty in overcoming KPK Jr. Champion Usman Khurshid by 3-1.
Defending Champion and IBSF World Junior U-18 Champion Muhammad Naseem Akhtar of Punjab, last year's runners-up Muhammad Haris Tahir of Punjab made their way easy for qualifying next round ( Pre quarter finals) when they registered victories against  Islamabad  Jr. Champion Sohaib Usman and Altaf Hussain of Balouchistan respectively by the same margin 3-0.
Following are the complete results of second day of the league round:
Day 2 – Matches Results:
Ali Zaman Khan (Sindh) bt Yasir Ahmed (Bal) 3-0
(64-43, 60-25, 51-27)
Raees Ali Usama (Pjb) bt Hamza Aftab (KPK) 3-1
(52-27, 12-67, 66-57, 66-16)
Hussain Godil ( Sindh) bt Syed Adil Shah (Bal) 3-0
(67-31, 43-34, 50-14)
Muhammad Umer Khan (Pjb) bt Bilal Ali Khan (Sindh) 3-0
(68-13, 65-37, 91-45)
Muhammad Shahbaz (Pjb) bt Mubashir Khan (KPK) 3-1
(10-45, 73-17, 90-01, 62-19)
Shahzaib Malik (Pjb) bt Fahad Ali (KPK) 3-1
(56-53, 44-43, 51-63, 59-20)
Muhammad Naseem Akhtar ( Pjb) bt Sohaib Usman (Isb) 3-0
(61-19, 53-19, 65-38)
Haris Tahir (Pjb) bt Altaf Hussain (Bal) 3-0
(88-14, 55-15, 75-27)
Umer Farooq (Pjb) bt Sheikh Ahmed (KPK) 3-0
(59-18, 65-10, 49-10)
M. Mehmood Ahmed (Isb) bt Sheheryar Khan (Sindh) 3-1
(55-15, 65-38, 21-57, 56-23)
Sheikh Muhammad Mudassir (Pjb) bt Usman Khurshid (KPK) 3-1
(52-60, 66-27, 62-11, 47-39)
Mubashir Munsif (KPK) bt Rabish Pervez (Bal) 3-2
(49-38, 69-14, 49-37, 32-57, 65-58)
Fahad Ghaffar (Isb) bt S.M. Imran (Sindh) 3-1
(65-02, 36-40, 80-29, 68-25)
A.Aziz  (Bal) bt Siddiq Khan (Sindh) 3-2
(44-42, 19-39, 58-44, 61-65, 66-25)
Aqib Nawaz (Sindh) bt Atif Arshad (KPK) 3-1
(39-43, 64-37, 51-20, 52-35)
Ahsan Ramzan (Pjb) bt Yasir Nouman (Sindh) 3-2
(61-42, 23-65, 56-45, 23-63, 65-09)
Monday fixture:
Usman Ahmed (Pjb) v Atif Arshad (KPK)
Muhammad Rafiq (KPK) v Yasir Nouman (Sindh)
Sohaib Usman (Isb) v Aqib Nawaz (Sindh)
Altaf Hussain (Bal) v Ahsan Ramzan (Pjb)
Usman Khurshid (KPK) v Syed Adil Shah (Bal)
Rabish Pervez (Bal) v Bilal Ali Khan (Sindh)
Fahad Ghaffar (Isb) v Muhammad Shahbaz (Pjb)
Siddiq Khan (Sindh) v Fahad Ali (KPK)
Umer Farooq (Pjb) v Yasir Ahmed (Bal)
Sheheryar Khan (Sindh) v Hamza Aftab (KPK)
Aqib Nawaz (Sindh) v Muhammad Naseem Akhtar ( Pjb)
Ahsan Ramzan (Pjb) v Haris Tahir (Pjb)
Sheikh Ahmed (KPK) v Ali Zaman Khan (Sindh)
M. Mehmood Ahmed (Isb) v Raees Ali Usama (Pjb)
Usman Ahmed (Pjb) v Sohaib Usman (Isb)
Muhammad Rafiq (KPK) v Altaf Hussain (Bal)
For updates regularly visit: Allsportspk