December Polo Cup 2017: United Snacks Polo win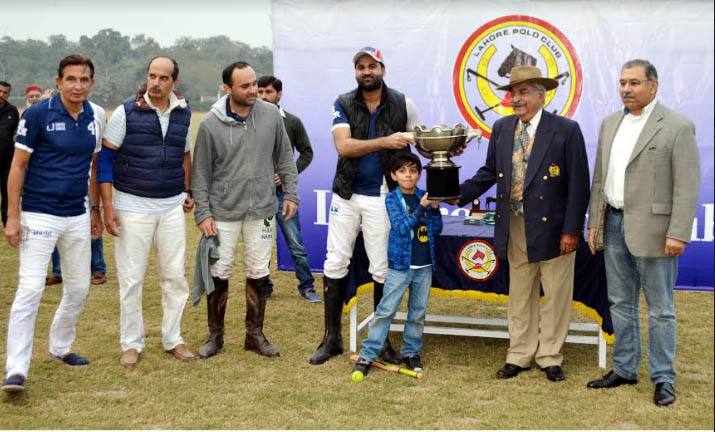 LPC LAHORE: Hissam Ali Hyder's heroic play helped United Snacks Polo clinch the December Polo Cup after beating Honda Chenab by 7-6 in the sudden death chukker of thrilling final here at the Lahore Polo Club ground.
Hissam played outstanding polo and slammed in superb six goals while the match-winning goal was pumped in by Azam Hayat Noon to steer United Snacks to a nail-biting victory. From the losing side, in-form Bilal Haye fired fabulous five goals and Ahmed Ali Tiwana one but their efforts couldn't bear fruit for Honda Chenab.
Bilal Haye started the match with his field goal to give Honda Chenab 1-0 lead which was further strengthened by Ahmed Ali Tiwana who struck field goal to give 2-0 lead. In the dying moment of the first chukker, Hissam also fired a field goal to reduce the gap to 2-1.
The second chukker was evenly poised as two goals each were converted by both the sides, as from United Snacks, Hissam scored a brace and same number of goals were converted by Bilal Haye as the second chukker finished with Honda Chenab enjoying 4-3 lead. Bilal Haye fully dominated the third chukker and stretched his team's lead to 6-3.
The fourth and decisive chukker was all about United Snacks who stamped their authority and banged in brilliant three goals – all the three came from splendid Hissam – to level the score at 6-6. No more goal was scored and the final entered the sudden death chukker. It was Azam Hayat Noon who hammered a match-winning goal to steer United Snacks to title triumph.
The field umpires of the match were Saqib Khan Khakwani and Raja Arslan Najeeb.
For updates regularly visit: Allsportspk