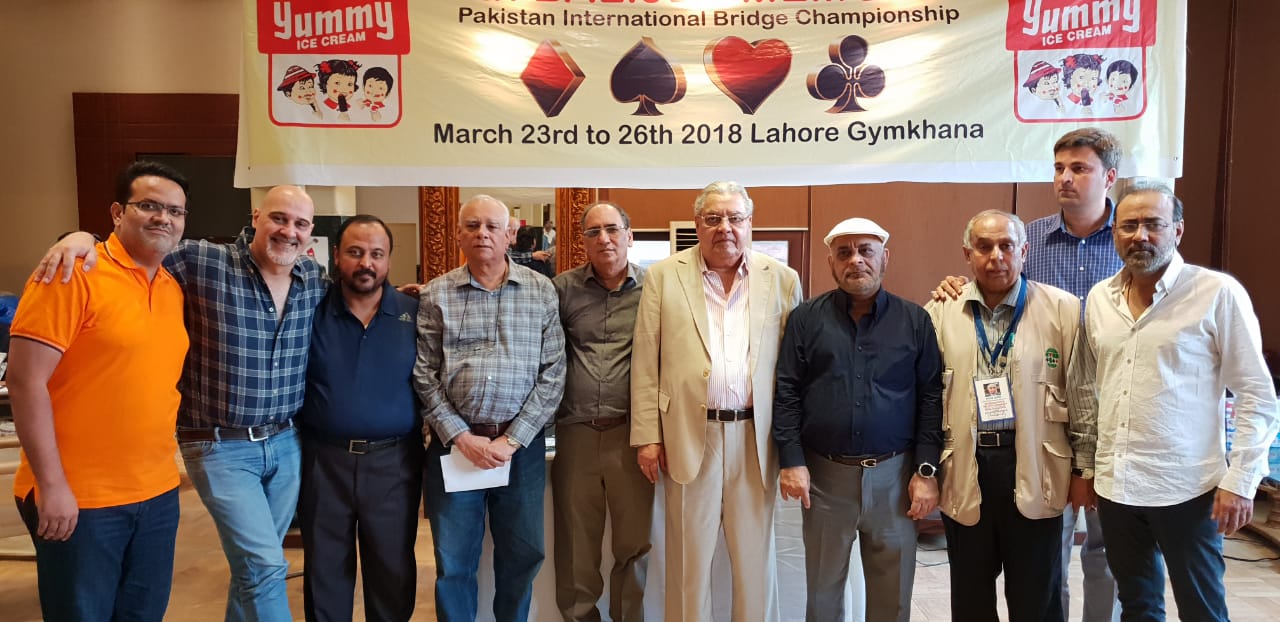 The 16th Balijee International Bridge Championship held at the bridge tables of Lahore Gymkhana from 23rd March to 26th March. Lured to the bridge tables of Lahore the best ones from India, Dubai and Kuwait and also the elite ones of Pakistan from Karachi, Islamabad, Rawalpindi and other cities. As for the Lahori champions, virtually every one who is adept at the game of bridge registered and participated.
While the first day and half of second day was earmarked for the Pairs Event, the Team Event competition was spread over two and a half days, concluding yesterday, bringing honours and glory to the Indo Pak Team who were remarkable in application of bridge playing attributes like intelligence, quick thinking, stable temperament , decision power and cohesive team effort. While team members Gulzar Ahmed Bilal, Farrukh Liaqat and Sapan Desai were dazzling and radiant, the star of the team, Subash Gupta an accomplished international, was lustrous and luminous in defining the team strategy which brought rich dividends and a comfortable dominance related victory. The Indo Pak Team remained in command and control through superb and quality play winning all ten boards. Not once were they under threat of defeat and in the process even the best teams like Tehsin Ghee Wala, Izzo IV, Punters and Next Pharma were a casualty.
As for the final days sessions,the overnight leaders Indo Pak remained on winning track and though they tried hard the Tehsin Gheewala Team had to be content with the runners up slot.
The Final Standings of top five winning teams:
Indo – Pak: Gulzar Ahmed Bilal – Farrukh Liaquat – Subash Gupta – Sappan Desai 160.61 %.
Tehsin: Tehsin Gheewala – Rashidul Ghazi – Muhammad Hashmat – Imran Abedi – Fatima Raza 134.67 %.
 Izzo IV: Jahangir Ahmed – Farooq Alvi – Mudassar Rahim – Qasim Rahim – Abida Ali 111.55 %.
Next Pharma: Ahsan Javed Qureshi – Nauman Khalid Butt – Zia Hyder Naqi – Mirza Shauq Hussain – Ghias A. Malik 110.81 %.
Punters: Tahir Abbas Mirza – Ali Abbas Mirza  – Hamid Zaman – Fehmina Shauq – Mirza Asfandiyar Hussain – Mohsin Chandna 110.41 %.
At the conclusion of the Balijee Bridge Championship the prizes were distributed by Air Marshal Syed Shahid Zulfiqar Ali, Khawaja Imran Zubair, Convenor Card Room and Chairman, Lahore Gymkhana Kamran Lashari.
The Balijee Bridge Championship has established itself as an event of magnificence although Tahira Nasir was gracious in passing on the credit to the sculptors, architects and artisans with Ihsan Qadir in the forefront conducting all stages with precision, accuracy and free of compromises plus exercising exemplary control over the teams. Special one who deserve a mention here are Ameer Hassan whose contribution can be graded as significant. Others who cant be missed are Khawaja Imran Zubair ,the Convenor Card Room and the Captain,Abubakr.
For updates regularly visit: Allsportspk