1st Int'l Karakoram Marathon: Prize Distribution Ceremony Held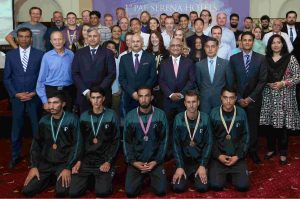 ISLAMABAD: The Prize distribution ceremony of the First International Karakoram Marathon was held at Serena Hotel Islamabad.
Breaking- Russian Mountaineer Rescued; Pak Pilots "Did The Impossible"
The Chief Guest Air Chief Marshal Mujahid Anwar Khan, awarded medals and trophies to the winning players. Addressing at the occasion, the Air Chief lauded the efforts of the organisers and sponsors for arranging this mega event. He also stated that sports not only provide healthy activities but also promote friendly relations among the participating countries.
1st Int'l Karakoram Marathon: Pakistani Men & Foreign Women Dominate
In 42 Km Race, Aslam Khan won the gold medal, whereas Ishaq Khan got silver. Bronze medal was awarded to Ubaid Ur Rehman.
In the female category, Caroline Drew clinched the gold medal. Heather Lee was awarded silver and Edit Kiss earned the bronze.
In the 21 Km race, Shahid Ali won the gold whereas; Adnan Khan and Nazar Shah were awarded silver and bronze medals respectively. In the same category for females, Nadia Rahim, Kokab Sarwar and Sobia Ali won gold, silver and bronze medals.
Mountaineering: 11 Deadliest Mountains
This one of its kind high-altitude marathon took place at an elevation of 11,300 ft above sea-level. The event was organized by PAF in collaboration with international marathon Travel Company, Z Adventures, and Serena Hotels.
World Mountaineering Rankings – 30th August '18: Boscacci Retains Top Spot
A Total of 150 athletes including international runners from Germany, Hungary, Trinidad, Italy, USA, Denmark, Czech Republic, Canada, France UK, Australia, Belgium, Egypt, Tunisia, Faroe Islands, Poland, Qatar, UAE, Argentina, Ireland, Taiwan, China, Scotland and Netherlands participated in the marathon.
For more updates keep visiting allsportpsk